If you have some time on your hands, this is worth every single second. I mean every. single. second. As in stop everything you're doing, clear your schedule, and go get a butternut squash. This takes comfort food to a whole new level – these little pillows of butternut squash heaven are divine. Melt in your mouth delectable. An absolutely perfect weekend dinner. And if don't have a chunk of time, you can prepare the butternut squash ahead of time and it'll come together in a snap.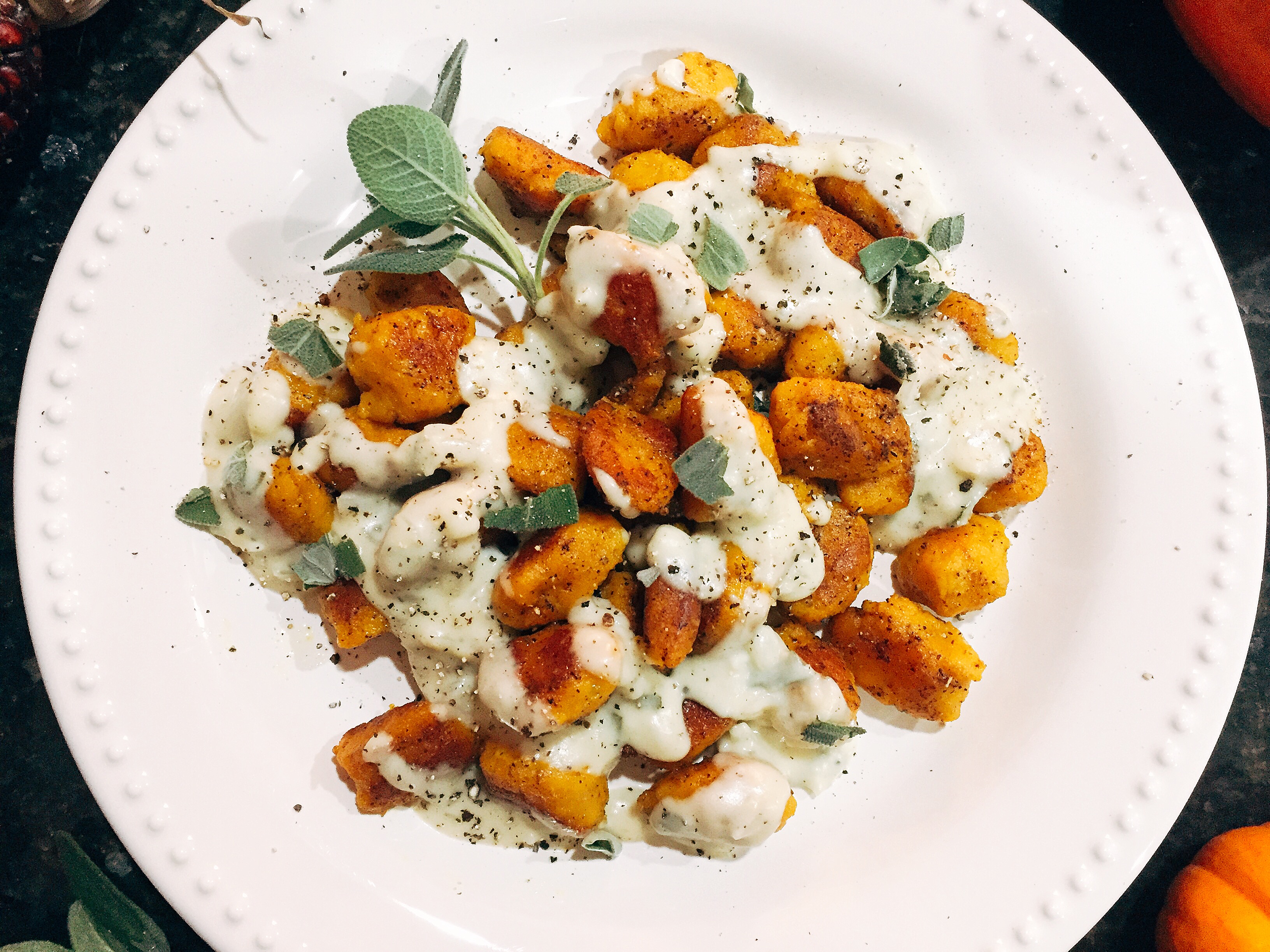 This was the first time the sous chef has had gnocchi, and he comes home from work, bewildered by these soft little nuggets in the skillet, and asks me what they are – I'm pretty sure I told him that they were exactly 'pillows of butternut squash heaven' – and after one bite, he looks at me and says "oh my gosh, top ten ever". Now friends, that's not to be taken lightly. The sous chef is quite the critic. And I can't give all of the credit to the gnocchi – they'd be no where without the perfect cheesy, savory sauce. As they say, behind every beautiful little gnocchi is a saintly sauce. Or on top of every gnocchi? That's a saying, right?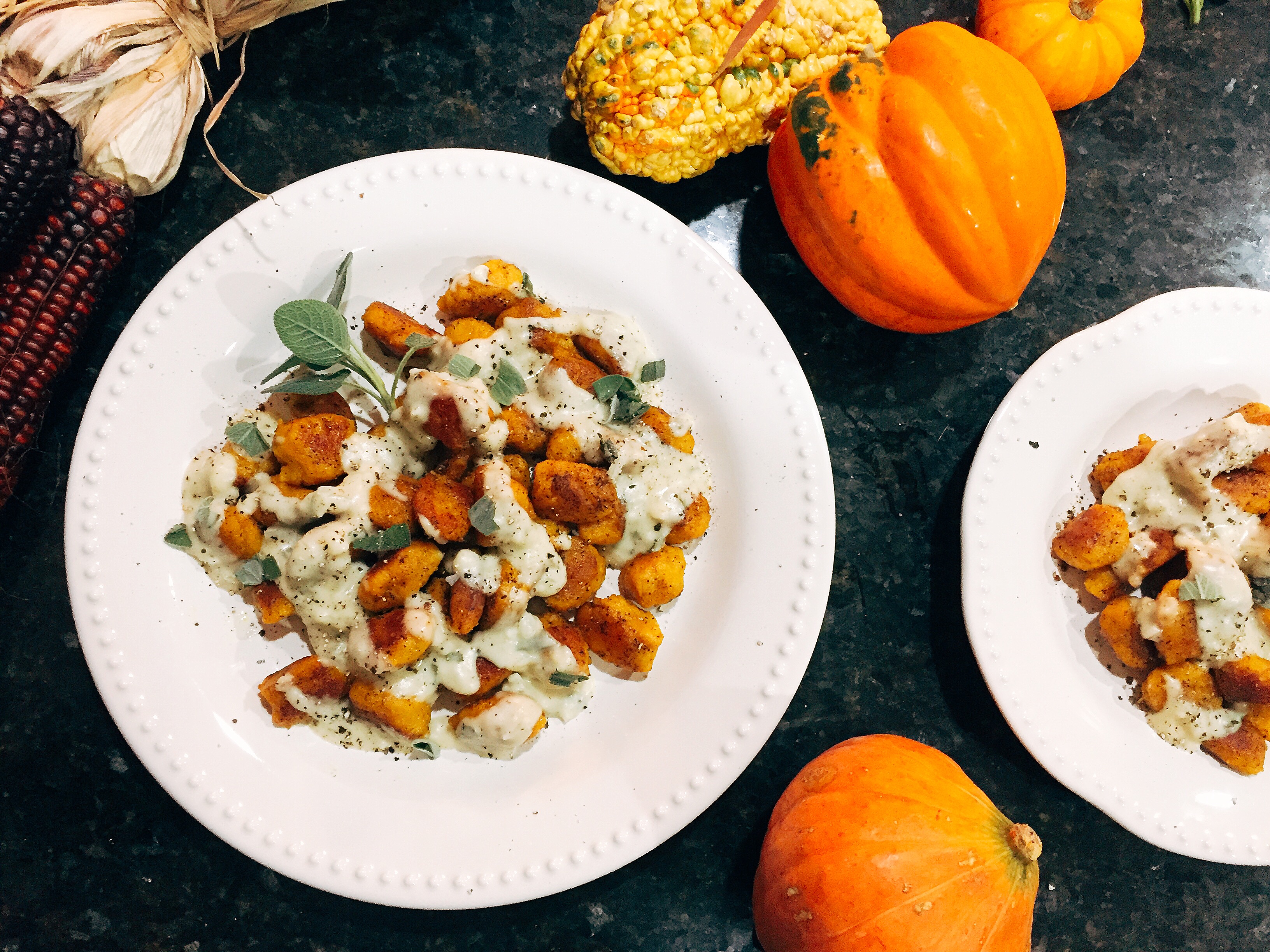 Butternut Squash Gnocchi:
2 1/2 lb. butternut squash
1/4 cup Parmesan cheese
1 egg, whisked
2 cups flour
2 tablespoons butter
Salt and pepper to taste
Sage and Gouda Cheese Sauce:
1/2 onion, finely diced
2 cloves garlic, minced
2 tablespoons fresh sage, minced
3 tablespoons butter
3 tablespoons flour
2 cups of milk
salt and pepper to taste
1 1/2 cups gouda cheese, grated
Salt and pepper to taste
First, preheat your oven to 400 degrees. Slice the butternut squash in half, removing the seeds with a spoon. Season generously with salt and pepper. Roast in the oven for 60-75 minutes, or until you pierce the squash and there's no resistance. Let the squash cool.
Once cool, scoop the flesh out of the skin and whisk with a fork (or puree in a food processor) until smooth. In a saute pan, cook the squash over medium heat until the liquid has evaporated (this is important so you don't have liquid-y dough). Cool the squash puree in the fridge. When the squash has cooled completely, whisk in the egg, Parmesan cheese, salt and pepper. Add the flour to the mixture, one cup at a time using a fork. The dough will be sticky – that's okay. Let the dough cool for about 30 minutes.
Next, bring a large pot of salted water to a boil. Put the gnocchi dough in a piping bag (or large ziploc bag with a corner snipped – approximately 1 or so inch in circumference), and pipe 1-2 inches of the dough into the boiling water using scissors or a knife to make the cut. The gnocchi will float to the top once cooked, about 2-3 minutes. Remove the gnocchi using a slotted spoon and place in a strainer. You can do this in a couple of batches.
Finally, in a large saute pan, melt the butter until it starts to bubble. Season the gnocchi with salt and pepper and brown on all sides until they look like golden little nuggets.
While the gnocchi is browning, we're going to get started on the sauce. Add three tablespoons of butter to a sauce pan. Add the onion and garlic until cooked through. Add the flour to the pan, and mix well. Slowly add the milk to the roux, whisking constantly until smooth. Add the sage and Gouda cheese, and season with salt and pepper.
You're just about finished now, and after all of that hard work, you should really reward yourself with a glass of wine or three.
Remove the gnocchi from the pan, drizzle with your delicious cheese sauce, and enjoy. Cheers!