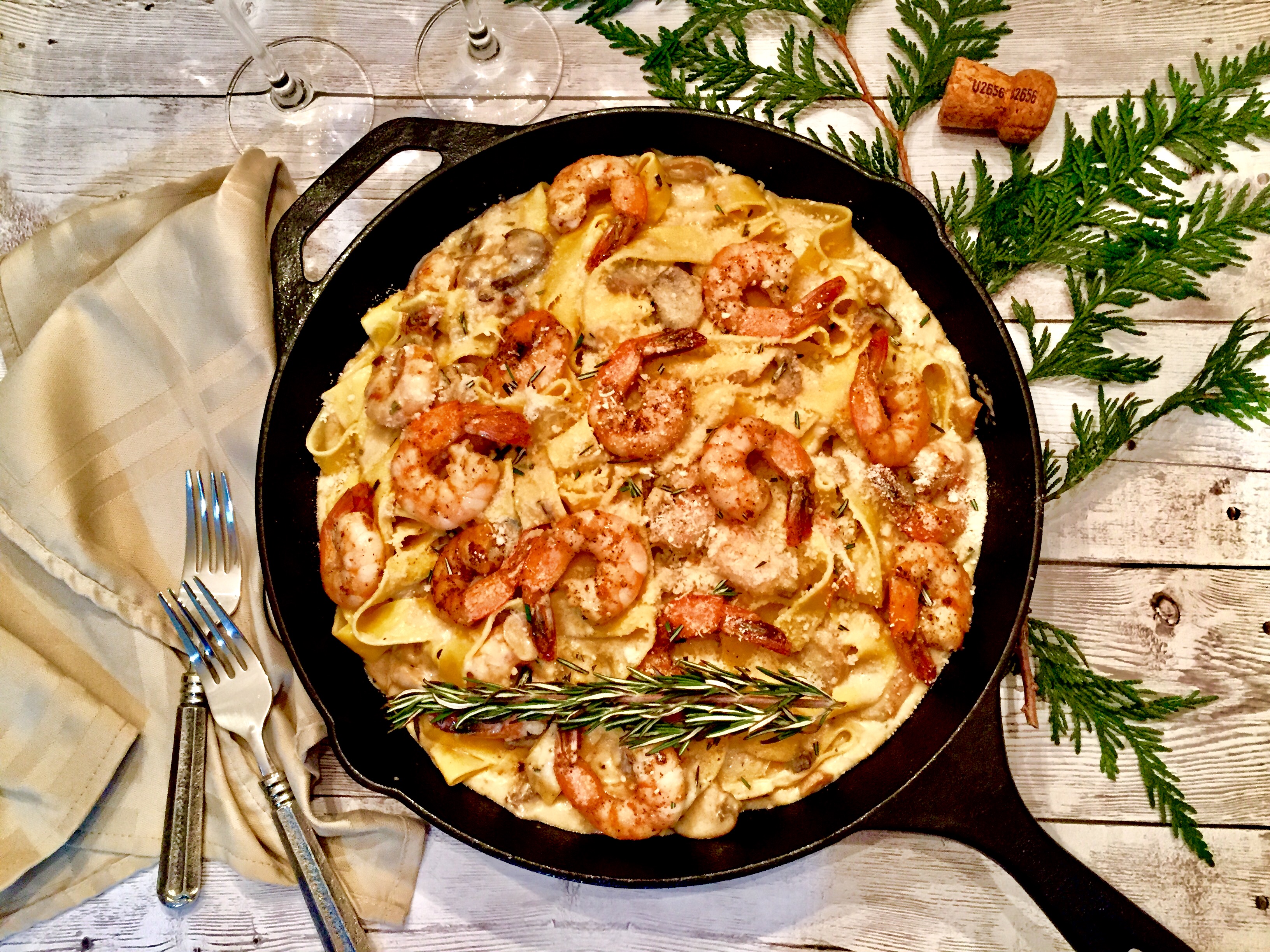 Really, champagne and cheese in one magical dish? Sure, I'll have seconds thirds. thankyouverymuch.  Plus, it's a New Year's dream come true: champagne shrimp alfredo that has zero calories, zero carbs, and no fat.
Alright, maybe I just told myself it was guilt-free after thoroughly enjoying every. single. bite. of this decadent dish. But truly, on second thought, it was totally worth every single calorie.
And if you're still in the market for the perfect recipe to impress on New Year's Eve, look no further. In fact, if you're looking for the perfect recipe any time pretty much ever, I can guarantee you this is it. I mean, I'd eat this for breakfast, lunch, and dinner every single day if I didn't have pants to fit into. Then again, pants are overrated.
But here's the kicker, my friends. The recipe calls for one cup of champagne. And I know, you're asking yourself what on earth happens to the rest of the the lonely, friendless bottle. It would be a crime to let the bubbly go to waste. But fear not, you've earned it. The rest of the champagne bottle that is. So cheers!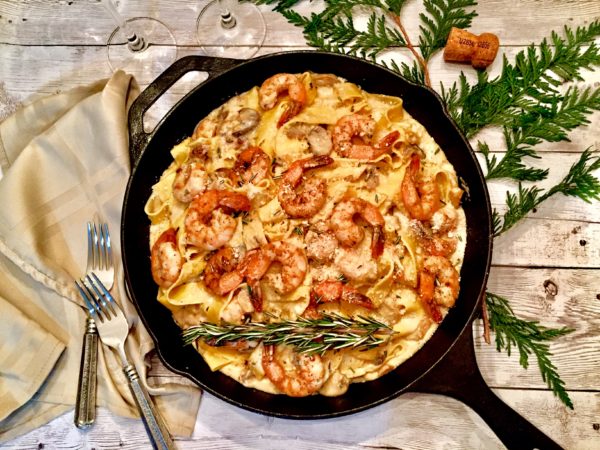 | | |
| --- | --- |
| | |
In a large skillet, heat one tablespoon of olive oil and one tablespoon of butter over medium heat. To the skillet, add 3 cloves of minced garlic and the minced shallot. Saute for 5-7 minutes.

Add the rosemary and baby bella mushrooms. Saute for 10-15 minutes, until the mushrooms are cooked and tender.

Deglaze the pan with champagne and let simmer for 2-3 minutes. Add the cream. Add the Gouda and Parmesan cheese, whisking until melted. Season to taste with salt and pepper. Let simmer on low while thickening.

Bring a large pot of salted water to a boil. At the fettuccine or pappardelle and cook according to instructions. Strain the pasta, and add to the skillet with the champagne sauce, tossing the pasta to coat.

In a separate pan, heat the remaining tablespoons of olive oil and butter over medium heat. Add the garlic, stirring until fragrant, about 2 minutes.

Season the shrimp with salt and pepper. Add the shrimp to the pan, cooking on each side for about 2-3 minutes, or until cooked.

Once cooked, transfer the shrimp to the skillet with the pasta. Enjoy!
Our wine choice for this decadent dish is a rich and buttery chardonnay: try the 2014 Rombauer Chardonnay - you won't go wrong!