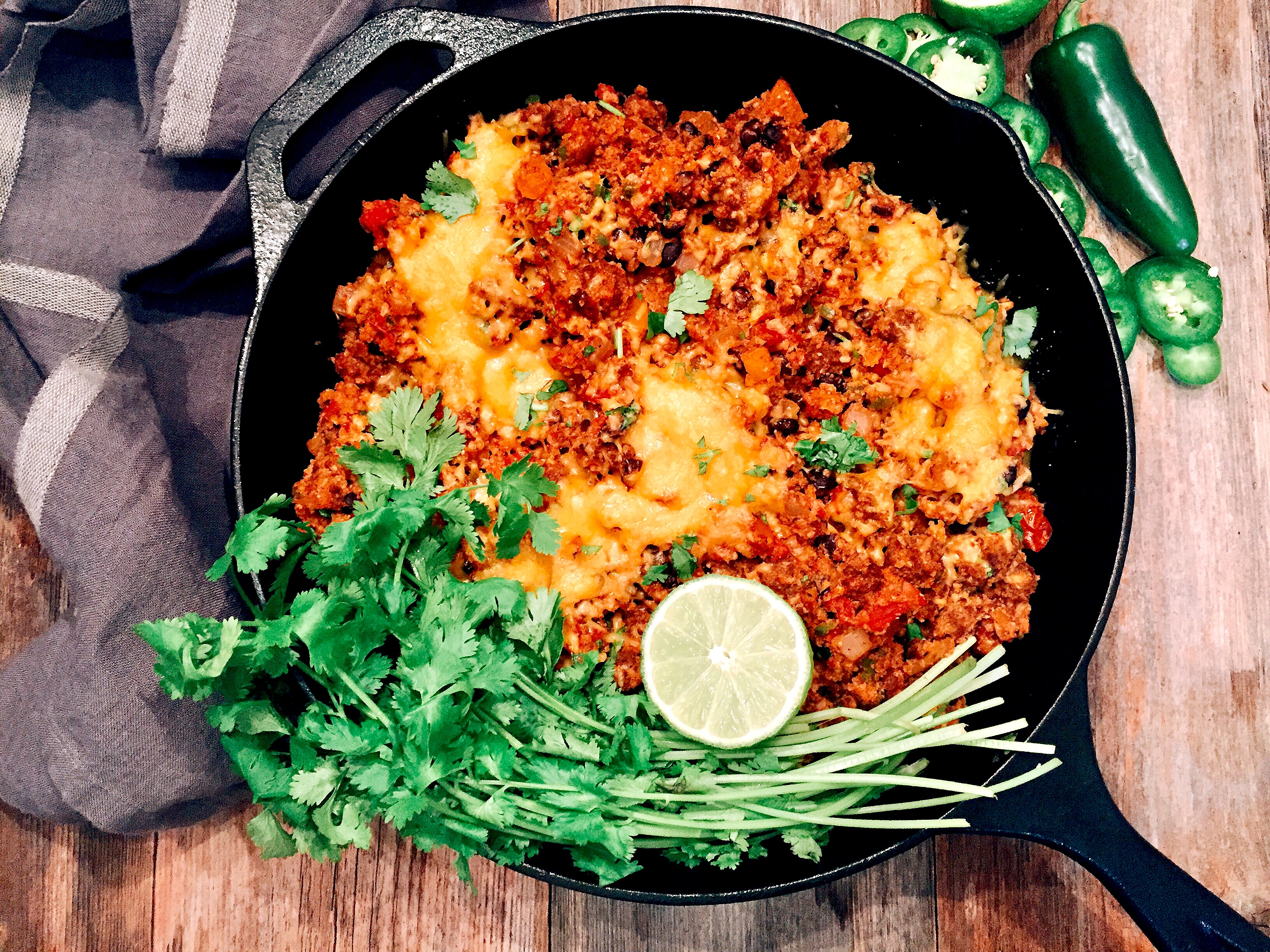 NEW FAVORITE DINNER ALERTTT…. um, sorry for shouting, but the whole world should really here this (consider it a public service announcement…). This Mexican-style cauliflower "rice" is seriously so delicious – and I don't even feel guilty for eating it [read: I'm allowed another glass of wine].
And if there's a way to cut calories, make dinner that tastes better than Chipotle, and squeeze [more] wine into my diet – sign me up. It's a win-win if you ask me, and perhaps a selfish pursuit of my favorite red juice (#sorryimnotsorry). Oh, did I mention this is a one pot dinner? Yessss, puh-lease.
And not only is this sous-chef approved, but for the guy who religiously takes a protein shake to work for lunch, asked for me to pack him up some of the leftovers, because he decided this was totally worthy of lunch the next day, too.
It basically tastes like a skillet of taco-ey magic, and it's low carb, to boot. Seriously, watch out Chipotle, because we didn't even miss the rice. It was better than rice. Is that even possible? It's totally possible. And the sous chef and I were in complete agreement that this must be added to our regular dinner rotation.
The best part about all of this – when I was mulling over what to make for dinner this past week, I mentioned this to him, and he 100% scoffed at the idea. Like full on gave me the side-eye in complete doubt that this would turn out amazing. Okay, okay – I've made things like cauliflower fried 'rice' in the past, and he didn't love it. But I was so excited to prove that cauliflower rice could be absolutely melt-in-your-mouth delicious, and this did just the trick. So mission accomplished: the sous chef is a believer.
Also, for my vegetarian friends out there – this is totally adaptable. Don't use chorizo, amp up the beans, swap the chicken broth for vegetable broth, voila!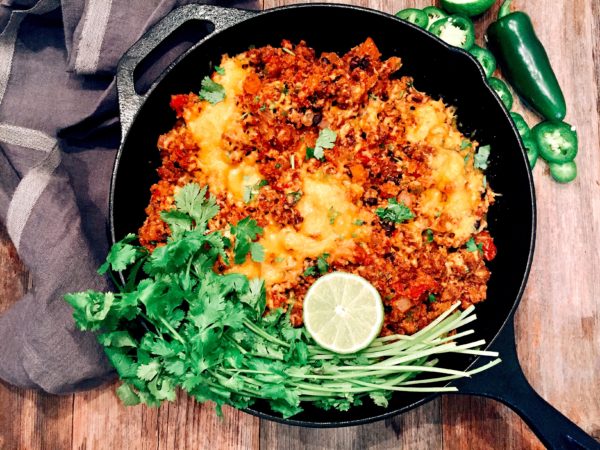 | | |
| --- | --- |
| | |
In a large skillet or saute pan, brown your chorizo over medium heat, breaking the sausage into smaller bite-size pieces, about 12-15 minutes. Once brown and cooked through, remove from pan and set aside.

In the same pan, with oil from the chorizo reserved, add the onion and bell pepper, and saute until they begin to brown, 8-10 minutes.

Add the jalapeno and garlic to the pan, and saute for an additional 2-3 minutes.

Add the cauliflower rice, mixing until combined. Let simmer for 1-2 minutes.

Add the chicken broth, fire roasted diced tomatoes, black beans, and return the cooked chorizo to the pan. Mix well.

Add the cilantro, chili powder, cumin, dried oregano, smoked paprika, salt, and pepper. Let simmer for 6-8 minutes.

Top with grated cheddar cheese, and place under the broiler for 3-5 minutes, until bubbly and melted. Enjoy!
Our wine choice: the 2010 Bodegas El Coto Coto de Imaz Riserva Tempranillo. A medium-bodied red from Rioja, Spain, has notes of red berries, a hint of spice, and smoky undertones. Not overpowering, well-balanced, and a perfect pair for this Mexican rice. Cheers!