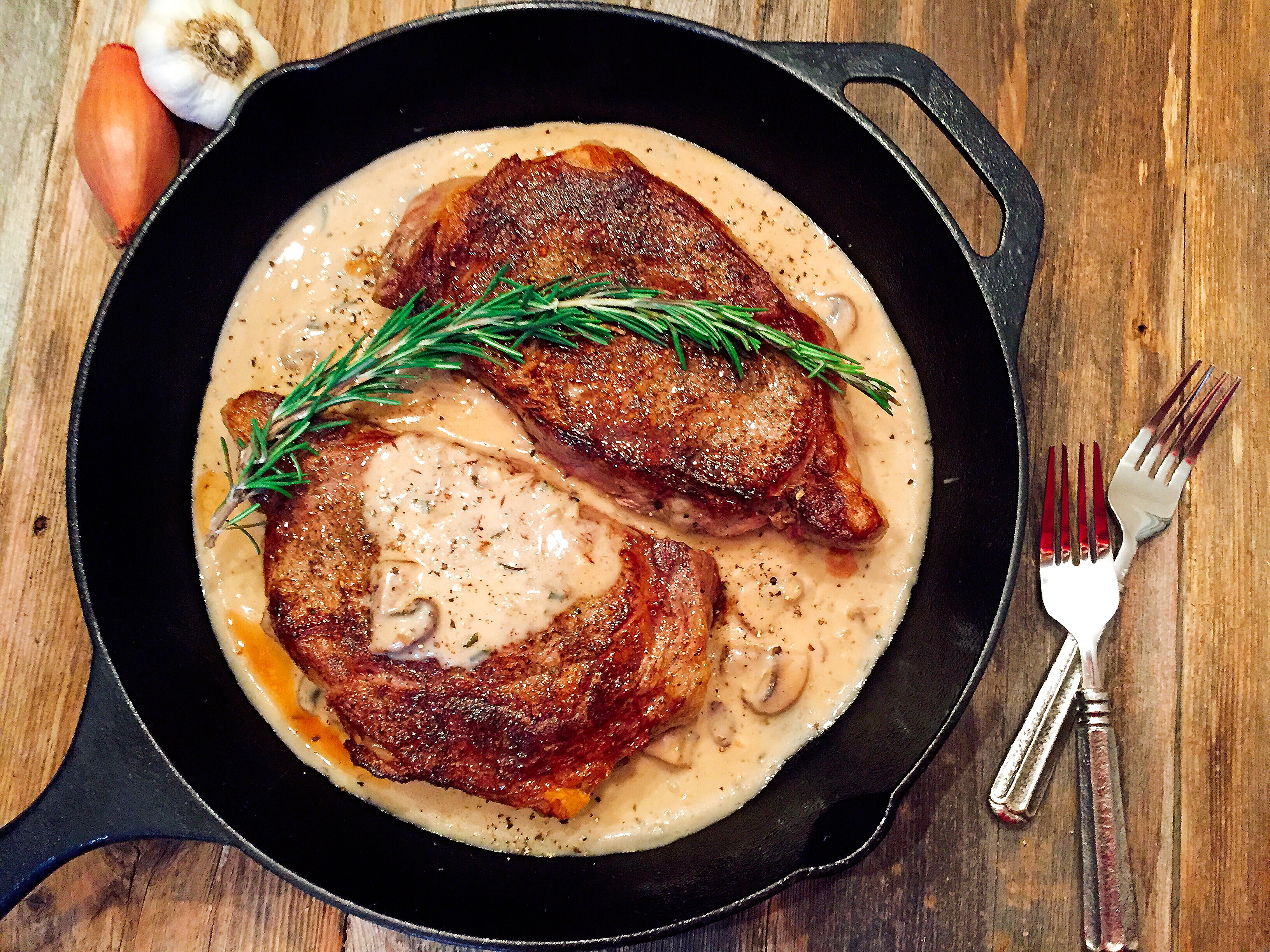 My friends, this is one of my absolute favorite dinners – and with Valentine's Day right around the corner, this has your special someone's name written all over it. Listen, there's no denying I am a huge fan of serving sauce with a side of protein. Yes, in that order. And I may or may not have cut my steak with a fork and knife, and proceeded to use a spoon to consume all of the saucy goodness. Not to mention, making a wholly inappropriate amount of sauce for two steaks, generally.
But that's okay. Sometimes you just have to own it. And I am really very lucky, because the sous chef completely accepts my unconventional addiction to sauces and condiments. I actually think that if I sat down at the dinner table, and proceeded to drink the sauce with a straw, he wouldn't even bat an eye.
That's not to say that this addiction hasn't caused friction in our relationship from time to time… exhibit A) when we go to a chic-fil-a drive through, and he's too bashful to ask for extra sauce. I mean, rule number 1) always ask for extra sauce. And then ask for more. Rule number 2) happy wife, happy life. And these rules kind of go hand-in-hand, *cough, cough*.
Now, I'm not alone in having a love for all things condiments and sauces. One of my best friends – and she knows who she is – is on the exact same page as me with this addiction. Which we pretty much bonded over when we met, and haven't looked back since. And we've shared many laughs in our day, probably even more sauces, but mostly wine. That's what all friendships should be built on, in my opinion.
Oh, and by the way, since you're probably reading this to hear about how spectacular this dish is [vice my attempted justification for using an unbecoming amount of sauce], let me just say – this is quick, easy, and a very impressive dish. So spice up a weeknight, impress your better half, and whip these beauties up.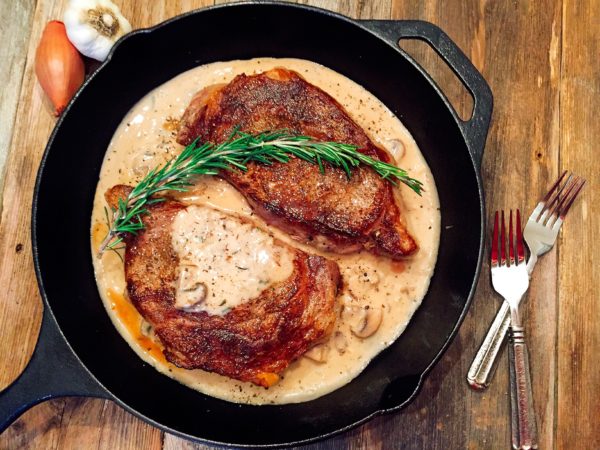 | | |
| --- | --- |
| | |
In a large skillet, heat one tablespoon of butter and one tablespoon of olive oil over medium heat. Once hot, add the seasoned rib-eyes to the skillet. Sear for 3-4 minutes on each side for medium rare, depending on the thickness of the steaks.

Remove the steaks from the heat, place on a platter, and tent with tin foil.

Add the remaining tablespoons of butter and olive oil to the skillet. Add the shallot, cooking until it begins to brown, about 4-5 minutes.

Add the garlic and rosemary to the skillet, cooking an additional 1-2 minutes. Add the mushrooms, and cook until tender, about 6-8 minutes.

Deglaze the skillet with the brandy, letting simmer for 20-30 seconds, scraping up any brown bits with a spatula.

Add the beef stock and heavy cream to the skillet. Let simmer for 2-3 minutes. Season to taste with salt and pepper.

In a small bowl, whisk together the cornstarch and water.

While the sauce is simmering, slowly whisk in the cornstarch mixture to achieve your desired thickness.
Our wine choice: the Black Stallion 2011 Cabernet Sauvignon. This full-bodied red is rich, with layers of flavor, and is the perfect accompaniment for this dish. Cheers!