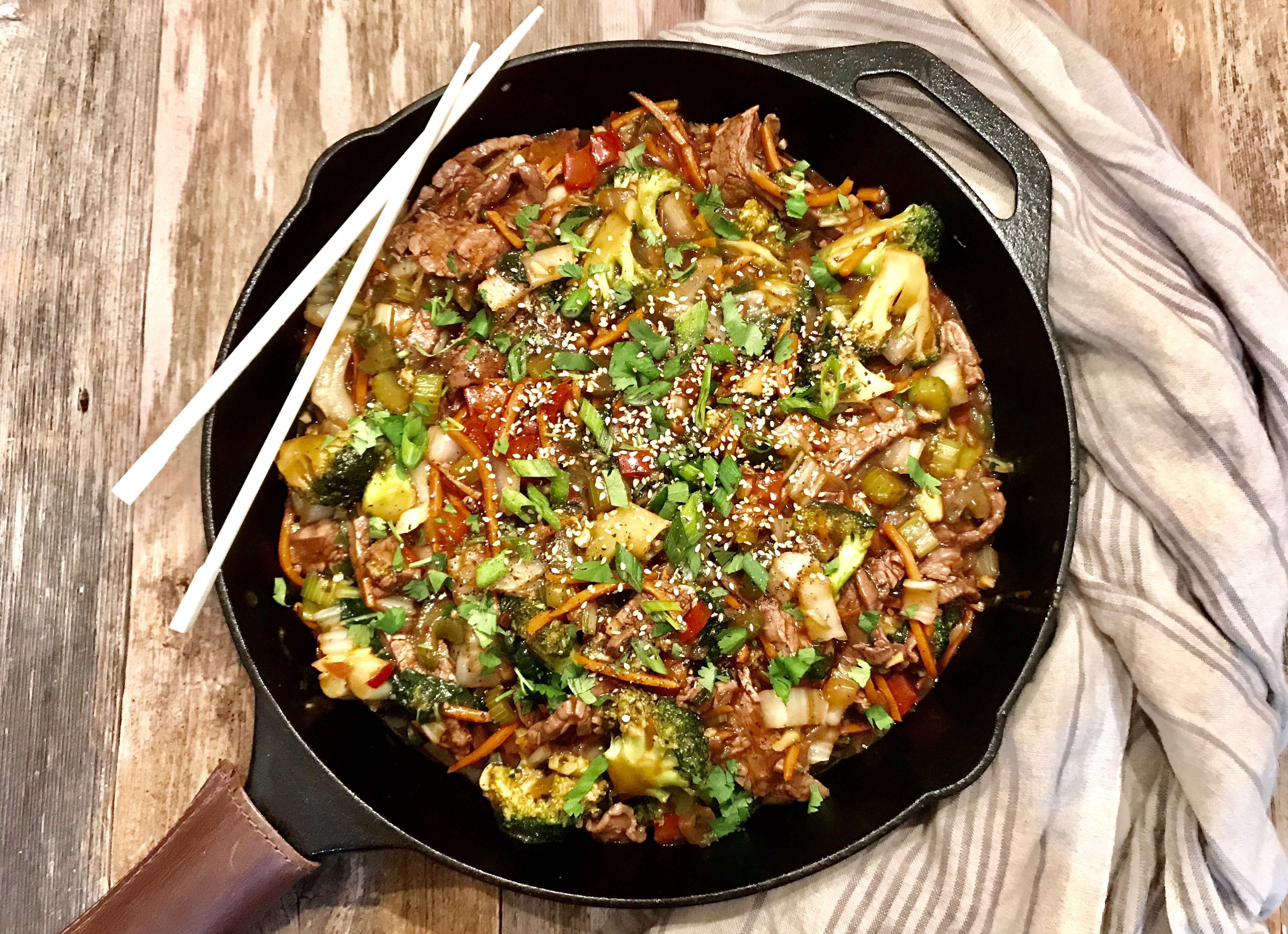 Y'all, I am forever in search of quick, easy, saucy [read: DELICIOUS], lower-carb [more carbs for wine, duh] recipes. And this, my friends, pretty much checks all of those boxes. It's also prepared in one dish, so seriously no fuss here. It's warm, spicy, filling — probably as close to healthy comfort food as it gets [minus the sodium, just close your eyes on that note. You can't win them all].
My favorite part about this dish: super weird — but the broccoli. The broccoli florets absorb all the saucy, salty goodness and I'm loving each bite of them!
The sous chef and I are so funny about take out — we have such different taste [yet, he is more than happy with the food I make at home]! He gives me a hard time for being a food snob [I totally am, and I'm 100% okay with it], but I just don't understand why you wouldn't want to be a food snob. Maybe my math is off here, but: good food = good food… amiright?!
And I digress… let's just say his preference in Chinese take out places is… lacking. I'm all about textures, flavors [um, as one should be!], and he is pretty much on board with large quantities of flavorless mush [love you, babe!]. But I can assure you: this dish is not that[!] — it's packed with flavor, most vegetables under the sun, quick pan fried beef, of course a delicious, savory Asian-style stir fry sauce. [Note: for the beef, we use a cut of flank stank sliced super thin, and it's so tender and perfect.]
That said, it's more than enough to feed four [maybe even six, but four to be safe], so plenty for leftovers [YUM]! Wins all around, if you ask me…
Best served with a glass of wine or three, and dinner = complete.
Cheers!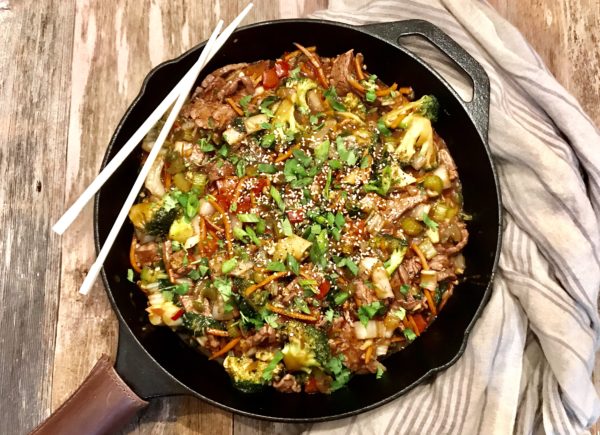 | | |
| --- | --- |
| | |
In a large skillet or wok, heat two tablespoons of sesame soil over medium-high heat. Once very hot, add the sliced flank steak stirring well. Cook until incorporated and you've reached the desired doneness for the steak, about 5 minutes in total. Remove from heat and set aside.

Drain any excess liquid that may have accumulated in the skillet. Add the remaining tablespoon of sesame oil over medium heat. Add the onion and peppers and cook for 6-8 minutes until they begin to brown. Add the garlic and ginger, and cook for an additional 1-2 minutes.

Deglaze the pan with the soy sauce.

To the pan, add the broccoli, boy choy, celery and carrots. Cover, and cook over medium heat for 5-7 minutes, until the vegetables are tender.

To make the sauce: While the vegetables are cooking, whisk together the soy sauce, oyster sauce, hoisin sauce, beef broth, rice wine vinegar, brown sugar, and chili garlic sauce.

Return the beef to the pan, and add the stir fry sauce. Let simmer for 3-4 minutes, until the sauce begins to thicken.

Optional: top with sliced green onions and toasted sesame seeds. Serve hot, and enjoy!
Our wine choice: the 2014 Capezzana Barco Reale di Carmignano. This red blend is bursting with notes of dark berries, plum, and spice -- a touch of smoke and dried herbs on its lingering finish make this a delicious wine to pair with a rich stir fry. Cheers!