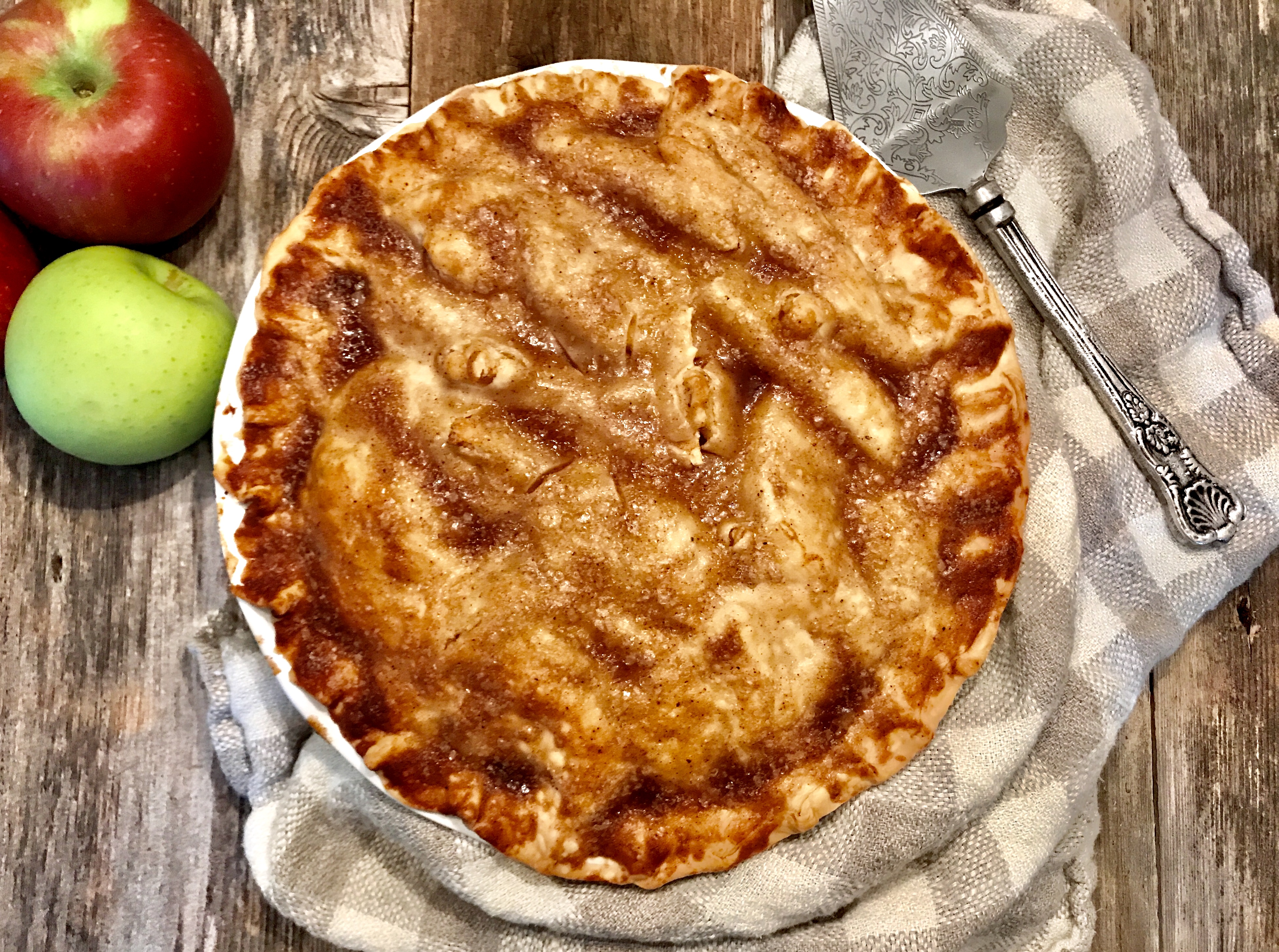 Is it inappropriate to post apple pie recipes during 80 degree weather? ABSOLUTELY NOT. In fact, in my humble opinion, mother nature should be the one apologizing for her inappropriate behavior… um, hi, it's October. And so let's just say I am MORE THAN HAPPY partaking in fall festivities despite this savage summer weather. We're basically doing anything we can to make it feel like fall… you know, one apple pie at a time.
So the sous chef and I went to an orchard recently [directly followed by a vineyard, naturally], and we have so. many. apples. The weather was gorgeous, and since I have pretty concrete plans this fall to take a hayride, frolic in a pumpkin patch, wear boots and chunky sweaters for months, all while rolling around in leaf piles… you know, I figured I'd kick start my annual autumn bucket list with apple picking… duh.
And of course, while we're at the orchard, I couldn't help but make annoying apple jokes the ENTIRE time. You know, we saw a pile of apples on the ground that had fallen, and I immediately ask the sous chef what happened — only to tell him the apples didn't fall far from the tree; and pointing out he picked a bad apple that spoiled the bunch; to finishing up and saying 'how about dem apples'…. I have no idea why he puts up with me.
The orchard was about an hour away from where we live, and the whole ride back I kept trying to convince the sous chef that the leaves were already changing [off-green counts, right?], and he wasn't buying it. But I totally convinced myself *no problem there* so let's just say I pretty much slept soundly that night. KIDDING [half-way].
But honestly, with all of these apples, what better way to enjoy them than a gorgeous apple pie? None. So, here we are, with a delicious pie on our hands. Oh, and a glass of wine. Enjoy!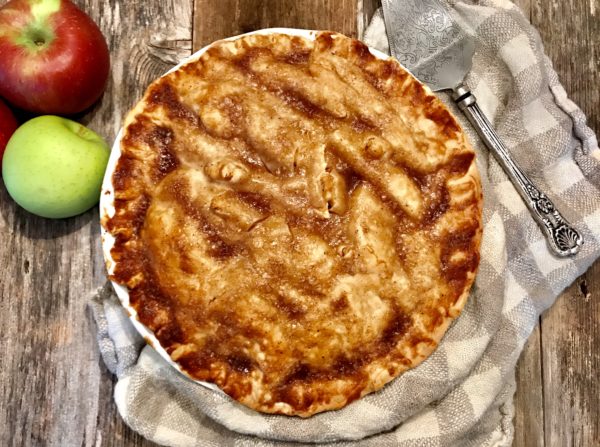 | | |
| --- | --- |
| | |
Preheat the oven to 425 degrees.

In a bowl, whisk together the granulated sugar, brown sugar, cinnamon, nutmeg, cloves, and salt.

In a large saute pan, melt the butter over medium heat. Once melted, add the apples, stirring to coat in the butter. Sprinkle the sugar mixture atop the apples, and add the vanilla extract. Let cook for 5-6 minutes until the apples begin to soften, stirring occasionally.

Sprinkle the flour atop the apples, and let cook for an additional 2-3 minutes, until the apple filling begins to thicken, stirring occasionally.

Remove the filling from the pan, and place in a bowl to let cool.

Place the bottom pie crust into a 9-inch pie pan. Once the mixture is completely cool, add the filling to the pie pan. The filling should be slightly mounded.

Place another pie crust atop the filling, sealing the edges together using a fork or your fingers. Slice several steam vents into the crust using a knife. Brush the surface of the crust with the beaten egg, and sprinkle coarse turbinado sugar atop the pie crust.

Place the pie in the oven and bake for 20 minutes. Reduce the oven temperature to 375 degrees, and loosely cover the pie with aluminum foil to prevent it from browning too quickly (careful! It's hot!). Bake at 375 for an additional 40-45 minutes, until golden brown and bubbly on top. Remove from heat and let cool.

Serve with ice cream, and enjoy!
Our drink choice? Bailey's on the rocks with this -- you will not go wrong! Cheers!