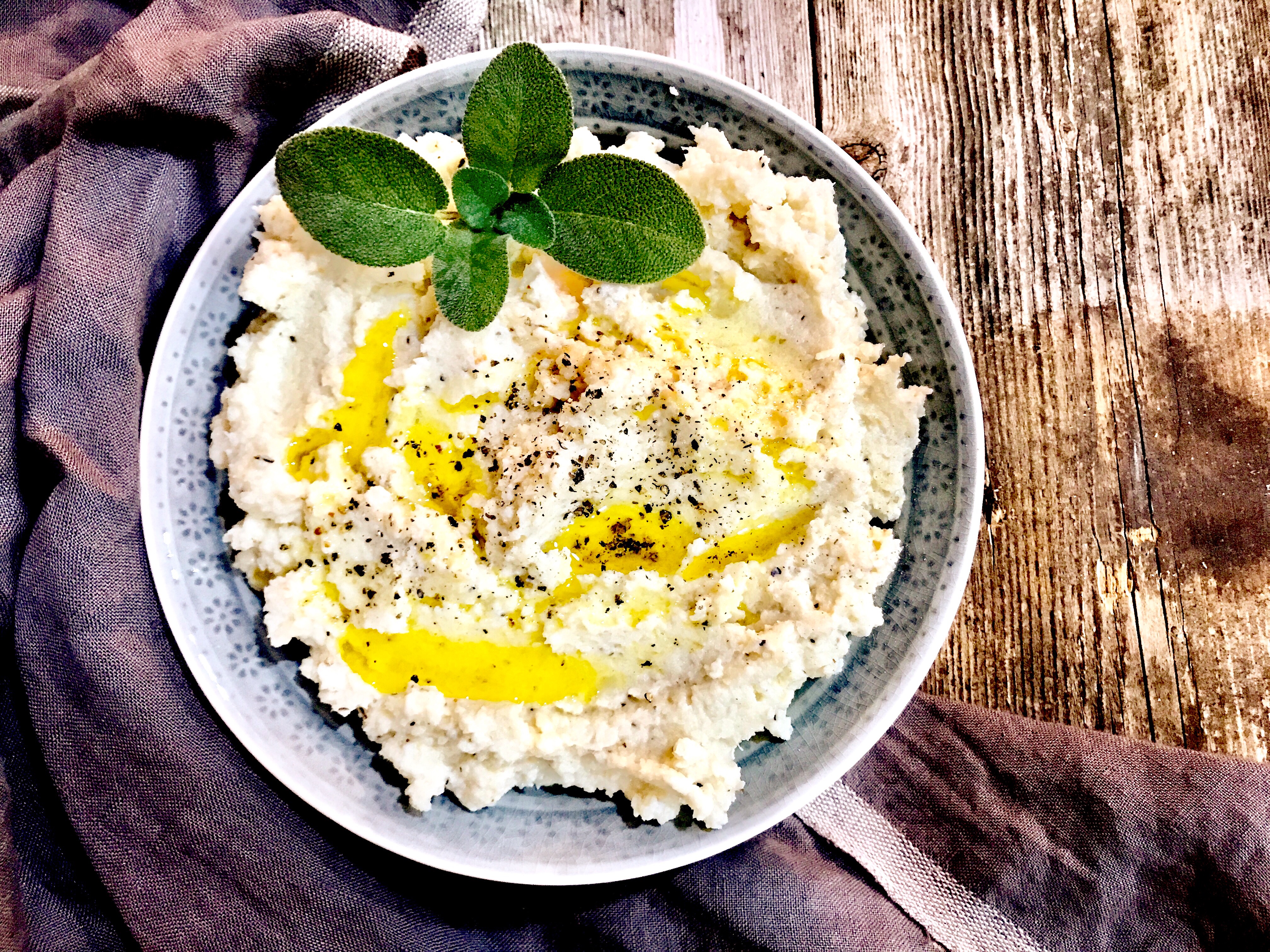 I'm a big fan of mashed cauliflower. I'm generally obsessed with roasted cauliflower anyway [you get that delicious caramelized golden crust on those puppies, and yes, puhleazzeeee], and mash it up with some cheese, butter, herbs, and a teensy bit more CHEESE? Dee-lish. We served this over top of my absolute fave: steaks slathered in a rosemary cream sauce. *melts into putty* So good.
So the sous chef's brother is in town this weekend, and he hadn't ever tried mashed cauliflower before — and expressed slight skepticism. Understandable. But the sous chef came out of NOWHERE, and immediately reassured him that it's just as delicious as mashed potatoes [who knew, babe — YOU'D be the first one to defend, and SUPPORT! mashed cauliflower. Baby steps. xoxoxo].
But I mean honestly, you're not gonna go wrong if you put cheese and butter in anything [Except maybe ice cream. Don't put cheese in ice cream]. BUT, I don't want to steer you wrong and have you think this cauliflower is just anything. It's definitely something. As in, something you should have for dinner TONIGHT! Or thanksgiving!
I don't know about you, but I don't mess around at Thanksgiving. You know, I go full ham turkey that day — and by that I mean #givemeallthecarbs, and then douse them in gravy. Then have seconds, and naturally thirds. But, I hear there are people in this world who still try to eat healthy on this glorious day [I've never met any — and if I did, I'm not sure we could be friends… #justsayin] and this would be a great healthier option for a Thanksgiving day table.
Also, what makes this baby easy peasy? Throw the cauliflower into your handy-dandy food processor + cheese, butter, yada, yada — and voila! Donezo. Quick, easy, healthy-ish. Big ish. But c'mon! It's a gosh darn vegetable for Pete's sake [and for what it's worth, Pete loves butter. And cheese. I might be Pete.].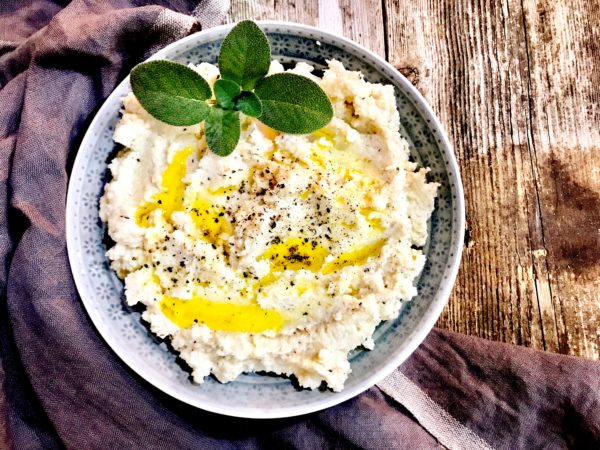 | | |
| --- | --- |
| | |
Preheat the oven to 425 degrees. Place the cauliflower florets on a baking stone or sheet. Drizzle with olive oil, and season with salt and pepper. Roast in the oven for 25-30 minutes, until cooked and the cauliflower begins to turn golden-brown.

Using a spatula, transfer the cooked cauliflower to the food processor. Add the garlic, ricotta cheese, Parmesan cheese, heavy cream, butter, sage, garlic salt, and pepper. Puree until smooth and creamy. Season to taste with additional salt and pepper.