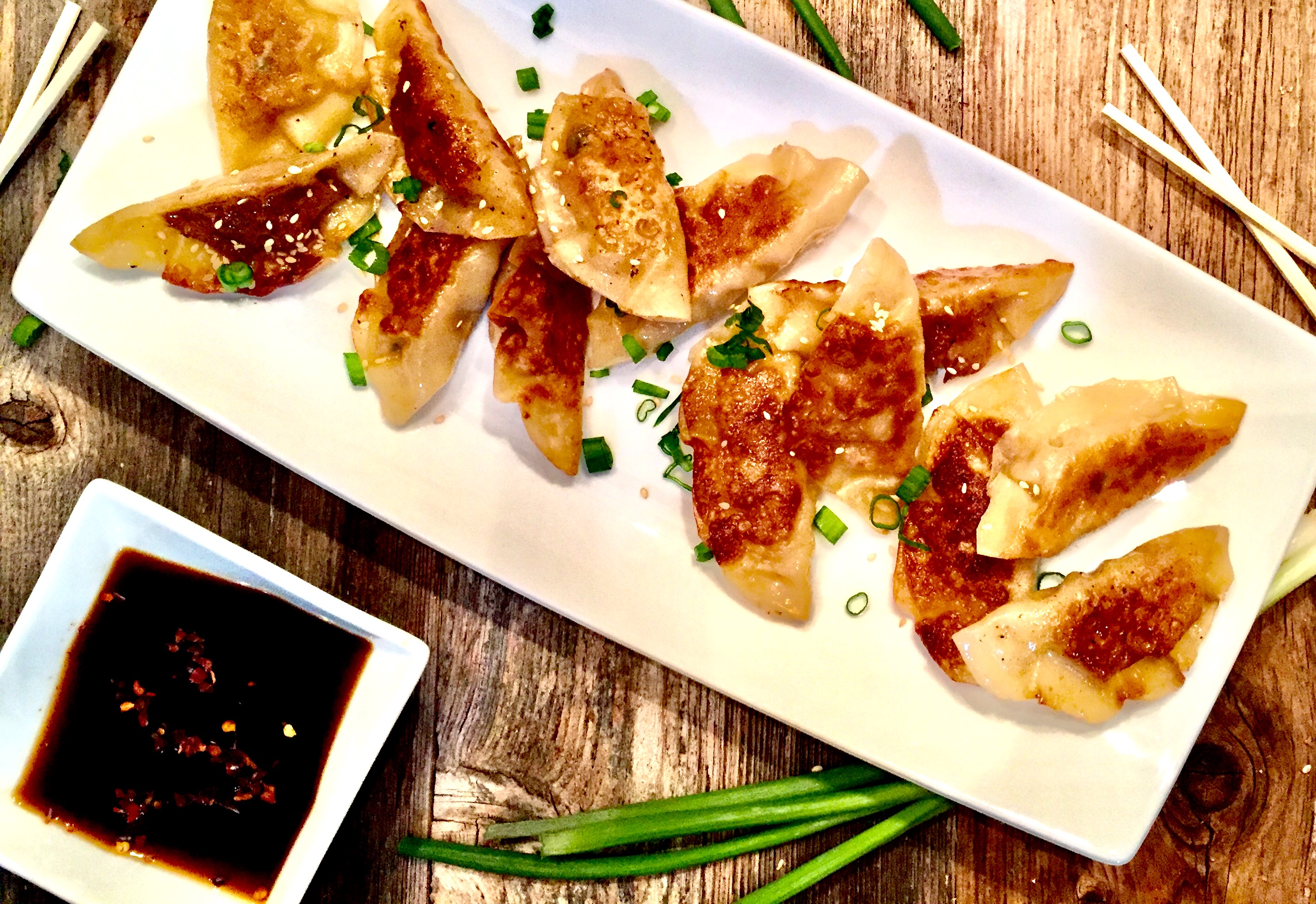 One of my favorite things about dining out is trying a zillion different things. I fully appreciate having multiple courses, sharing tons of appetizers, and eating off of the sous chef's plate (bless his patience). For me, it's about the experience, and being able to taste the many different flavors and dishes – not just indulging in one thing (except wine, of course – always indulge in wine – rule #1).
And whenever the sous chef and I have Chinese food, my number one must-order is always pot stickers – for at least one of our appetizers. I love the crispy skin, salty insides and sinister sauce. I mean, who doesn't? So I thought, why not whip up some of these golden nuggets at home? I had no idea how they'd turn out – and synthesized a countless number of recipes, omitting things I'm not a fan of, and adding everything under the sun that I can't get enough of.
The results? Wow. I'm going to go out on a limb here, and say that these pot stickers were as good, if not better, than the ones we've had from restaurants. I know, bold statement. But you'll totally understand once you make these.
One major pointer on the pot stickers: make sure you purchase round wonton wrappers. I mean, you could go way above and beyond and make your own, but aintnobodygottimeforthat. So trust me, purchase round wrappers.
I learned the hard way, of course, because in true Julia-fashion, why think things through? So I bought square wrappers, naturally. I have to say, the sous chef truly has a heart of gold – because as soon as I realized the wrappers wouldn't make the right shape, he pulls out a cutting board and knife, and proceeds to cut the square wonton wrappers into circles for me. Literally, an angel. Oh, and then he even seared and steamed them for me so I could continue forming these little beauties. Where did I find this guy?
I actually asked him why on earth he entertains my ridiculous antics, and he said because it usually ends with really good food. I get that. And totally understood, because if it was just for me, it would literally make zero sense. 😉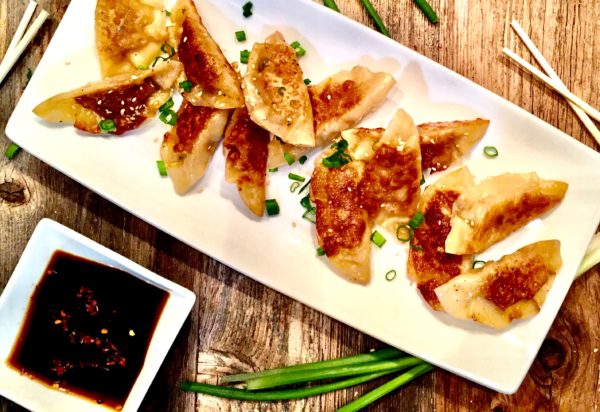 | | |
| --- | --- |
| | |
In a large bowl, combine the ground pork, Chinese cabbage, baby bella mushrooms, garlic, scallions, fresh ginger, white pepper, Sriracha, hoisin sauce, soy sauce, and sesame oil. Mix well.

Lay the individual wonton wrappers on a large, flat surface (can be done in batches). Place approximately 1-1 1/2 teaspoons of the pork mixture in the center of the wonton wrappers. Dip your finger in water, and spread water across half the edge of the wrapper, where you will seal the pot sticker. Fold in half, creating a half-moon shape, sealing the pot stickers with your fingers, and pleating if desired. Repeat until the pork mixture is finished.

Coat a large non-stick pan over medium heat in vegetable oil. Once hot, add your prepared pot stickers in batches (as many as necessary) - being careful not to over crowd the pan. Sear for two minutes on each side.

Then, add a 1/4 cup of water to the pan, and place the lid atop the pan. Let the pot stickers finish steaming for an additional two minutes, cooking about 6 minutes total.

Remove from heat, serve with soy sauce, and enjoy!
Our wine pairing with these beauties is the 2014 Carneros Pinot Noir - it's earthy, with plenty of notes of spice - a well-rounded Pinot that's perfect for these delicious pot stickers. Cheers!