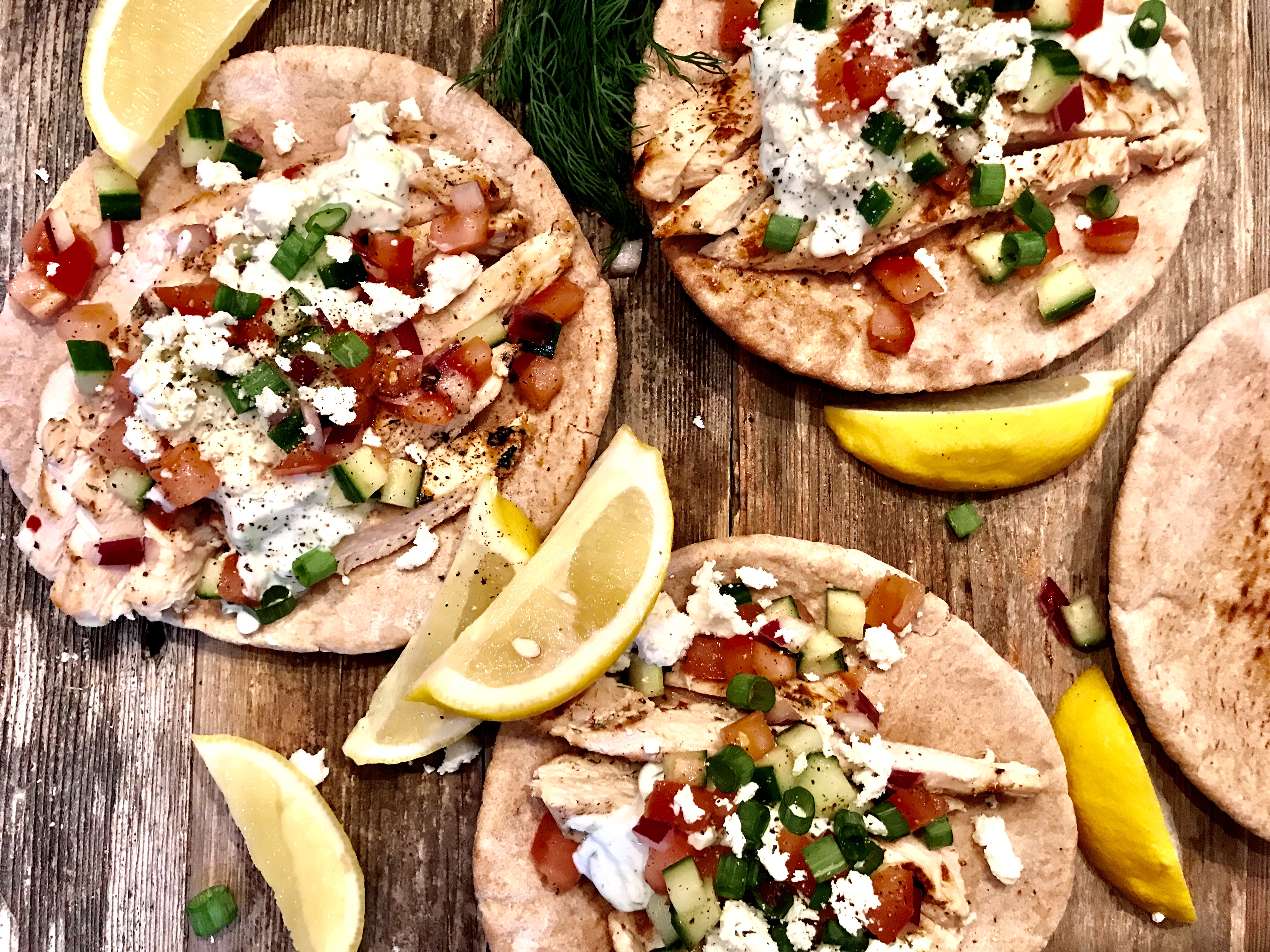 So I am absolutely in love with everything about these Greek gyros. First of all, the tzatziki is to die for… like, I kid you not, the sous chef literally eats this by the spoonful when I make it. And there's a beautiful crunch from the tomato, cucumber, and red onion salad… you know, topped with crumbly, savory feta cheese [#alltheflavorsIlivefor]. This is basically summer on a gyro, and it should definitely be a regular on your dinner table all season long.
We first started making this tzatziki sauce with our Greek meatballs [which by the way, are awesome]… and we never looked back. I actually make more of it than I know we need, because when the sous chef rolls into the kitchen, pretty much anything on the counter is game for him to crush, and this tzatziki is going to be the first to go.
My mom and I are like two peas in a pod on this — because my brother is definitely one of the worst offenders of eating something everything before it's ever served [the sous chef is no better though, trust me]. So when my mom and I are cooking, and there's any appetizer or something that we're waiting to put out until everyone's arrived, we know 100% that it has to be out of plain sight if we want there to be any left for guests. My brother actually knows how frustrated it makes me when he does that, and I'm like 99.9% sure he does it mostly to bug me now. Because, you know, that's what brothers are for.
So let's just say I was fully prepared for the sous chef's food-preying habits, and am masterful by now at compensating for them. But my friends, let me be clear: you will totally WANT to make extra tzatiki. Leftover chicken and tomato/cucumber salad? A dollop or seven of tzatiki sauce on top and your leftovers will be complete. Don't just take my word for it — try it for yourself!
| | |
| --- | --- |
| | |
In a bowl, whisk together the yogurt, garlic, lemon juice, olive oil, red wine vinegar, oregano, garlic powder, salt, and pepper. Place the chicken breasts in the marinade (can transfer to a ziplock bag), and marinate for at least an hour, preferably overnight.

Once marinated, preheat your grill to 500 degrees. Grill the chicken on each side for 6-7 minutes, until cooked through and the chicken reaches an internal temperature of 165 degrees. Slice the chicken.
In a bowl, mix together the Greek yogurt, sour cream, lemon juice, white wine vinegar, grated cucumber, dill, garlic, salt and white pepper. Refrigerate and let the flavors blend until ready to serve.
Tomato and Cucumber Salad
In a bowl, mix together the diced tomatoes, cucumber, red onion, oregano, salt, and pepper. Refrigerate until ready to serve.
Place the chicken on a warmed piece of pita bread, top with tzatziki sauce, sprinkle on the tomato and cucumber salad. Roll it up, and enjoy!
Our wine choice: Semeli 2015 Feast Moschofilero (Peloponnese). A Greek white (because what could pair better!) bursting with lemon and citrus, this crisp wine it a great pairing for these gyros. Cheers!