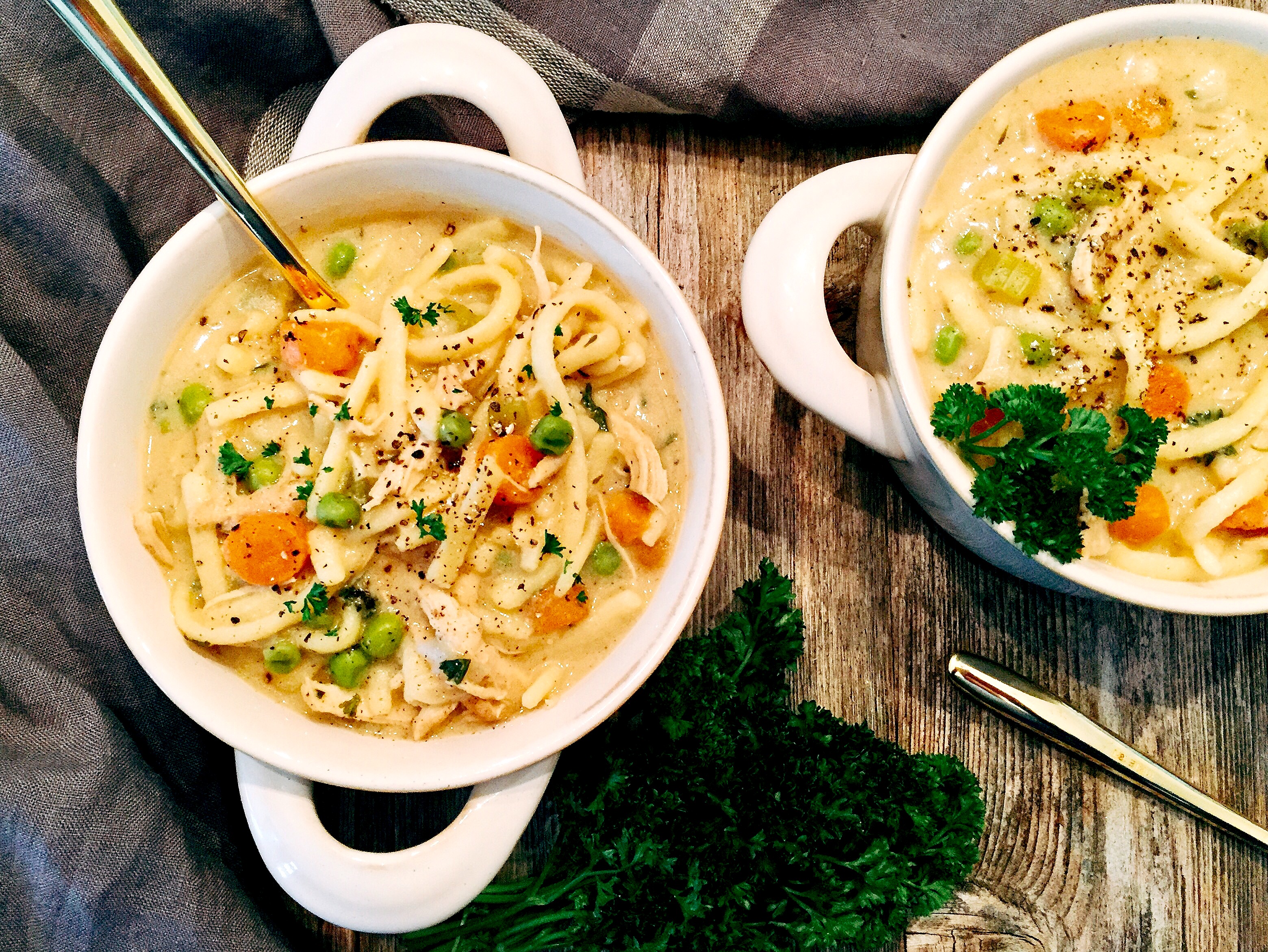 Pleaseeee don't be mad at me. I know, I know. I'm supposed to be moving onto spring, and here I am, whipping up one of the yummiest comfort food recipes ideal for, like, you know, January. But in my defense, even though it's mid-March, mother nature in her crazy way drops snow and ice on us overnight like she's been drinking something really good [can I have some? Sharing is caring.]. Oh, and not to mention, it was like 70 degrees all of February. So that happened.
But moving right along… with all of the snow, I totally couldn't help myself. And you shouldn't help yourself either, because this is so delicious. This is literally a hug disguised as soup. And who doesn't want a hug in a bowl? I do, for one. It's pretty much exactly how I feel about wine. It's a hug in a glass. And because I just can't get enough hugs, I have to continually re-fill my wine glass. You see how that works, right? Good. Glad we agree.
So, the sous chef actually asked if he could guest blog this instead of me, for one reason, and one reason only. He has this thing, where whenever I make soup, he burns his mouth on it. Because, you know, soup is hot. And he pretty much just wanted to make sure he incorporated the last instruction into the cooking steps, which in his opinion is: don't let your soup cool, and burn your mouth on it.
Now, if you want to do that, and not be able to taste food for a week [my idea of hell because I'm totally in love with food], you can go right ahead. But you shouldn't. Don't be like the sous chef. Let your soup cool. Because it's the right thing to do. Consider that your public service announcement for this recipe, and you're free to indulge in the soup now!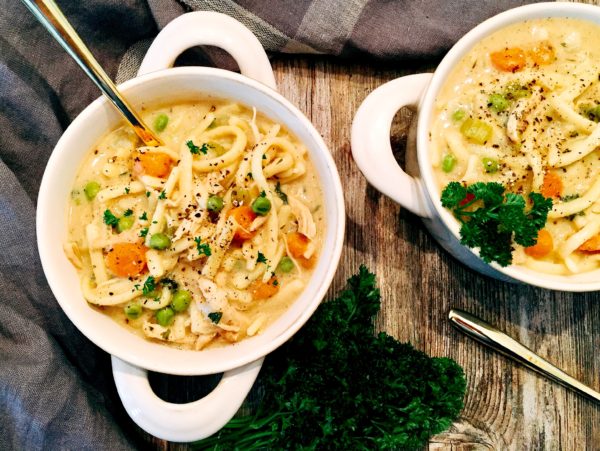 | | |
| --- | --- |
| | |
In a large pot, add one tablespoon of olive oil over medium heat. Add the seasoned chicken breasts, and cook on each side for 4-6 minutes (depending on the thickness of the chicken), until golden brown and cooked through. Remove from heat and set aside. Once cool, shred the chicken using a fork.

Add the remaining two tablespoons of olive oil to the pan. Add the carrots, celery, and onion to the pot. Cook for 12-15 minutes, until cooked through. Add the garlic, and cook for an additional minute.

Sprinkle the flour over the vegetables, mixing well to combine. Cook for 1-2 minutes, until the flour has been incorporated into the vegetables.

To the pot, add the chicken broth and milk. Add the thyme, parsley, bouillon, and pepper. Mix well.

Bring the soup to a boil, add the spaetzle (or other dried egg noodle), and cook according to package instructions.

Reduce heat to a simmer. Add the peas, and return the shredded chicken to the soup. Let simmer on low for 5-10 minutes, allowing the soup to thicken slightly. Serve warm, and enjoy!
Our wine choice: the 2013 Chardonnais Napa Valley Chardonnay. This rich, full-bodied chardonnay has toasty notes of butterscotch, vanilla and tropical fruits. With a luxurious texture and silky finish, this white will pair perfectly with our creamy chicken noodle soup. Cheers!