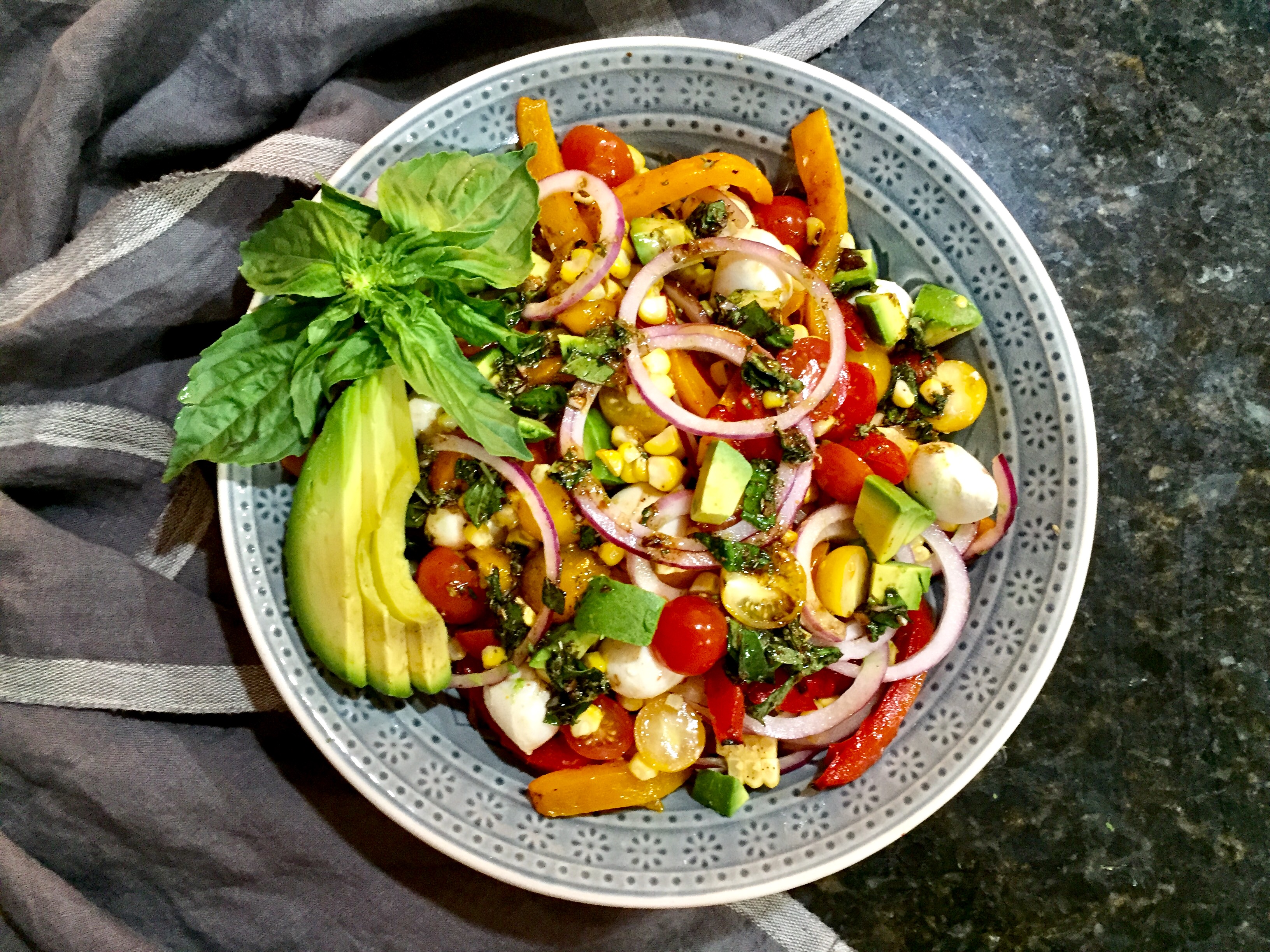 So the sous chef and I officially have our summer vegetable garden planted, and we're very excited – the only thing that more exciting would be if we were able to grow cheese. You know, mozzarella cheese or something. Okay, I'd take any cheese [kind of a cheese-aholic]. But we can't, so we'll have to settle for vegetables. There is something very gratifying about being able to grow your own food, and we look forward to it every year —
But listen, I'm not trying to say we're successful at doing it all the time; it's the thought that counts, right?
Last year, we planted corn, which produced zero ears of corn. But hey, we chalk it up to trial and error. With an emphasis on the 'error' part of that. But that's okay!
We actually do have a lot of success with cucumbers, tomatoes, and jalapenos – among some other. And the only problem we have [which most would think are deer, pests, etc.] is our lovely little dog Duke, who apparently is a vegetable connoisseur, and has to sample all of them. Every last one.
We tried putting up fencing last year around the vegetable garden [to keep the dog out, naturally], but he managed to plow straight through it. He is 100 lbs, so he can kind of do that #doggymomproblems.
But moving right along, this salad is really heaven in a bowl. It is so. so. good. And with all of the fresh produce right around the corner, this is a perfect summer salad and side dish for all of your barbecues!
Also, the sous chef and I were grocery shopping the other day, and we reached the condiment aisle *awkward silence…*. And the sous chef gets into a weird character, pretending he's on a safari watching a wild animal, and proceeds to remark, "and this is Julia, in her natural habitat, the condiment aisle." I walk by most, but given that I needed balsamic dressing for this, I pick up a bottle of balsamic and place it in our cart. He continues, "it didn't even have a chance." As if I poached and killed the bottle… yes, THIS IS MY HUSBAND.
But the herb balsamic vinaigrette is literally everything in this dish. It adds so much flavor to these lovely veggies. It pretty much makes the dish. Are you surprised I'm telling you the sauce makes the dish? No? Good. I'd begin to question our friendship if you were. So in nutshell, you need to make this salad. The end. Kthanksbye.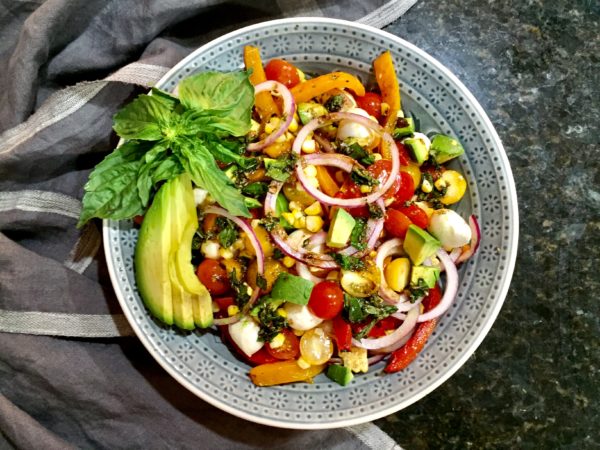 | | |
| --- | --- |
| | |
Preheat your grill to 425. Drizzle the bell pepper halves and corn with olive oil, and season with salt and pepper. Once the grill is preheated, place corn and bell peppers skin side down on the grill. Cook for 8-10 minutes, rotating the corn occasionally, until charred.

Remove from grill and let cool. Once cool, peel the charred bell pepper skin from the pepper. Thinly slice the peppers and remove the corn from the cob.

In a large bowl, combine the sliced bell peppers, corn, red onion, cherry tomatoes, mozzarella pearls, and avocado. Drizzle with the herb vinaigrette, and enjoy!
In a bowl, add the olive oil, balsamic vinegar, garlic, basil, thyme, oregano, rosemary, garlic salt, pepper, and cayenne. Whisk together until combined. Drizzle over the summer salad.
Our wine choice to pair with this summer salad: the 2015 Kim Crawford Marlborough Sauvignon Blanc. This zesty, fresh white is bursting with tropical fruit and fresh herb flavors - a great wine to enjoy with this yummy salad. Cheers!