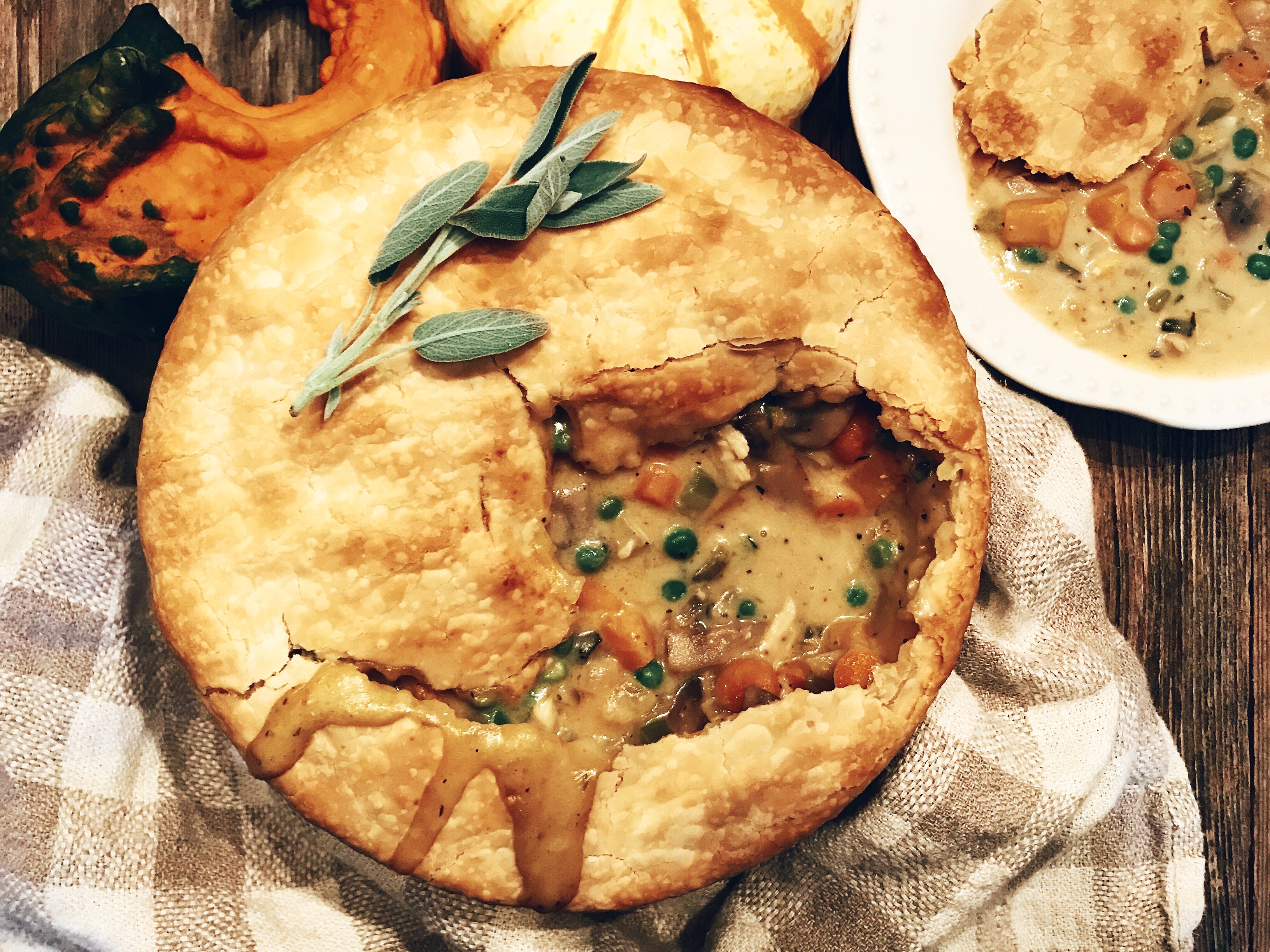 Chicken pot pie IS fall. Winter, too, for that matter. But definitely fall. I mean, I'd eat chicken pot pie on the 4th of July in sweltering heat because I'm actually incapable of NOT devouring chicken pot pie… i.e. having thirds for that matter.
It really is the ultimate comfort food. And it reminds me of so much of childhood, which makes it pretty much double-comfort food — and if that's not a thing, it definitely is now. And who can say no to double-comfort food? Not me, for one. Like, this stuff is good for the soul. It's heartwarming. It's one big bear hug in a bowl… basically what my food dreams are made of [and what yours should obviously be, too]. The flaky crust, creamy filling…. *brb, grabbing a spoon*
SPEAKING OF GRABBING A SPOON, can anyone say leftovers? AKA, my favorite thing about this?! Like, hello, I will eat this for breakfastlunchdinneranddessert. So good. Also, the filling freezes perfectly — so we're talking wins all around here.
I will say that it's a teensy weensy bit laborious — but my friends, it's a labor of love. And worth. every. minute [also, pour yourself a glass of vino, and voila = chopping made enjoyable #magicianoverhere]. By the way, this basically screams Sunday dinner [I actually hear chicken pot pie calling my name on a very regular basis #foodproblems]… bake this bubbling beauty in a big casserole dish, and it's perfect for the family.
I also just love chicken pot pie with butternut squash and sage — it's so fall, and so cozy to me. I mean, is it even fall if you're not cooking with sage and butternut squash?! First of all, no. Simply impossible. SO, with that cleared up, I highly encourage you to walk run [but driving might make more sense] to the store, grab these ingredients and BOOM. Delicious dinner = in the bag. [I mean literally, the grocery bag.]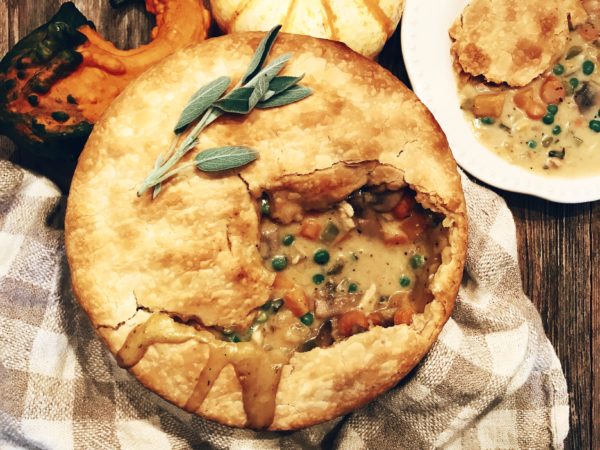 | | |
| --- | --- |
| | |
Preheat the oven to 425 degrees.

In a large pan, add the olive oil over medium heat. Once hot, add the onion, celery, and carrots. Saute until they begin to turn golden brown, about 8-10 minutes. Add the garlic, sage, and thyme, and cook for an additional 1-2 minutes.

Add the butternut squash and baby bella mushrooms, and cook covered for 10 minutes, or until the butternut squash is tender.

Remove lid, and add the three tablespoons of butter to the pan. Once melted, add the flour, stirring to incorporate for about 1-2 minutes. Slowly whisk in the milk, followed by the chicken stock.

Let simmer until thickened -- mixing occasionally -- about 5 minutes. Add the cooked chicken, frozen peas, salt, ground pepper, and ground cayenne. Stir to incorporate.

Place one pie crust in the bottom of a baking dish, pressing it against the edges. Pour the filling into the dish. Place a second pie crust over top of the baking dish, pressing it firmly against the baking dish (crimping the edges, if desired). Using a knife, make several slits in the center of the pie crust. Brush lightly with egg wash.

Place the pie in the oven and bake until bubbly and the crust is golden-brown, about 30-40 minutes. Let cool slightly, and serve warm! Enjoy!
Our wine choice: the 2010 Cloud Break Chardonnay. This rich, buttery chardonnay has notes of vanilla and oak, followed by a lingering fruity finish. Cheers!