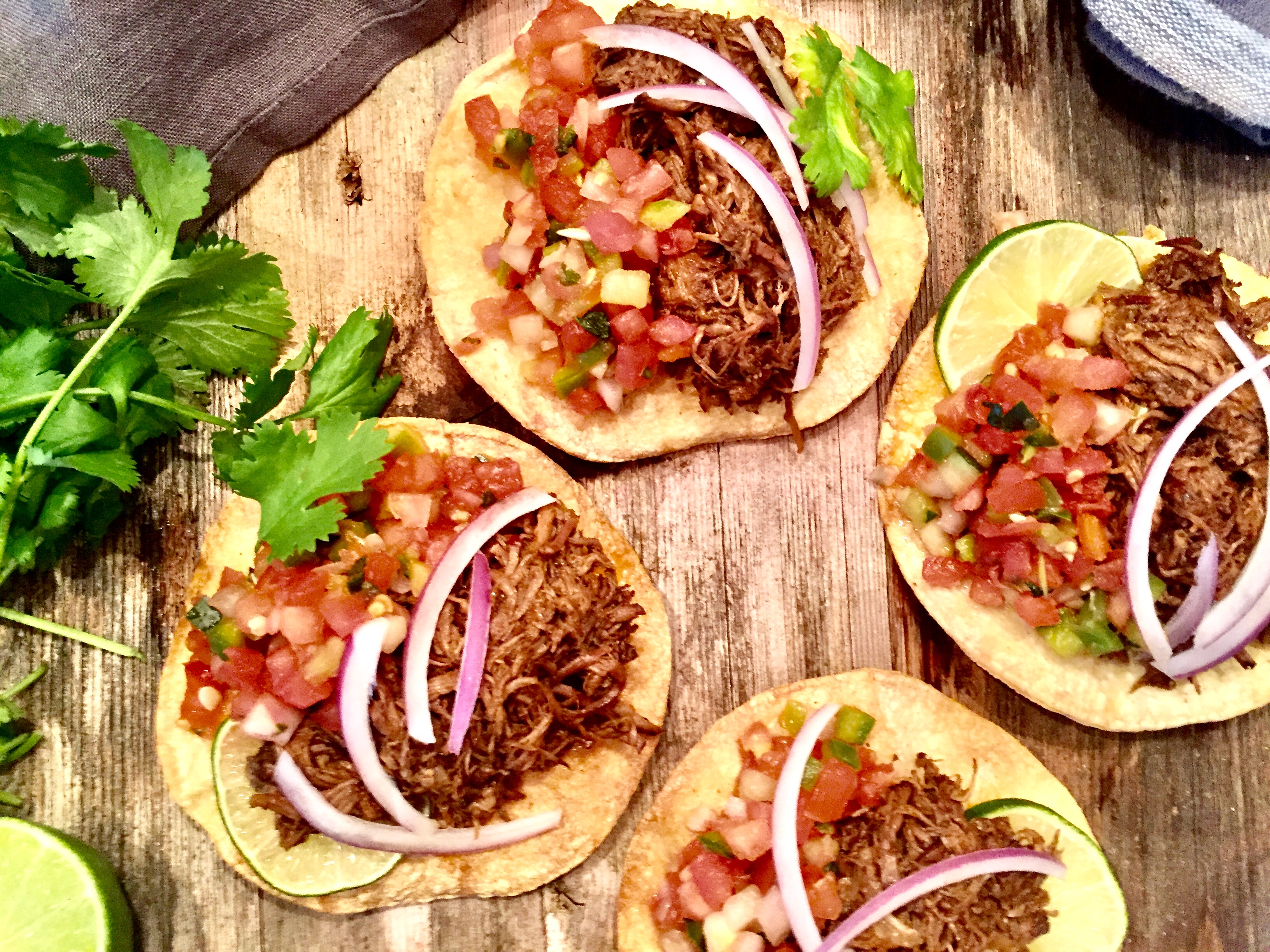 FRAAANDDSSS… I have the best news ever to share with you. And I think you might love me for it. I think I love myself for it? I know, this display of humility is startling. But trust me, if there's anything that calls for love, it's undoubtedly this barbacoa beef, and that goes without question.
If I could just ask for a small drum roll before turning your world upside down [this is totally drum roll worthy]: you never have to go to Chipotle again. Like, ever. Because, I kid you not, this barbacoa beef is literally better than Chipotle. Yes, you read that right. Better than Chipotle. I didn't even know this was possible. But it totally is, and I have proof. And you will, too, just as soon as you effortlessly whip this baby up in your slow cooker.
The sous chef and I were having a serious debate about whether the barbacoa should be beef or pork – and I was 100% on the side of beef. The sous chef failed to sway me otherwise, and after devouring these seriously flavorful beef tostadas, to say we were on the same page would be a total understatement.
I'd also like to point out that the sous chef made the observation about the beef being better than Chipotle's… and that's coming from a self-proclaimed Chipotle aficionado. Not like it's a competition or anything [read: it totally is], but I'm just going to go ahead and mark this as a win in my column. Not that I'm keeping track or anything [of course I am].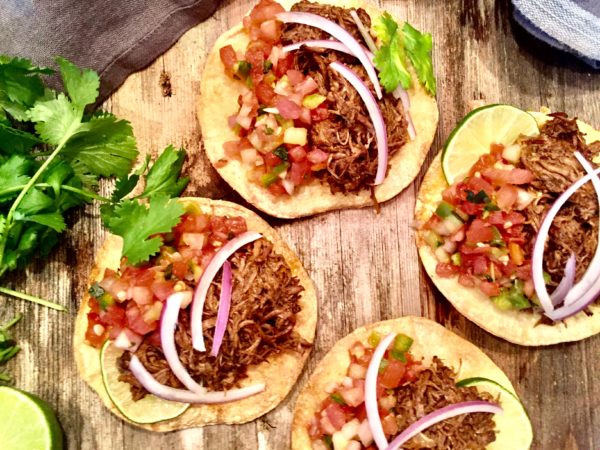 | | |
| --- | --- |
| | |
Cut the beef chuck roast into large chunks (about 2 inches by 2 inches). Season with salt and pepper. Add the olive oil to a large skillet over medium heat. Once hot, sear the beef chuck roast on all sides until golden brown. Remove from heat and set aside.

In a food processor, combine the red onion, garlic, chipotle chili peppers, adobo sauce, beef stock, apple cider vinegar, lime juice, cumin, oregano, salt, and pepper. Blend until smooth and you've reached a sauce-like consistency.

Pour the sauce into a slow cooker. Add the beef bouillon cube. Add the chunks of seared chuck roast, coating in the sauce. Cook on low for 8 hours, until the beef falls apart.

Once finished, use a fork to shred the beef, mixing well to incorporate with juices.
Preheat your oven to 425 degrees. Place the flour tortillas on a sheet pan. Brush with olive oil, and season lightly with salt and pepper. Bake for about 10 minutes on each side, until the tostadas crisp and turn golden brown.

Top with barbacoa beef, and all of your favorite toppings [pico de gallo, red onion, avocado, sour cream], you can't go wrong! Enjoy!
Our wine choice is the 2013 Oak Ridge Zinfandel - a definite favorite in our home. With notes of dark berries, ripe plum, spice, and a touch of smoke, this delicious zinfandel is the perfect pairing for these beautiful beef barbacoa tostadas! Cheers!