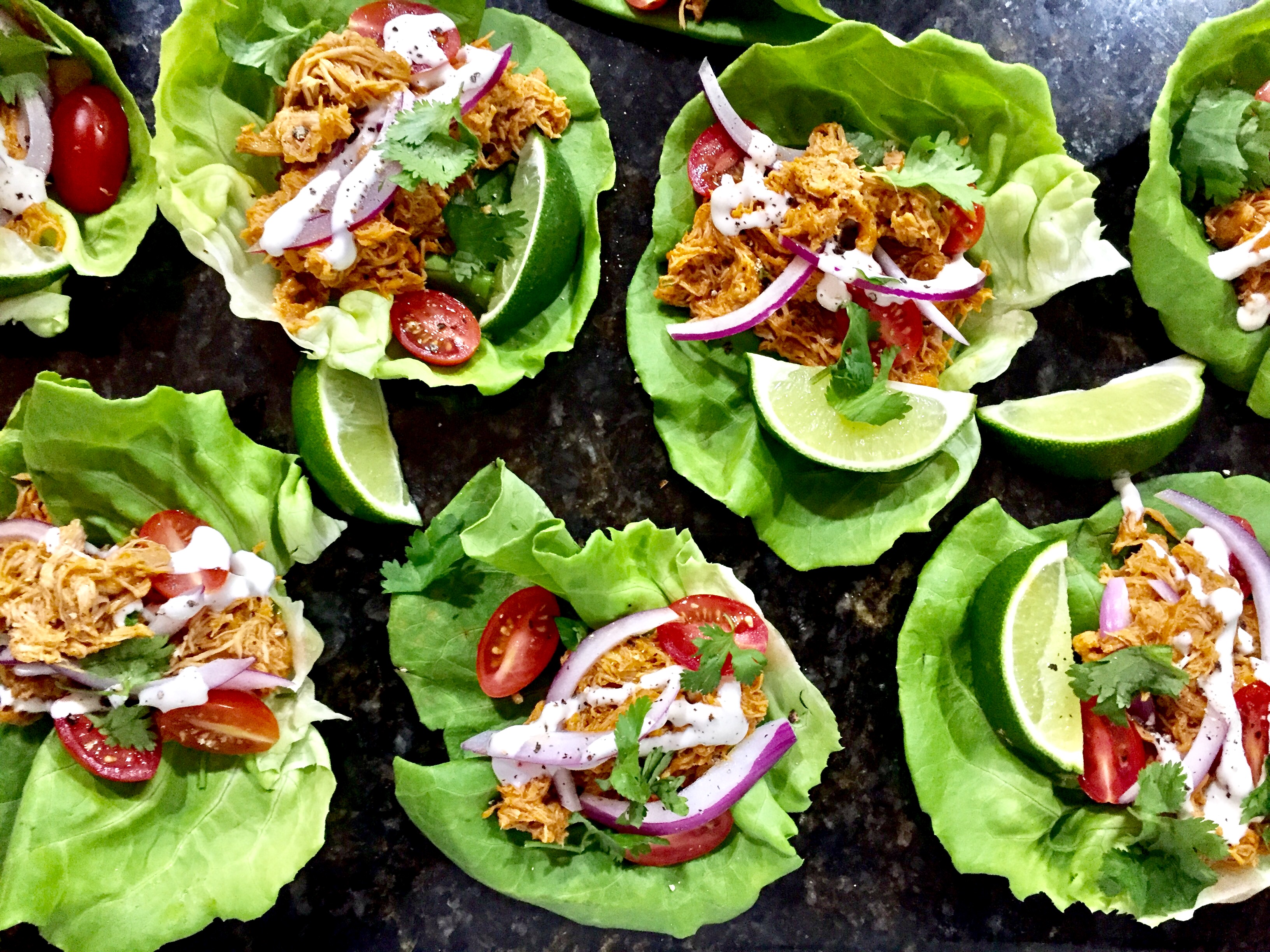 So I'm kind of maybe just a teensy weensy bit excited to share these with you. After my crockpot chicken chili stew with sweet potatoes and kale, I fell in love with slow cooking boneless chicken thighs. Like, we're talking head over heels, crushing hard on these babes. And I've made no secret that I 500% prefer these juicy nuggets just any day of the week to chicken breasts — but slow cooking these was a complete game changer.
Now I know I've talked a lot about my general apathy toward boring chicken, and when I discovered how tender, dreamy, and melt-in-you-mouth amazing these chicken thighs could be, there was no hope — I've been under their spell ever since. And no, it's not the wine talking. It's me pouring my heart out to you over chicken thighs. Do they make self-help books for things like this?
And did I mention slow cooker?! My fraaaands…. it does not get any easier than this. Or tastier than this. Also, naturally, they're smothered in buffalo sauce, because… SAUCE. Now I know you know by now that buffalo sauce completes me, since we're besties and all, so let's just say I'm not exactly full of surprises today. Or ever. I'm actually a creature of habit: work, consumes sauce in one fashion or another, wine, sleep, repeat. You too? WHEW. Glad we're in this together.
But actually, these beauteous pulled chicken thighs dressed up in adorable lettuce wraps — they're probably the cutest little things you'll ever devour. Top them off with your favorite fixings! The world is your oyster. THESE LETTUCE WRAPS ARE YOUR OYSTER. Ranch, bleu cheese dressing, bleu cheese crumbles [a.k.a. the only cheese I've never come to love in my entire life. but this isn't about me. it's about YOU.], cheddar cheese, green onion, red onion, tomatoes, pico de gallo, cilantro, lime juice. HAVE YOUR LETTUCE WRAP AND EAT IT TOO. Because I'm not really sure what the alternative would look like.
Okay, I'm getting a teensy weensy bit overboard. So on that note, go forth. Do great things with these lettuce wraps!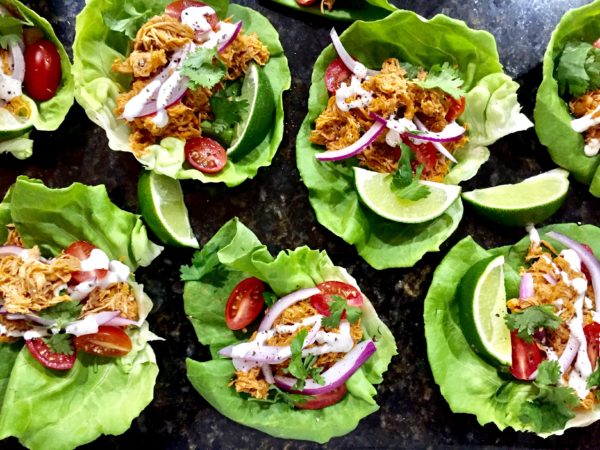 | | |
| --- | --- |
| | |
In a slow cooker, add your boneless, skinless chicken thighs. Sprinkle the packet of ranch dressing over top of the chicken, mixing well to coat the chicken. Pour 12 oz. of the buffalo sauce on top, mixing again. Add the butter. Cook on low for 6-7 hours, until the chicken is very tender and comes apart easily with a fork.

Shred the chicken, and remove from the slow cooker, discarding any remaining fat. Toss with remaining four ounces of buffalo sauce, and set aside.

Remove individuals leaves of lettuce from the head, rinsing and patting dry. Top with the lettuce leaves with the pulled buffalo chicken, grape tomatoes, red onion, cilantro, and ranch dressing or bleu cheese dressing (or any other toppings of your liking). Fold like a wrap (or taco!), and enjoy!
Our wine choice: the 2015 Ferrari-Carano Fume Blanc. This lively, zesty white has notes of pink grapefruit, lime, and honey - with so much character and body, it's a great wine to enjoy with our creamy and spicy buffalo chicken lettuce wraps. Cheers!