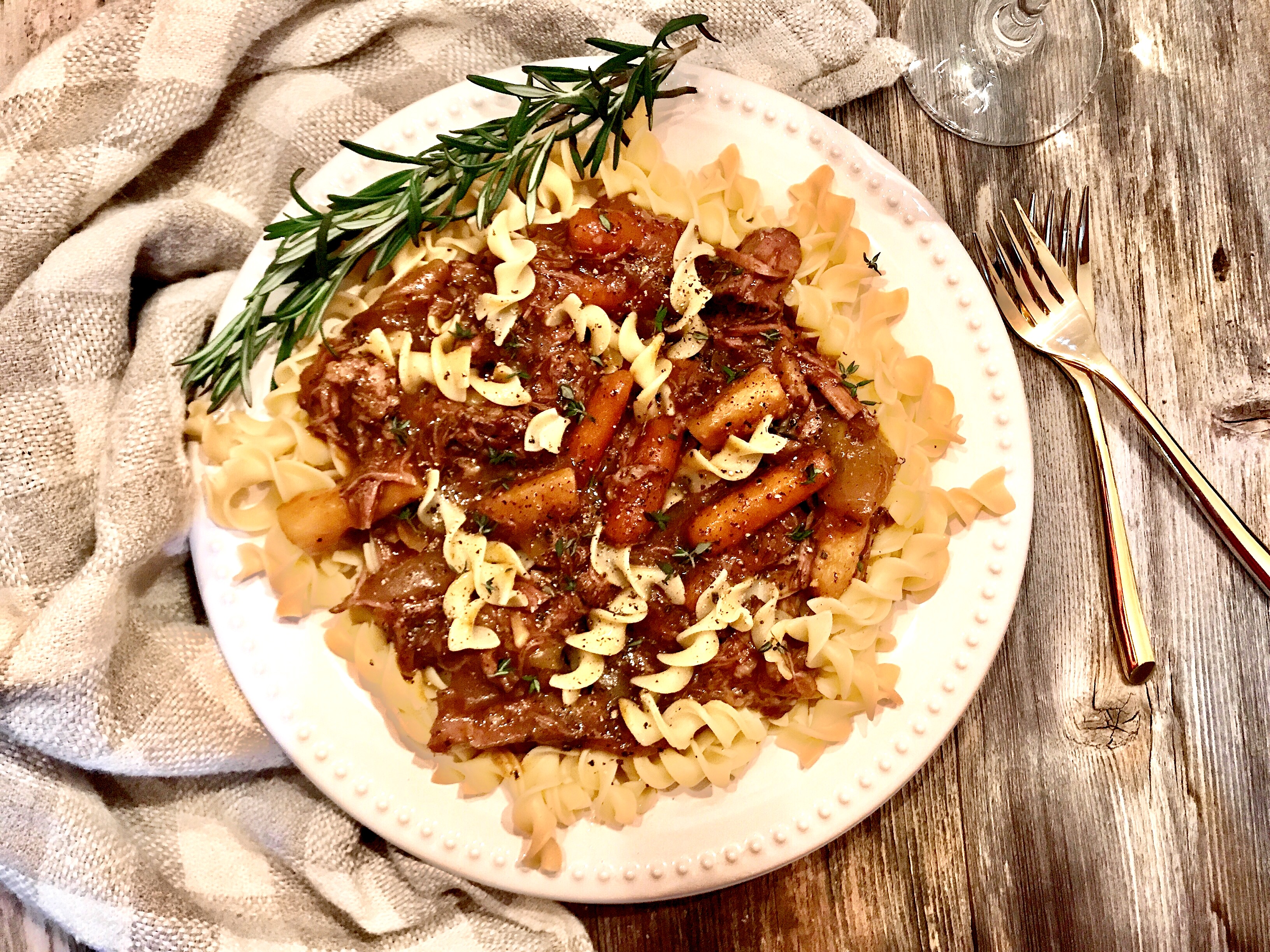 So it's supposed to get down to 23 degrees tonight, and this is *everything* I need to cope. And by cope, I mean, bring on the cold weather, give me three heaping bowls of this hearty, rich, melt-in-your mouth, ah-mazing pot roast — and sure, twist my arm, a bottle of red wine, too. *Immediately changes into pajamas, starts a fire*
Okay, okay, full disclosure: I have literally eaten this for my past three meals [and snacks, naturally] and I swear to you it tastes better every. single. time. [which I didn't even know was possible, because it basically knocked me off my feet at first bite]… Don't just trust me on this, I wholly encourage first-hand experience. Actually, as a PSA, you seriously need first-hand experience.
This is honestly my favorite time of year. The air turns cool and crisp; deep, golden leaves dance their way off the trees; the sun sets early, making way for cozy, dark evenings. I'm basically obsessed. And the only thing better, is knowing that the holidays, and CHRISTMAS, lie ahead *breaks out Christmas lights, DGAF it's November 10*. And lemme tell ya, I don't know if it's comfort food that makes me want cold weather, or if cold weather makes me yearn for comfort food — but I do know this: I NEED both.
This is such a perfect dinner for the fall — and winter. Family comes in town, food is the spotlight [with wine naturally lingering in the background – oh, that's just me?], and there's a crowd to feed. Enter the slow cooker red wine pot roast, aka: holiday hero [see, not all heroes wear capes — case in point, my friends]. Like, this is what you should be making the Wednesday before Thanksgiving: throw this puppy in the slow cooker, and ba da bing, ba da boom, dinner is served. Oh! Oh! AND, you still get to focus on prepping for the big day #winning.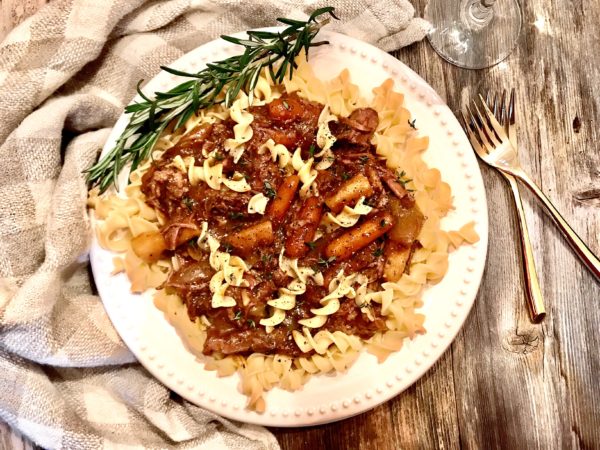 | | |
| --- | --- |
| | |
Add two tablespoons of olive oil to a large pan over medium-high heat. Coat the seasoned chuck roast in flour, shaking off any extra [a ziploc bag is a very easy way to do this]. Once hot, place the chuck roast in the pan. Let sear until a deep golden-brown, about 10 minutes. Flip and repeat. Remove from heat and set aside.

Add the butter to the pan. Once melted, whisk in the 1/4 cup of flour, tomato paste, and dijon mustard. Cook until the flour has been absorbed, about 30 seconds to 1 minute.

Deglaze the pan with the red wine, whisking quickly. Add the beef broth and Worcestershire sauce. Let simmer until it begins to thicken, about five minutes.

To the slow cooker, add the onion, celery, carrots, parsnips, garlic, bay leaves, sage, thyme, rosemary, oregano, beef bouillon, salt, and pepper. Add the chuck roast, and pour the gravy over top. Place the lid on the slow cooker, and cook on low for 8 hours, stirring once every few hours if possible. After 8 hours, discard the bay leaves.

Mix together the cornstarch and water. Slowly stir the mixture into the slow cooker until you've reached your desired consistency. Season to taste with salt and pepper.

Serve over egg noodles, and EAT!
Our wine choice: the 2014 Snoqualmie Red Blend: comprised of Cabernet (68%) and Merlot (32%), this full-bodied is bursting with dark berry flavors, spice, dark chocolate, and a touch of smoke. A beautiful red to serve (and cook!) with this pot roast. Cheers!