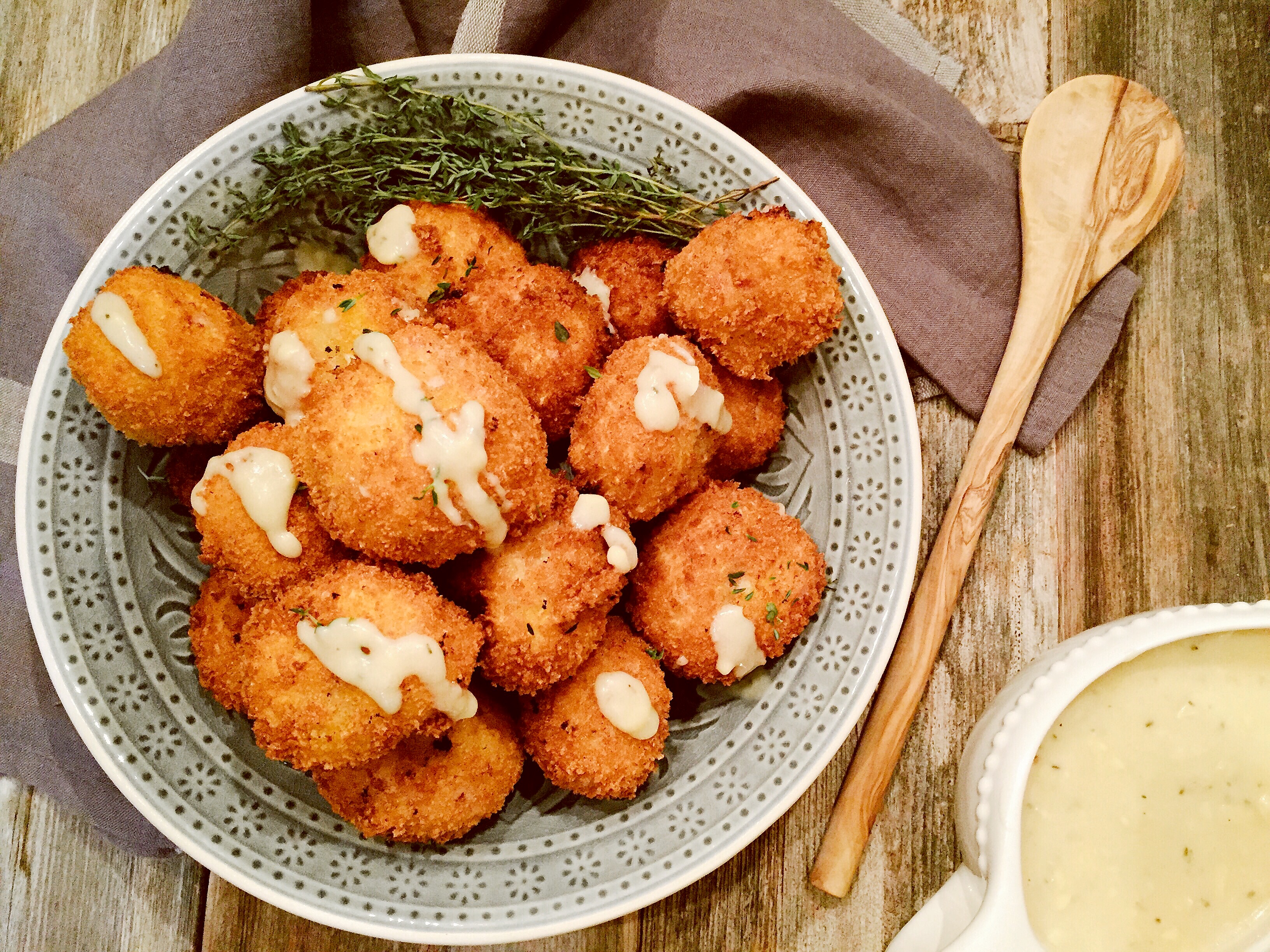 So the sous chef and I are very much so looking forward to vacation in Mexico, and have been diligently working on our beach bodies. But 'beach bodies' is really open to interpretation, right? And if our diet has consisted solely of cheese-filled nuggets, and our goal is to wear moo moos on the beach, I'd say we pretty much nailed it.
But let's get straight to the point: this is a perfect appetizer for the big game next Sunday. With a crunchy outside, and a warm, cheesy center full of smoked ham, this crowd pleaser will not disappoint.
Did I mention it's served with a mustard-cheese sauce? So, so, good.  Now, full-disclosure, one question remains: do delicious cheese-filled fritters full of melted goodness require a yummy cheese sauce, too? The jury is out, and we're a house divided. The sous chef insists it's overboard, and these little treasures are magnificent on their own.
BUT, my philosophy on life dictates that there is no such thing as sauce period. And hey, this is no exception. You say overboard, I say bring it on. Cheese-on-cheese-on-cheese is what my dreams are made of. And a cheese sauce? This doesn't even need a justification.
So moving right along, I think it's safe to say this dispute is settled.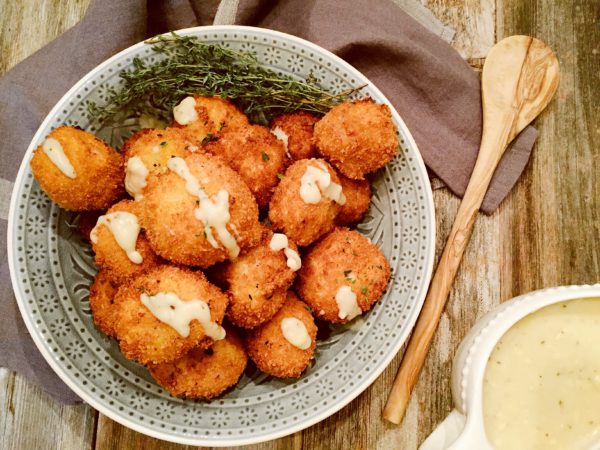 Smoked Ham and White Cheddar Fritters
| | |
| --- | --- |
| Smoked Ham and White Cheddar Fritters | |
Smoked Ham and White Cheddar Fritters
For the fritters: In a medium sauce pan, heat one tablespoon of butter over medium heat. Once melted, add the onion and cook for 3-4 minutes. Add the garlic, fresh thyme, ground cayenne pepper and cook for an additional 1-2 minutes.

Melt the remaining two tablespoons of butter in the sauce pan. Whisk in the flour and cook the roux for about 30 seconds.

Slowly pour the milk into the sauce pan, whisking constantly. Add the grated white cheddar and smoked ham, and let simmer for 3-4 minutes until melted and smooth. The mixture should be thick. Season to taste with salt and pepper.

Line a rimmed baking sheet with parchment paper. Spread the fritter filling across the parchment paper in an even layer. Place in the freezer for 1 to 1 1/2 hours, until firm enough to form ball-shaped fritters.

Meanwhile, prep the breading station using three separate bowls. In one bowl, add the flour. In the next bowl, add your lightly beaten eggs. In the last bowl, add the panko breadcrumbs.

[While the fritter mixture is cooling, make the sauce, directions below.] Once the fritter mixture is cool, use an ice cream scoop or small spoon to form golf-sized balls and place on a large plate (if the fritters become too warm and begin to lose shape, return to the freezer for a few minutes).

Coat each fritter in flour, followed the egg wash, and then coat in bread crumbs. Return the fritters to the freezer until oil is heated.

Heat oil in a heavy-bottomed dutch oven, about 2 1/2 to 3 inches deep. Using a candy thermometer, bring the temperature of the oil to 350 degrees.

Remove the breaded fritters from the freezer and fry in batches, about 4 at a time, for 2 1/2 to 3 1/2 minutes, until golden brown.
In a small sauce pan, add the butter over medium heat. Add the shallot, and cook for 2-3 minutes. Add the garlic and thyme, and cook for an additional 1-2 minutes.

Whisk the flour into the mixture, followed by the dijon mustard.

Slowly add the chicken broth to the pan, followed by the heavy cream, whisking constantly until smooth.

Add the Gouda cheese to the sauce, and season to taste with salt and pepper.

Serve while hot, and enjoy!
This is game day food! Grab an ice cold beer, and enjoy.
[If you're a wino and have no desire to drink beer, try a rich, buttery chardonnay while munching on these cheesy nuggets.]
Cheers!