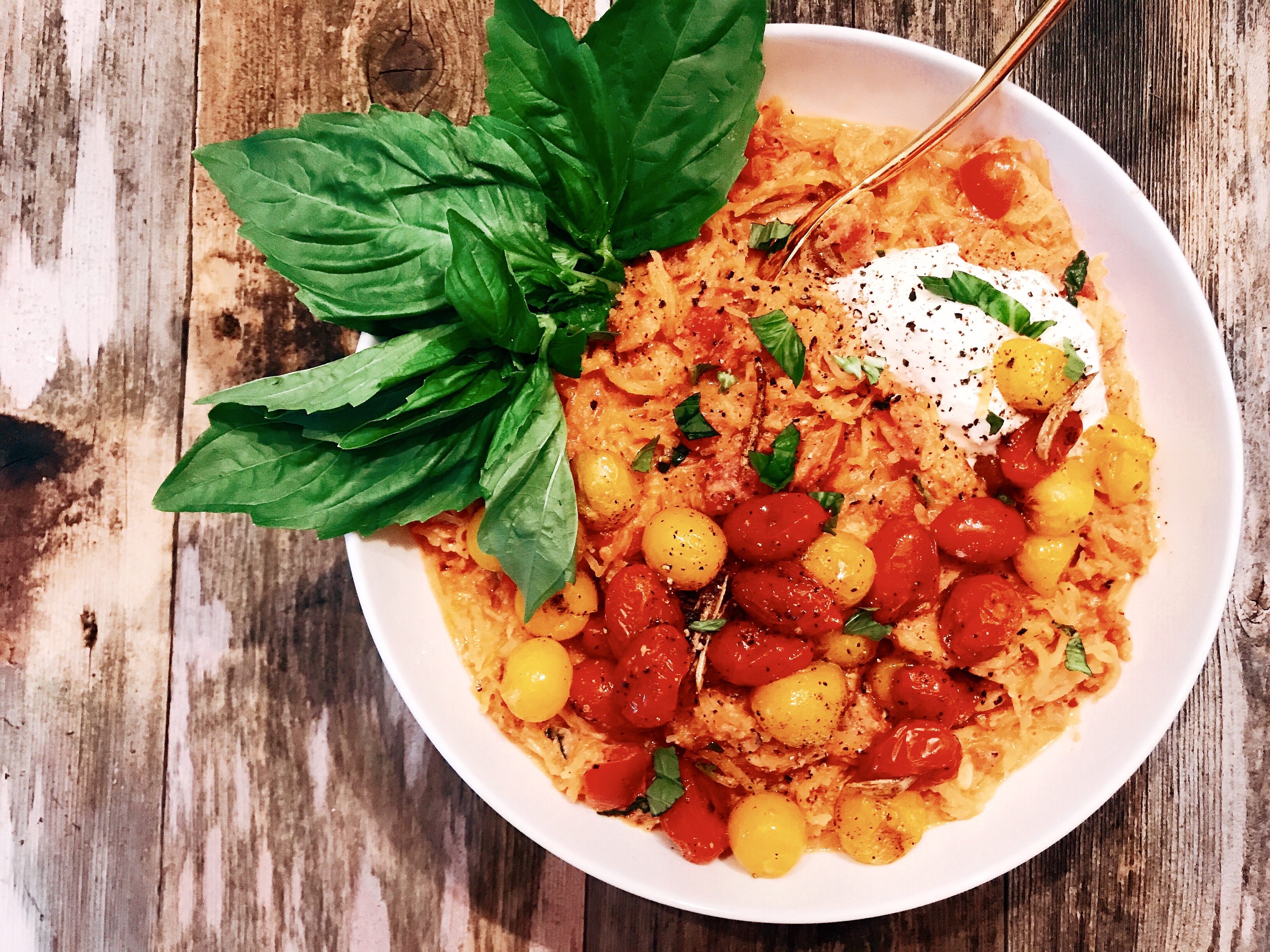 Heellloooooo! Are you basking in August tomato glory? I sure am… I've basically been over here debating whether these gorgeous heirloom tomatoes are just too gosh darn beautiful to eat. I mean, stunners right here. But honestly, they're even more delicious than they are beautiful, so they kinda didn't even stand a chance.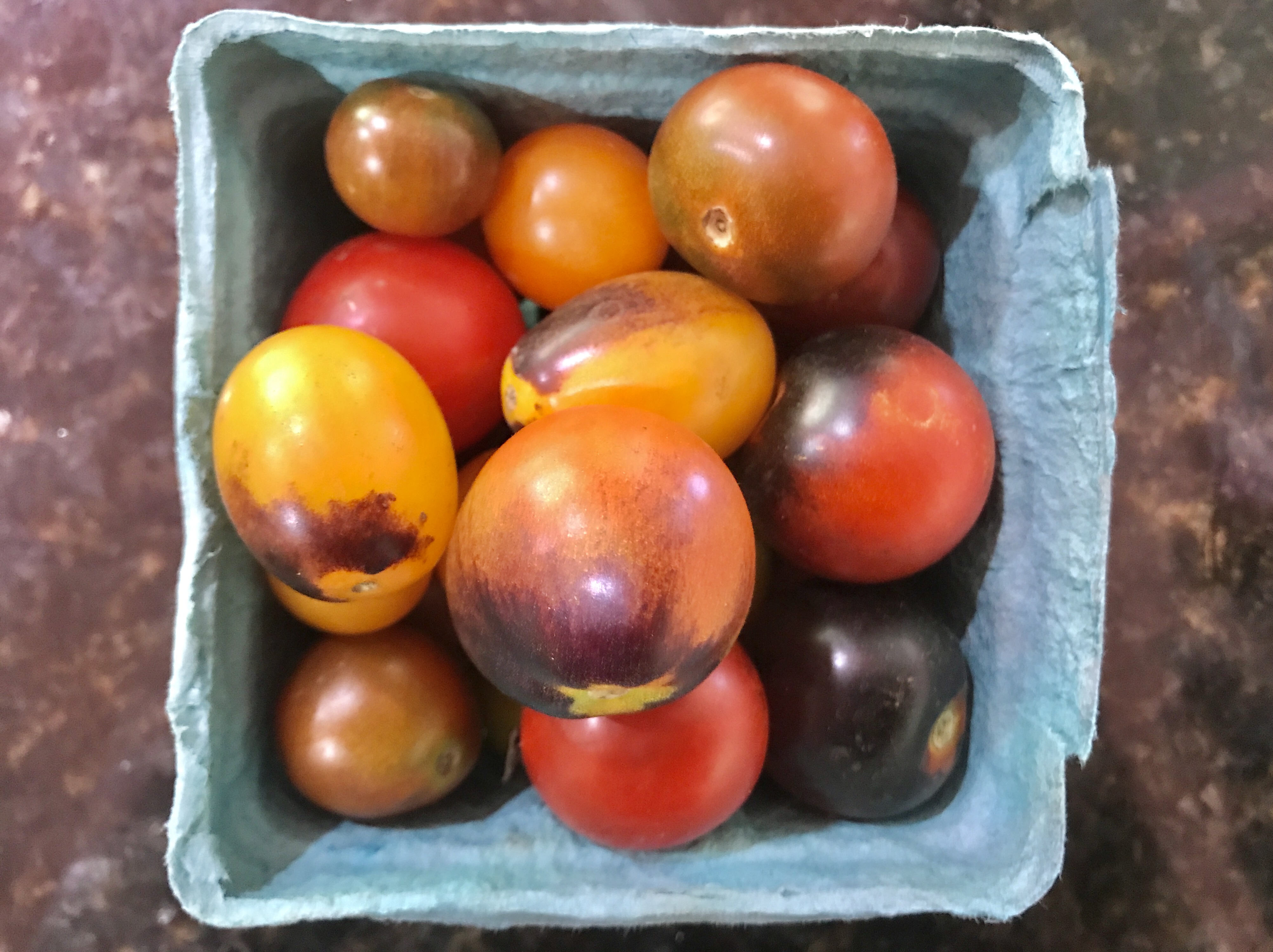 I absolutely L.O.V.E. going to the farmer's market this time of year – I'm basically like a kid in a candy store. My excitement is a little over the top and probably not normal, and I'm totally okay with that. The produce is just so bountiful and beautiful, I'm completely impulsive. Peaches? Thinks to myself: I 100% need to make a peach pie [because of course, I don't even like sweets]. Corn? Thinks to myself: sure, I'll have eight — because the sous chef and I will clearly [NOT] eat 6 lbs. of grilled corn this week… Heirloom tomatoes? NEED.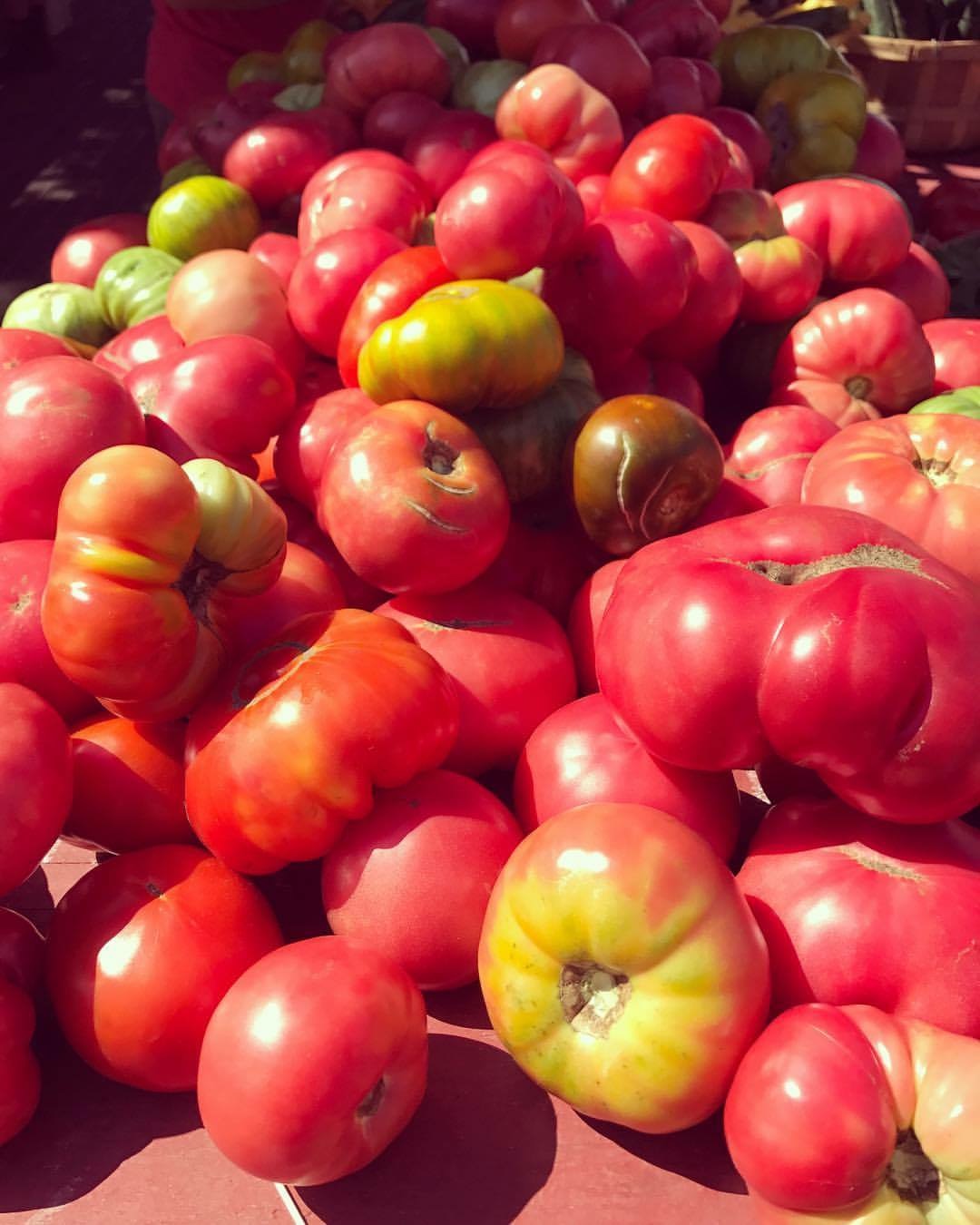 So moving right along, you get the gist — and this cheesy, tomato-y spaghetti squash packed with fresh basil the *perfect* way to use up those beauteous tomatoes.
I know I've been yapping a lot about pasta substitutes, and I have to say, this is so. so. comforting. And sous chef approved to boot! He was mildly obsessed with it, and took leftovers for lunch the next TWO days [and trust me, he swears by protein shakes for breakfast and lunch — I know, boring].
Now obviously spaghetti squash is slightly sweeter and has a bit more texture/crunch than pasta spaghetti — but for me, these are simply vehicles for the sauce [shocking, yes] and spaghetti squash certainly gets the job done [and pretty damn well, if you ask me].
So there you have it: a savory, cheesy, comforting bowl goodness that could only be made better with a glass of wine [or three]. ENJOY!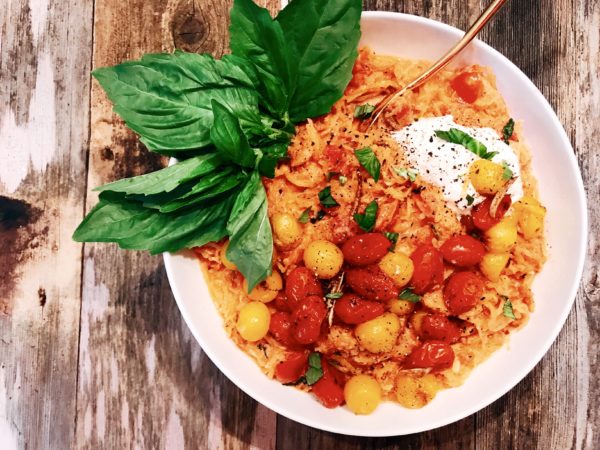 | | |
| --- | --- |
| | |
Preheat your oven to 425 degrees. In a large pyrex pan, place your spaghetti squash flesh side-up. Drizzle a tablespoon of olive oil between the halves, and season with salt and pepper.

Evenly spread the cherry tomatoes in a separate large pyrex pan. Drizzle the tomatoes with a tablespoon of olive oil, and season with salt and pepper.

Roast the spaghetti squash and tomatoes for 45 minutes.

In a large pan, add the final remaining tablespoon of olive oil over medium heat. Once hot, add the onion and cook for 8-10 minutes, stirring occasionally. Add the garlic, and saute for an additional 3-4 minutes.

Add the tomato sauce, fire-roasted diced tomatoes, and heavy cream to the sauce pan.

Stir in the Ricotta and Parmesan cheese, fresh basil, crushed red pepper flakes, garlic salt and pepper. Let simmer on low.

Once the spaghetti squash and tomatoes are finished roasting, let the spaghetti squash cool until ready to handle. Add the roasted tomatoes to sauce, stirring to combine.

Once the spaghetti squash is cool, scrape the squash into the tomato sauce, tossing until combined. Serve hot, and top with additional Ricotta and Parmesan cheese. Enjoy!

[Optional: Add chicken, sausage, or shrimp!]
Our wine choice: the 2012 King Estate Acrobat Pinot Noir. A lighter red with notes of cherry, raspberry, and a lingering finish -- it's a perfect wine to pair with this spaghetti squash dish. Cheers!