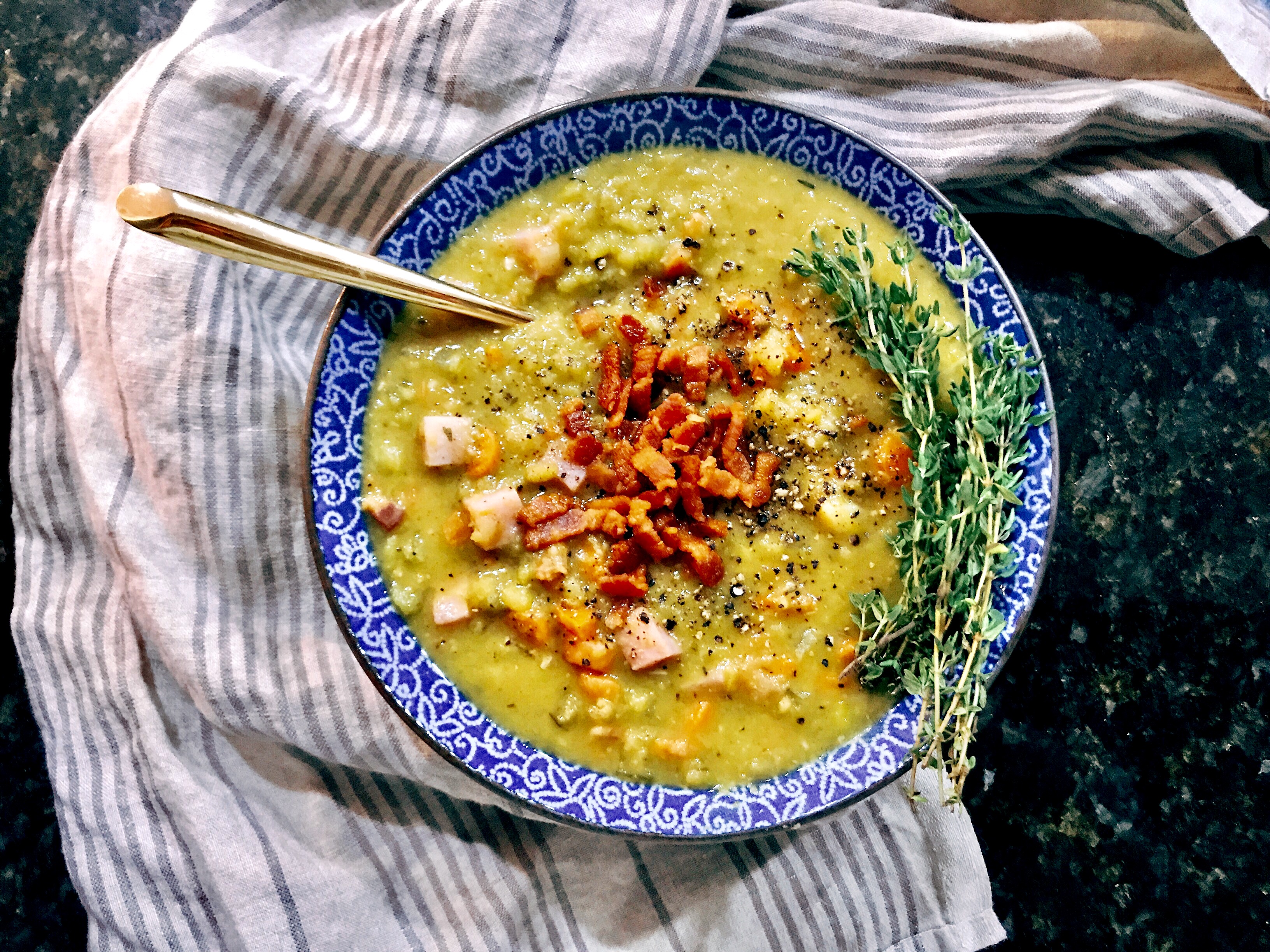 Honestly, I'd contemplate moving to Antarctica to justify making split pea soup year-round. Extreme? Maybe. Would Canada suffice? Probably. But I'm not taking chances here, my friends. This rich, hearty, earthy soup is pretty much what my dreams are made of. It's soul warming.
But it also presents a MAJOR conflict: do I trust my gut [literally…] and slurp up every last drop, or slow down, and savor the flavor that words simply cannot do justice? I know, these are the existential questions that plague my being. BUT, after years of serious contemplation, I've finally put this debate to rest: MAKE EXTRA!, slurp it right up, and then have seconds [*hears angels singing*]. I know, earth shattering. Great minds think alike.
ALSO! Let's just take a sec and examine why this is perfect over the holidays: you know, big holiday feasts, tons of family staying with you… and oh! oh! that's right, a ginormous holiday ham. And yes –boatloads of leftover ham! Yeah, yeah, we've got ham sandwiches, ham omelettes… but this. This is what your family NEEDS. I mean, it's definitely what my family needs. Like, they'd inject this with an IV if it wasn't so messy. Also, be a genius and throw that ham bone right in there for extra flavor [*wipes drool from mouth*… I know, so ladylike, always.]
Quick embarrassing aside: growing up, I refused to eat split pea soup because it was green. And you know, no one likes green things… OR SO I THOUGHT! So sheltered, and so naive. WELL, as you can imagine, I've never been so wrong about anything in my life. But the good news is that I've spent every winter ever since then making up for what I missed out on — and that simply means gobbling down bowl after bowl after bowl while it's considered socially acceptable. So basically September through March. And naturally in hiding every other month in between.
| | |
| --- | --- |
| | |
In a large dutch oven or pot, add the bacon over medium heat. Cook until brown and crispy, about 7-8 minutes. Remove from heat and set aside.

Leave two tablespoons of bacon fat in the dutch oven, discarding any excess fat. Add the onion, carrots, and celery to the pot. Saute until cooked through and the vegetables begin to brown, about 12-15 minutes.

Add the garlic, fresh thyme, oregano, and ground cayenne pepper. Saute for an additional 1-2 minutes. Add the chicken stock, scraping up any brown bits at the bottom.

Add the dried split green peas, bay leaves, chicken bouillon powder, and ground black pepper. Bring to a boil, then simmer uncovered for 1 hour, or until all the peas are soft and begin to break down.

Discard the bay leaves. Return the bacon to the soup, and add the chopped ham. Let simmer for an additional 5 minutes. Serve warm, and eat!
Our wine choice: the Domaine du Gour de Chaule Gigondas Cuvee Tradition 2010. A robust red with notes of pepper, chestnut, and dark currents -- coupled with this hearty and earthy soup, it will be sure to please. Cheers!