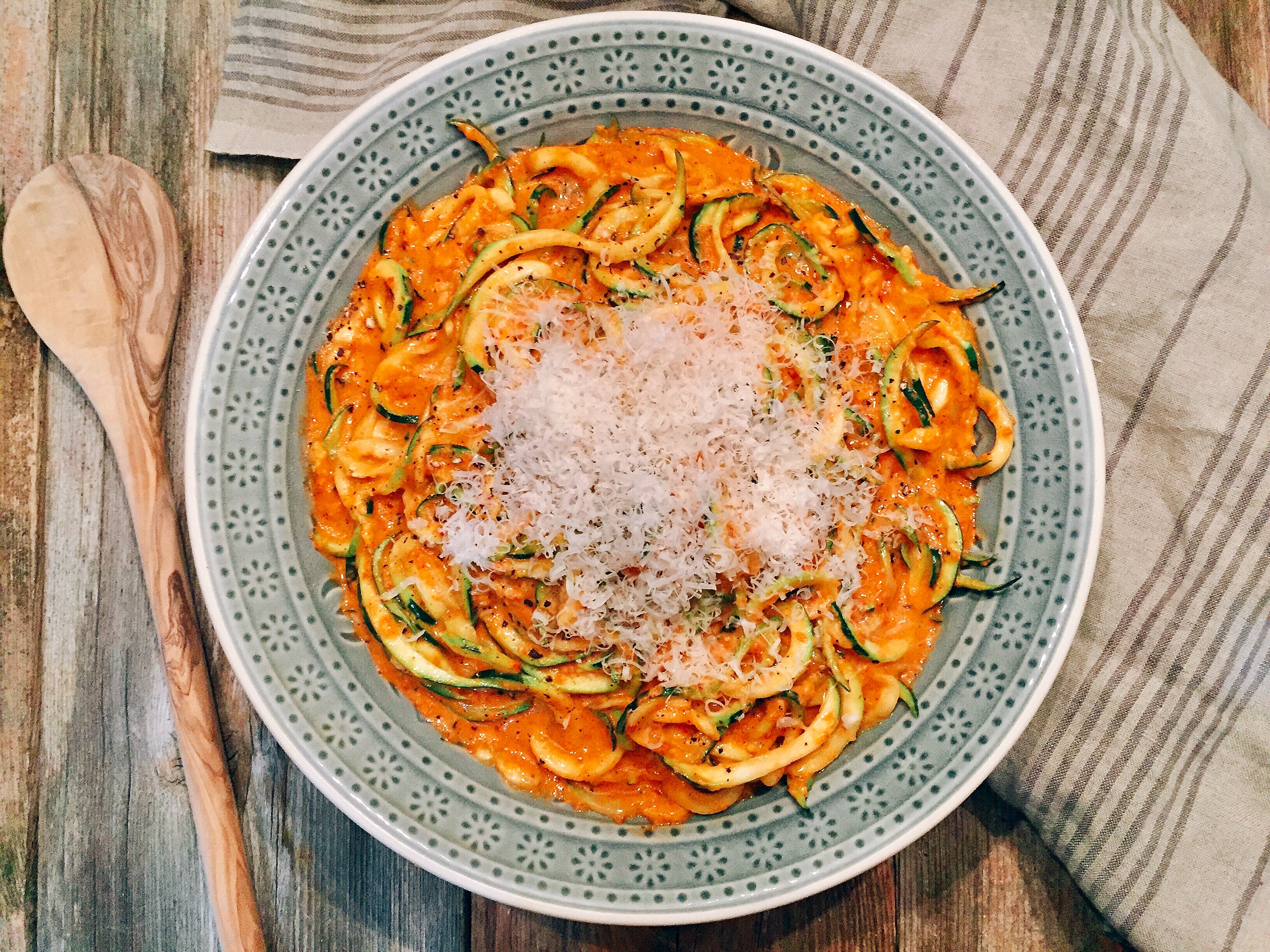 STOP THE PRESSES: We've got ourselves an impasta on our hands! Get it? Zoodles? Fake pasta? [… and on today's episode of my favorite [and oh so terrible] corny jokes to tell…] Please tell me you just laughed? Maybe a chuckle? A smile, at least? No? Just an eye roll? #storyofmylife.
And as much as I'm all about the real deal once in a while, I'll take 'impastas' any day. Probably because they're all just vehicles for sauce… you know, #sauceaholicsnotsoanonymous. And my friends, this sauce does not disappoint. I mean how can a sauce with two types of cheese in it ever disappoint [read: a perfect sauce for those of us with humiliating amounts of cheese in our cheese drawer]? It doesn't.
And while this a great side dish, it can also make a perfect entree – throw some protein in it: shrimp, chicken, more cheese? You know, cheese has protein and all… No judgment here.
So one other quick thing – I've learned the trick with zoodles: you should only cook them for a couple of minutes, until they begin to soften. It's important to take them off the heat before they start to release water. Think of them as al dente? Much better than cooking them into mush. Trust me, I learned the hard way.
And oh, by the way, you'll certainly get your daily dose of green-things-we're-all-supposed-to-eat-more-of, and they're covered in a beauteous roasted red pepper sauce. So, um, I'll have seconds thirds. Make that another glass of wine, too. Because, #yolo.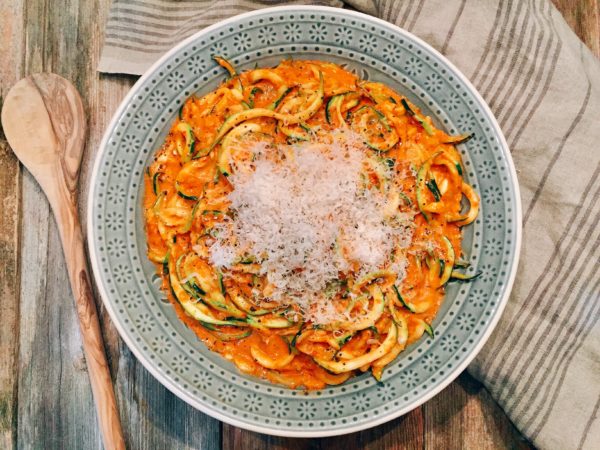 | | |
| --- | --- |
| | |
In a blender, add the roasted red peppers, garlic, shallot, fresh basil, goat cheese, Parmesan cheese, and heavy cream. Puree until smooth. Season to taste with salt and pepper. Set aside.

In a large saute pan over medium heat, add the olive oil. Using tongs, saute the zucchini noodles for 2-3 minutes, until they begin to soften. Add the roasted red pepper sauce, and cook for an additional minute, allowing the sauce to heat through.

Top with additional Parmesan cheese, and enjoy!
Our wine choice: the 2015 Julia James Pinot Noir. This earthy, medium-bodied red is silky and smooth with notes of raspberry and spice. Well-balanced, and an excellent choice to serve with these zucchini noodles. Cheers!