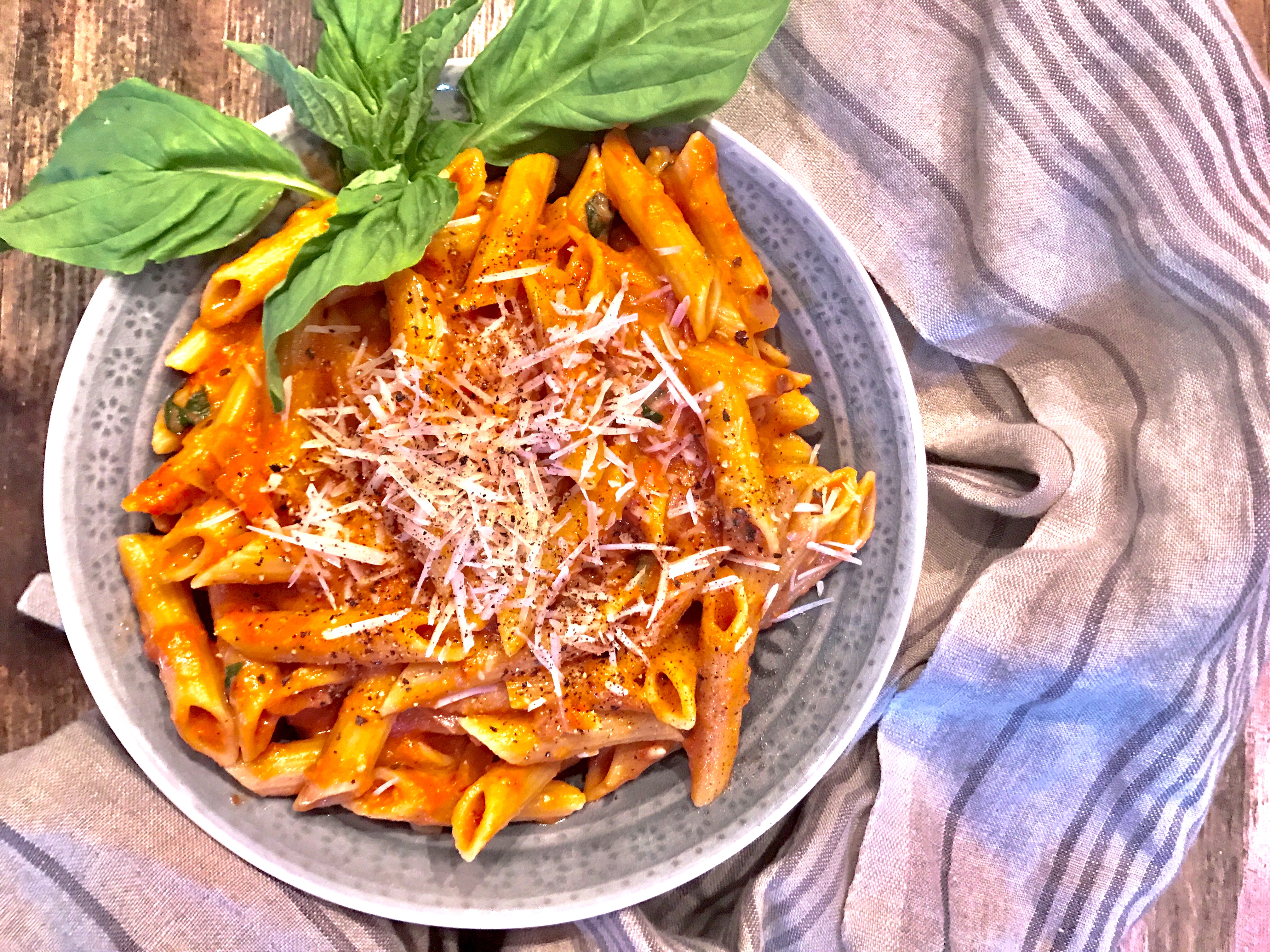 I know what you're thinking… vodka?! But not to worry, I haven't changed my allegiance from red wine [WHEW]. I just figure, you know, vodka sauce = more red wine for you to enjoy. Perfect logic, right?
But in all seriousness, you cannot go wrong with classic penne alla vodka. Hearty pasta swimming in a rich, creamy tomato sauce? Um, yes please. I know we've talked about my weird 'thing' with tomato sauces recently — and I have no idea what's going on, but I can't even stop myself from that tomato sauce life [*hangs head in shame. but immediately perks back up at my wine glass*]… but listen, if you make this, I promise you won't be mad at me.
I mean I've pretty much come to the conclusion you can't go wrong with pasta — it's totally one of my splurges, and if you DO go wrong with pasta, I'm just not sure we can be friends anymore [we totally can, just not in public]. KIDDING. We're basically besties 4 eva.
It's no secret that I'm obsessed with everything autumn [like, as in I hoard pumpkins and gourds…] — and comfort food is definitely [MOSTLY] responsible for that. There is nothing better than a chilly Sunday dinner with family, a fire, and DUH, copious vino. And a perfect choice for that? You guessed it: this hearty, delicious penne alla vodka. And hey, go crazy, throw some sausage, bacon — any protein your big heart desires. It is so yummy, even the pickiest of eaters can't say no this. Trust me here!
Okay, okay…what I'm trying to say, is you should pretty much should stop everything you're doing, scoop yourself some of this comfort-in-a-bowl [it's like, better than a hug], and pour yourself a generous glass of wine.  And just like that, evening = complete.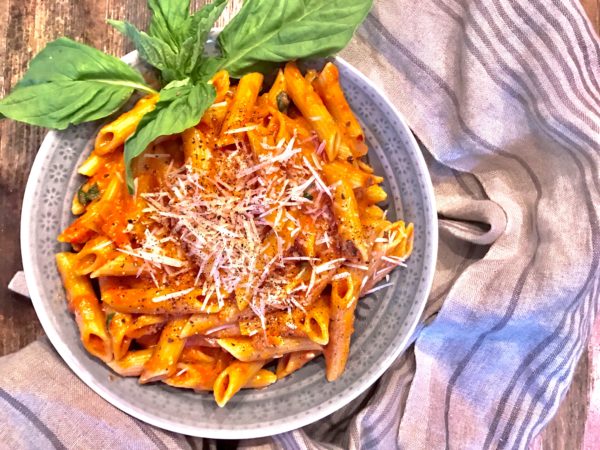 | | |
| --- | --- |
| | |
Cook the pasta according to package directions.

Heat the olive oil and one tablespoon of butter over medium heat in a large saute pan. Add the onion and saute for 8-10 minutes until cooked through, and the onion begins to brown. Add the garlic, and saute for an additional 1-2 minutes.

De-glaze the pan with the vodka scraping up any brown bits, and let simmer until reduced by half, about 3 minutes.

Add the tomato puree, heavy cream, Worcestershire sauce, fresh basil, Parmesan cheese, crushed red pepper flakes, and garlic salt. Let simmer for 2-3 minutes.

Add the cooked pasta to the pan, coating it with the sauce. Serve, top with additional Parmesan cheese, and enjoy!
Our wine choice: the 2014 Luiano Chianti Classico. This red is comprised of 90% sangiovese, 5% cabernet sauvignon, and 5% merlot -- full of dark berry flavors and notes of spice, this velvety, delicious red will be a great pair for this classic penne alla vodka. Cheers!