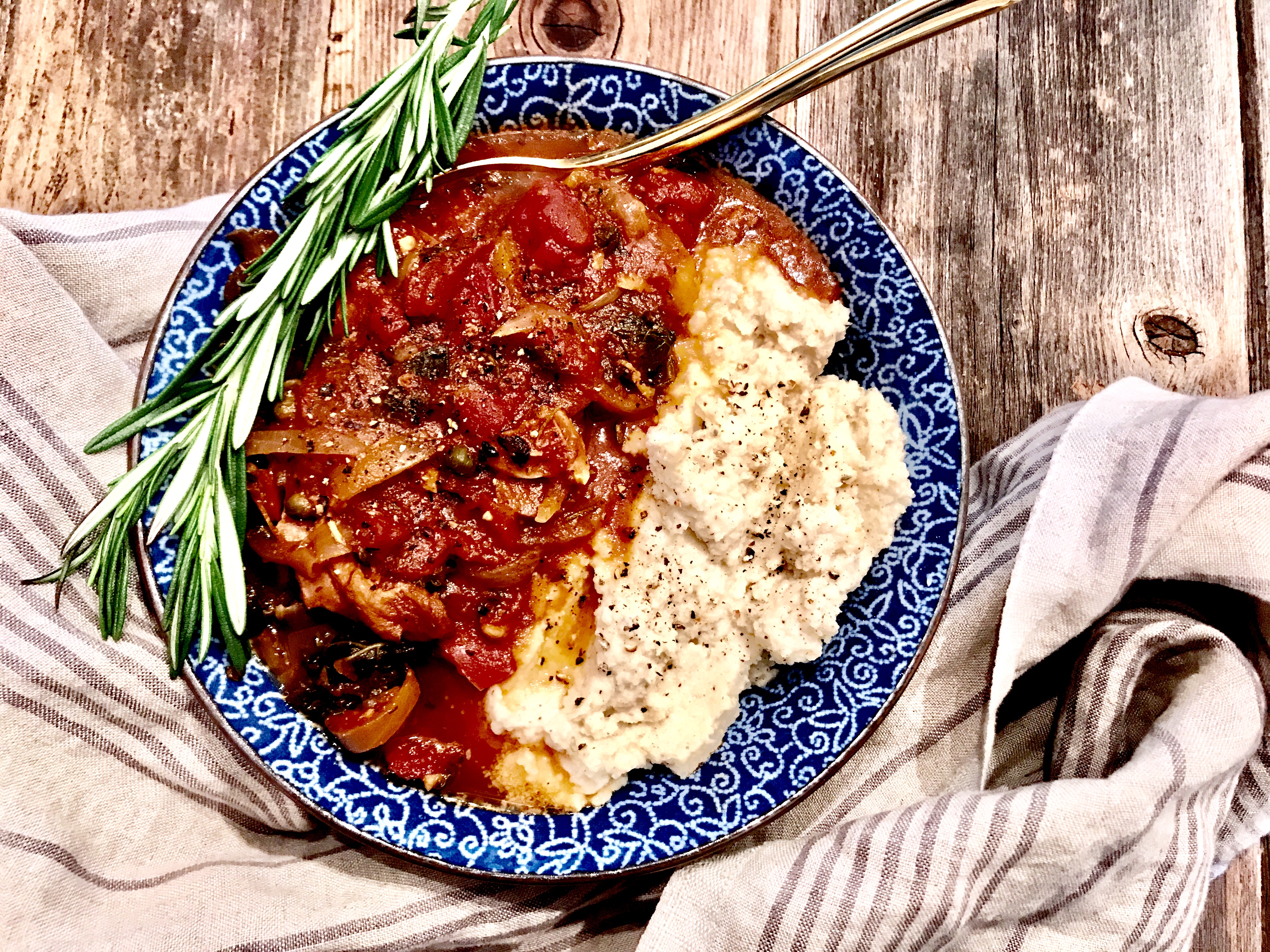 Oh. my. goodness. gracious. This recipe. It's basically comfort heaven. Or chicken cacciatore heaven. I absolutely love chicken cacciatore, and this recipe is pretty much the exclamation point on that statement. First of all, it simmers for hours, creating this hearty, stew-like yumminess PACKED with melt-in-your-mouth chicken thighs, onions, peppers, mushrooms, herbs — just so, so good. And obviously super easy, too [shout out to my side squeeze, the slow cooker! [main squeeze is and forever will be the sous chef wine, duh]. Jk, babe, love you!].
Also, THANKFULLY, mother nature is finally catching up to real life and realizing it's almost November… and on a cold, rainy day [my most favorite kind of days, always] this is exactly the kind of food I need by my side. Eating by the spoonful next to the fire. In my pajamas. Savoring every bit of this hug in a bowl. And then having seconds thirds. C'mon, it's good for the soul.
We served it over our favorite creamy mashed cauliflower, and it was divine. It just kind of yearns for something to sop up all of it's delicious juices, and the cauliflower was on point. You could always opt for pasta, mashed potatoes, garlic bread…. GARLIC BREAD. How did I not think of that before?! This NEEDS crusty, garlicky, salty bread, and I'm so mad at myself for not having this brilliant epiphany until now. Hindsight is so 20/20. But I can rest assured knowing you're smarter than I, and will serve this with copious amounts of garlic bread.
Now it may not *look* like the most beautiful thing in the world, but my friends, it's what's on the inside that counts. You get? And the best part about this chicken cacciatore– it's even good for you [I know, cover your ears]… it's packed with vegetables, and full of protein, so no guilt here. That's right, you heard exactly what I said: go pour yourself that extra glass of wine. Cheers!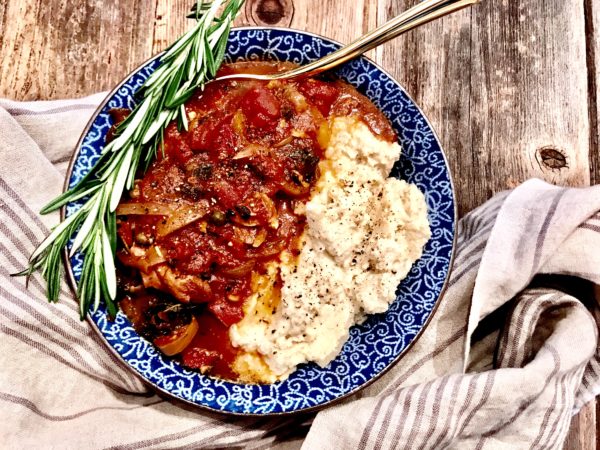 | | |
| --- | --- |
| | |
To the slow cooker, add the chicken thighs, crushed tomatoes, diced tomatoes, tomato paste, bell peppers, onion, mushrooms, garlic, kale, capers, thyme, rosemary, oregano, garlic salt, pepper, and crushed red pepper flakes. Mix well.

Cook on low for eight hours. Shred the chicken before serving. Top with Parmesan cheese, and enjoy!
Our wine choice: the 2013 Route 29 Cabernet Sauvignon. With dark fruit, toasted nuts, and mocha, the lingering finish of this well rounded red from Napa Valley will leave you wanting more! Cheers!