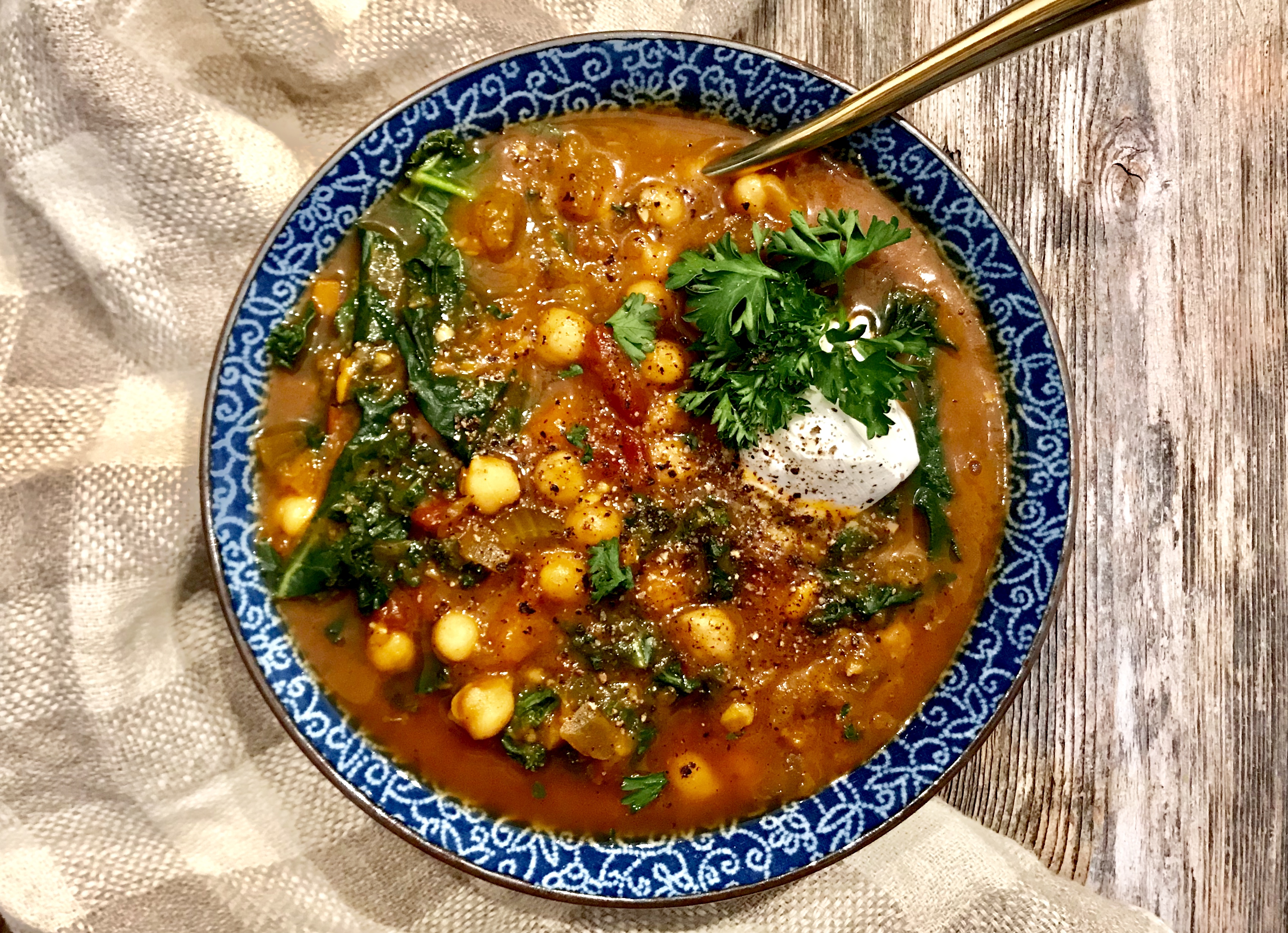 My friends, if you're looking for something dull and boring, keep on movin'. Because this soup right here is anything but — it's zesty, hearty, soul-warming, AND even good for you. Not to mention: easy, peasy! Does it get better than that? A satisfying guilt-free dinner? Nuh-uh. No way.
So the sous chef totally has me into Middle Eastern, North African, and South Asian flavors and spices right now – which by the way, are *so* perfect for the winter! It's been exactly 5 degrees outside most evenings, and the heating system in our house is working overtime, to say the least. So I'm strategically rotating the sous chef [at night], our 110 lb. dog [on the couch], and this soup [during dinner, of course] as my personal heaters until this crazy cold blast pasts.
And this soup works wonders — it's packed with incredible flavors: ground cumin, turmeric, curry powder, ginger, and a dash or two of cinnamon = all the cozy feels, forreal. And since this is of course a slow cooker recipe, toss everything into that big beautiful magical pot of yours and voila, a healthy, delicious dinner ready in no time flat. Well, 8 hours — but 8 hours of you doing anything but cooking!
PRO-TIP ALERT! You should totally freeze whatever leftovers you have – that is, assuming you have any ounce of self-control not to lick the slow cooker clean – and keep this in your arsenal for busy weeknights that you just don't have time to cook. It happens. We're human. And when you re-heat this beauteous soup, you will not be disappointed.
Quick aside for those of you curious about the health benefits of this soup [the list of potential benefits is seriously endless]: sweet potatoes: high in vitamin A, beta-carotene, antioxidants; kale: high in fiber, good for digestive tract, anti-inflammatory, high in vitamin K; turmeric: increases antioxidant capacity of the body, contains medicinal properties, improves brain function; ginger: shown to reduce nausea and muscle soreness, lowers blood sugar and risk for heart-related diseases; cumin: regulates digestion, can prevent diabetes and bronchial diseases, and can decrease cognitive disorders; cinnamon: high source of antioxidants, anti-inflammatory, protects heart health, may lower cancer risk [among about 50 others altogether!]
With that, you've earned a glass of wine or three. Cheers!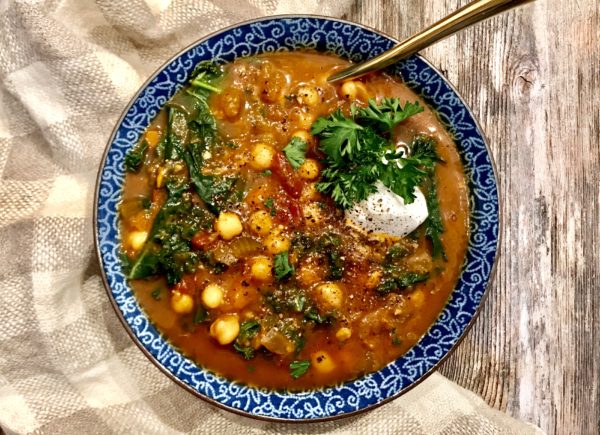 | | |
| --- | --- |
| | |
In the bowl of the slow cooker, add the onion, celery, carrots, garlic, sweet potato, cilantro, fire-roasted diced tomatoes, lemon juice, cumin, salt, pepper, curry powder, smoked paprika, turmeric, ginger, cinnamon, cayenne pepper, and chicken or vegetable stock. Cover, and cook on low for 8 hours, or on high for 4-6 hours.

Once finished cooking, add one can of the rinsed and drained chickpeas. Using an emulsion blender (or transferring to a blender), puree about 1/4 to 1/2 of the soup, ensuring about 1/2 of the chunks and texture remain.

Stir in remaining can of chickpeas and kale. Continue stirring until kale is wilted and bright green, about 3-5 minutes. Season to taste with additional salt.

Serve hot with a dollop of sour cream, and enjoy!
Our wine suggestion: the 2013 Shoofly Pinot Noir. This fruit forward red has notes of warm spice and vanilla -- a great choice to pair with this Moroccan-spiced soup. Cheers!