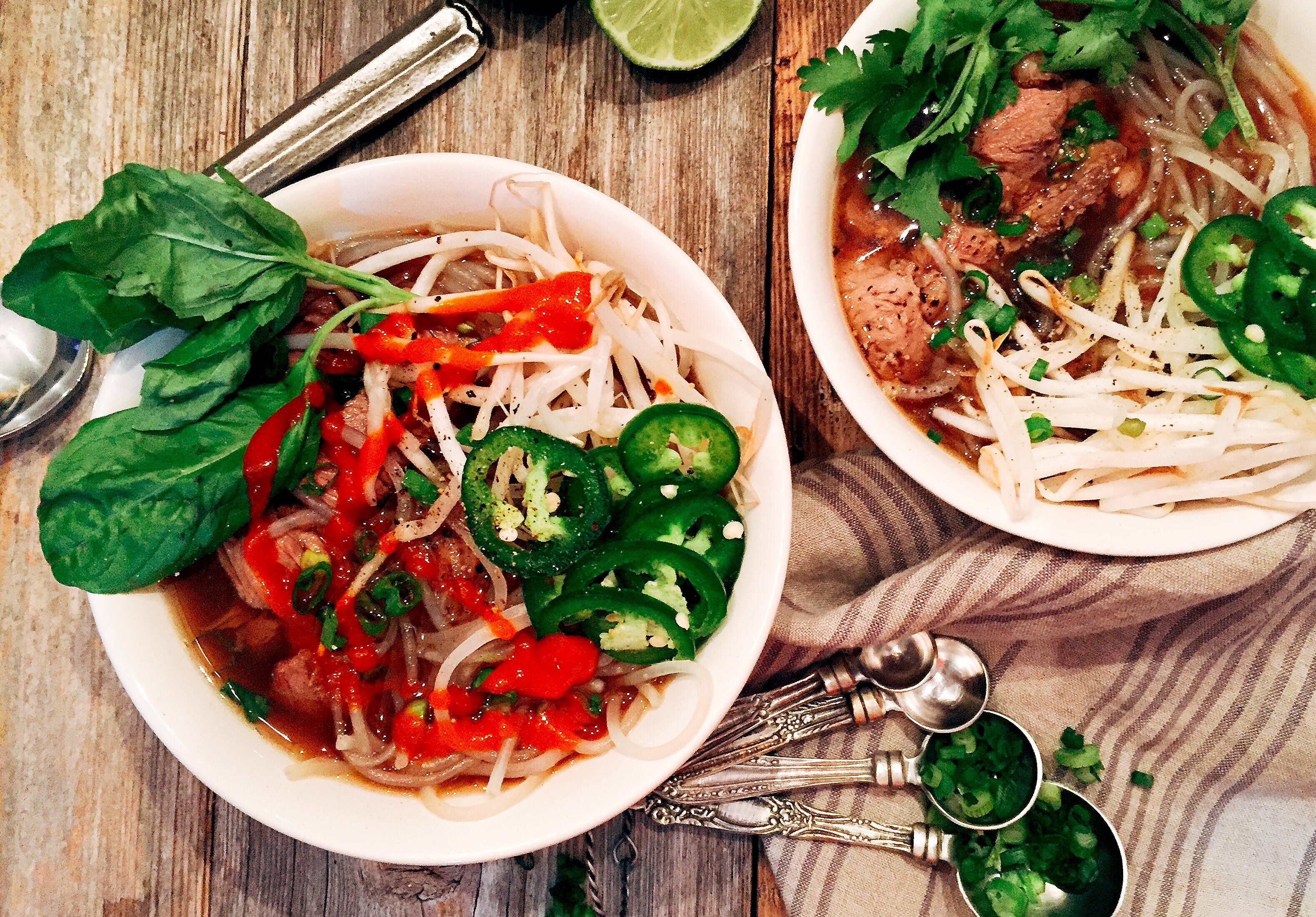 Growing up in the Washington, D.C. area, pho soup is a staple at densely populated Vietnamese restaurants across the region. So of course – my favorite thing being a homebody and drinking copious amounts of wine with the sous chef and our dog-child – why go to a restaurant, when you can make it right at home?
Also, enter my best friend, who is religiously doing the Whole30 diet [caveat: she drinks wine = why we're still friends], and is my most favorite dinner guest ever. Naturally, I want to make something delicious, but something that can still be adapted for her diet. Major obstacles being cheese, cheese, oh, and cheese. But that's okay. Because we are resourceful individuals!
And since I've been on a ridiculous soup bender [broccoli & cheddar soup, roasted cauliflower soup, spicy black bean soup, the list is endless], and craving a bowl of spicy pho, I thought this would fit the bill perfectly. And my friends, this did not disappoint. This was seriously excellent, and you'd have no idea you weren't in an authentic Vietnamese pho restaurant! And as for the Whole30 adaptation (or paleo), skip the rice noodles, and slurp up all the flavorful broth and all of the delicious fixings.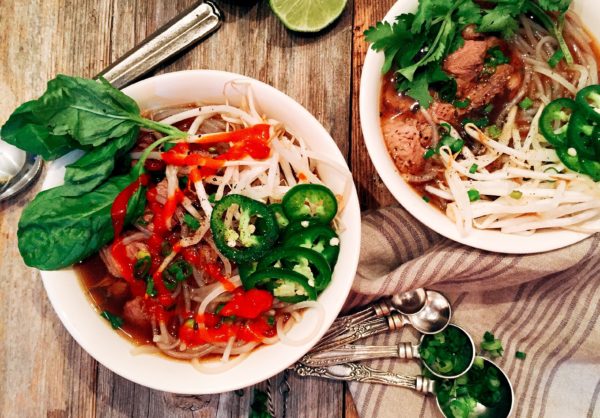 | | |
| --- | --- |
| | |
In a large pot, simmer beef stock. To the pot, add the half onion, garlic cloves, and ginger [tip: for ease, you may choose to put these items in cheese cloth for easy removal].

To the broth, stir in fish sauce and hoisin sauce. Continue to simmer over low heat.

In a large pot of water, cook rice noodles according to package instructions. Drain, and divide equally among bowls.

In a skillet, add one tablespoon of olive oil over medium heat. Once hot, add the sirloin steak, and sear for 2-3 minutes on each side [note, the steak will still be raw in the middle; it will continue to cook in the broth].

Thinly slice the steak against the grain of the meat. Divide equally among bowls.

Increase the heat on the broth, and remove the onion, garlic cloves, and ginger.

Ladle the broth over the sliced beef and cooked rice noodles in each bowl.

Top with green onions, jalapenos, bean sprouts, cilantro, basil, sriracha, and hoisin sauce.
Wine could go a couple of ways with this dish - on one hand, you could go for a lighter white in an effort to balance the spiciness; but my preference would be a light red, given that this is beef dish [and let's be honest, I'm always more sympathetic to reds!]. Our wine choice: The 2013 Lange Pinot Noir from Willamette Valley. It's lighter, fruit-forward, but has enough depth to stand up to the soup. Cheers!