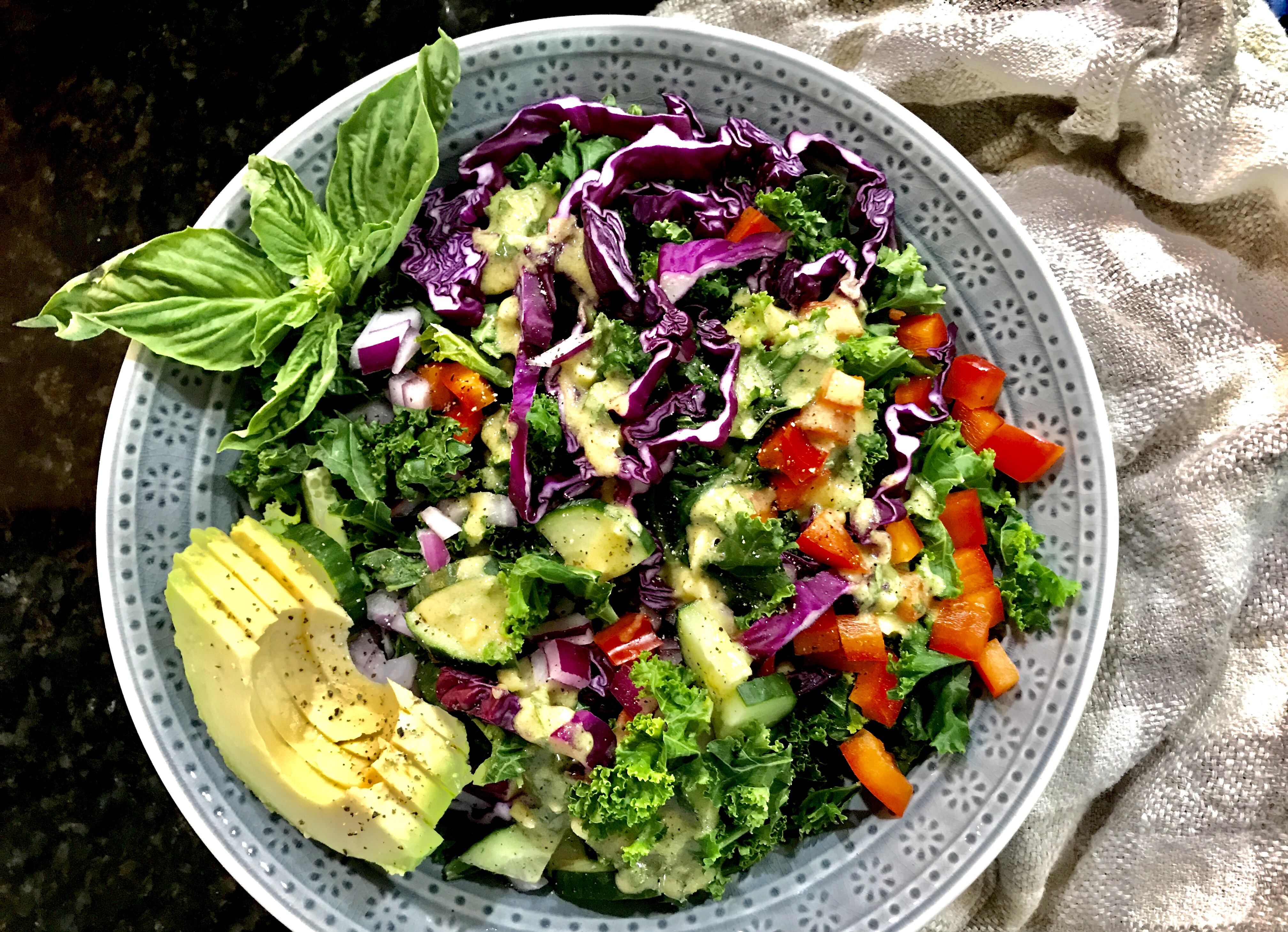 Hello, fraaaands! I bring to you the most delicious salad ever that is sure to cool you off in this crazy heatwave. I don't know about you, but it's like 250 degrees [maybe minus 150, but we're close here, we're close, okay?] in Washington D.C. and we are in full-on SWAMP mode. Like, I've permanently hibernated indoors, and try not to be outside for more than 15 second intervals at a time.
Kinda a difficult thing to achieve when you have a yard large enough to warrant it's own zip code [okay, maybe not that big, but I tell ya it certainly feels like it when you're PULLING WEEDS FOR YEARS ON END in the summer]. And if I hear anyone say that you can't pull weed for years during one summer, please come over immediately, grab yourself a gardening trowel, and let's GO. Do I just want someone to commiserate with? Probably. But I'll bribe each and every one of you with wine… k, great, see you in 5.
So, can we just talk about this beauteous salad for a quick sec? I clearly recognize that I have an obsession with kale salads, and have obviously been overposting about them [but #yolo], and I just can't seem to stop — but for pretty good reason if you ask me […duh]! But actually, this is so light, so refreshing, and has all the summer feels.
My absolute favorite thing about this? Aside from the fact that I go back for thirds without ZERO guilt and calories for an extra glass of vino — even after dressing it for dinner, I can take it *already dressed* for lunch the next day, and it is still. so. good. The thing about kale is that it's such a hearty green, it's not going to wilt if dressed overnight, like so many other greens do. And the flavor only get's better.
So there you have it — perfect for dinner, and even better for lunch. ENJOY!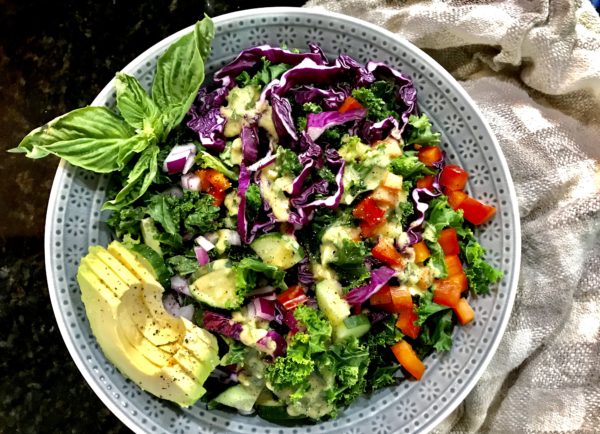 | | |
| --- | --- |
| | |
Pack the deveined, torn kale into a large microwavable bowl. Place a sheet of plastic wrap over top, pressing it to the outside of the bowl to seal. Microwave on high for 1 minute and 30 seconds, until the kale turns bright green and just begins to wilt. Remove from the microwave and place in the refrigerator for 20 minutes or until cool.

Once cool, add the sliced red cabbage, chopped avocado, chopped English cucumber, chopped red pepper, and diced red onion to the kale, tossing to combine.
In a measuring cup (or small bowl), whisk together the olive oil, lemon juice, dijon mustard, chopped basil, minced garlic, salt, and pepper.

Pour the dressing over the salad, and let sit for 5 minutes before serving. Enjoy!
Our wine choice: the 2015 Forrest Estate Sauvignon Blanc. This crisp, dry white is full of lemon and citrus, with floral notes to round out the flavor. A perfect white to pair with this lovely salad. Cheers!