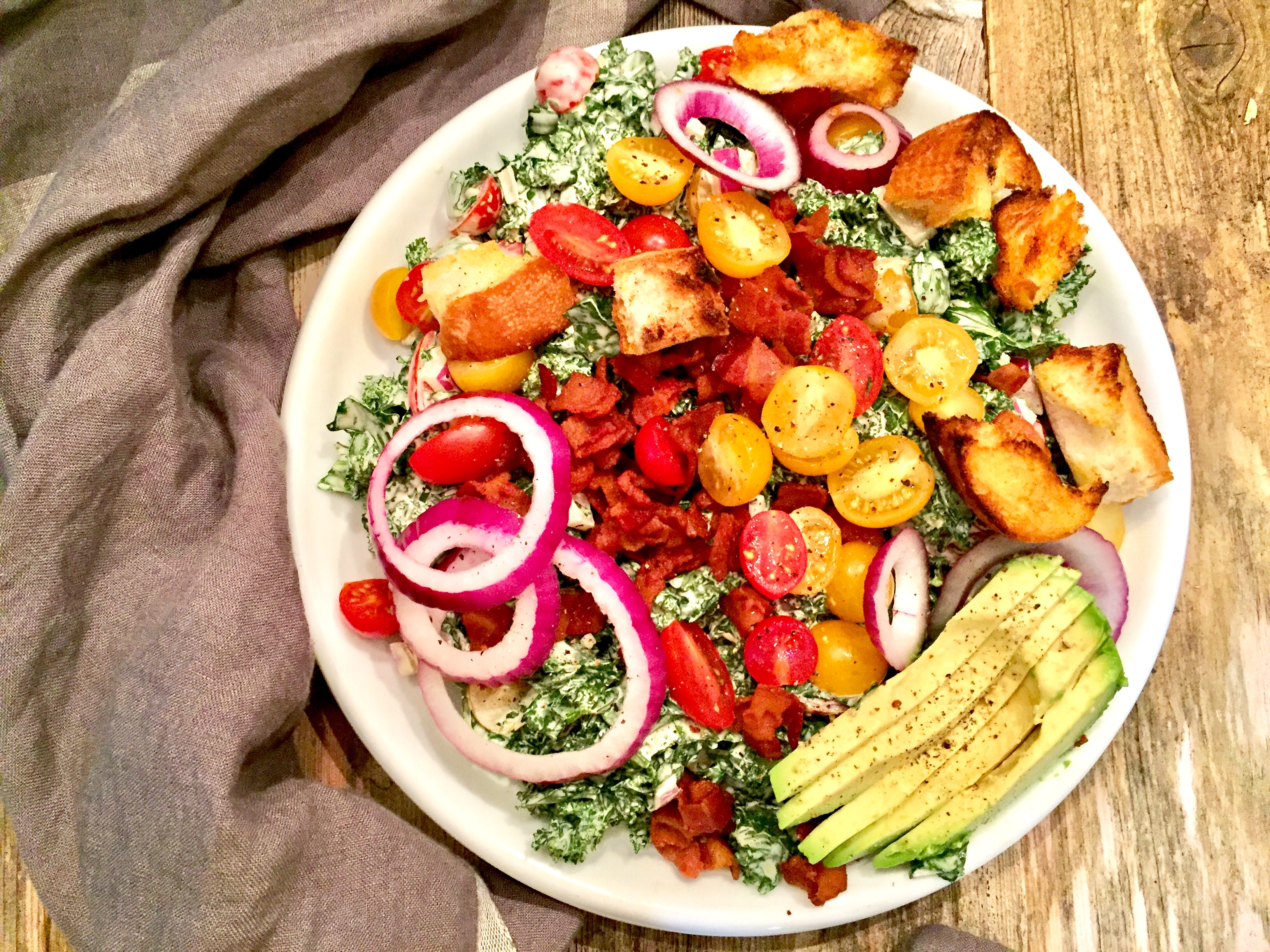 My friends, summer just got that. much. better. This salad is everything. And you're totally going to have major FOMO if you don't whip this baby up — so let's not waste any time. Massaged kale salads have been a thing in our house recently, because they're so good. And let's be honest: the kale is basically a perfect vehicle for all of my salad dressing goals.
Now, first things first: this creamy ranch does not disappoint. In fact, it's pretty damn incredible. I've been so tired of bland store-bought ranch dressings [actually salad dressings, period] and am kind of obsessed with making my own. And to be honest [there's a lot of honesty coming out in this post, apparently], I had no idea just how much better homemade versions could be. Also, um, life is too short for less-than-amazing dressings, sauces… I mean, duh.
And to be crystal clear, this creamy ranch has literally changed my life. I know, some people are like, "I'm getting married!" or, "We're having a baby!" and I'm just over here like, "OMG this ranch dressing though."
Also, can we just talk about how this salad screams summer? Our vegetable garden is in full swing, and we're pretty much overflowing in tomatoes, peppers, herbs. All the herbs [right into our creamy ranch!]. And we love being able to throw these fresh ingredients right into dinner. Also, the texture in this salad is AWESOME. A perfect creaminess from the avocado and dressing-covered kale [you know, the one that I just spent 10 minutes obsessing about] married with crunch from the garlic croutons and bacon [BACON!] is so darn delicious.
So, last things last [but surely, not in order of importance]: the bacon. No words can do justice for my love of bacon – but of course, you knew this already. The salty bits of heaven are everything in this BLT salad, and if I do say so myself: summer never looked so good.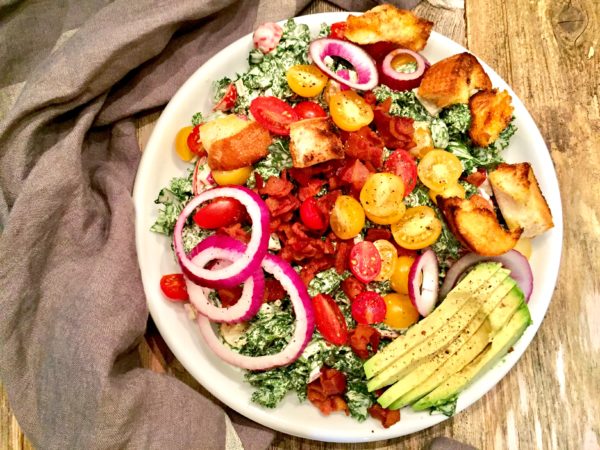 | | |
| --- | --- |
| | |
Place the chopped (and rinsed) kale in a large bowl. Using your hands, massage the kale for three minutes until the kale is tender and bright green.

To the kale, add the red onion, grape tomatoes, avocado, and bacon. Toss until combined.
Preheat your oven to 375 degrees. In a small bowl, combine the olive oil, melted butter, garlic, garlic salt, and pepper.

Place the cubed bread in a bowl. Pour the olive oil and butter mixture atop the bread, mixing until combined. Spread the bread in an even layer in a large pyrex pan. Bake for 18-20 minutes, until golden and crisp.

Top the kale salad with the croutons.
In a bowl, whisk together the mayonnaise, sour cream, buttermilk (1/4 cup to 1/2 cup depending upon desired consistency), garlic, chives, basil, Worcestershire sauce, and apple cider vinegar. Season to taste with salt and pepper.

Drizzle desired amount over kale salad and toss until combined. Refrigerate any extra dressing in an air tight container. Divide among plates, and enjoy!
A wine pairing with a BLT salad can go a couple of ways; however, I tend to think about the protein (bacon) in the salad and lean toward red (which I naturally do any way). So our wine choice: the 2014 Sebastiani Zinfandel. This fruit forward red has notes of dark berries and plum with a hint of pepper. This lush red is a delicious choice for the BLT salad. Cheers!