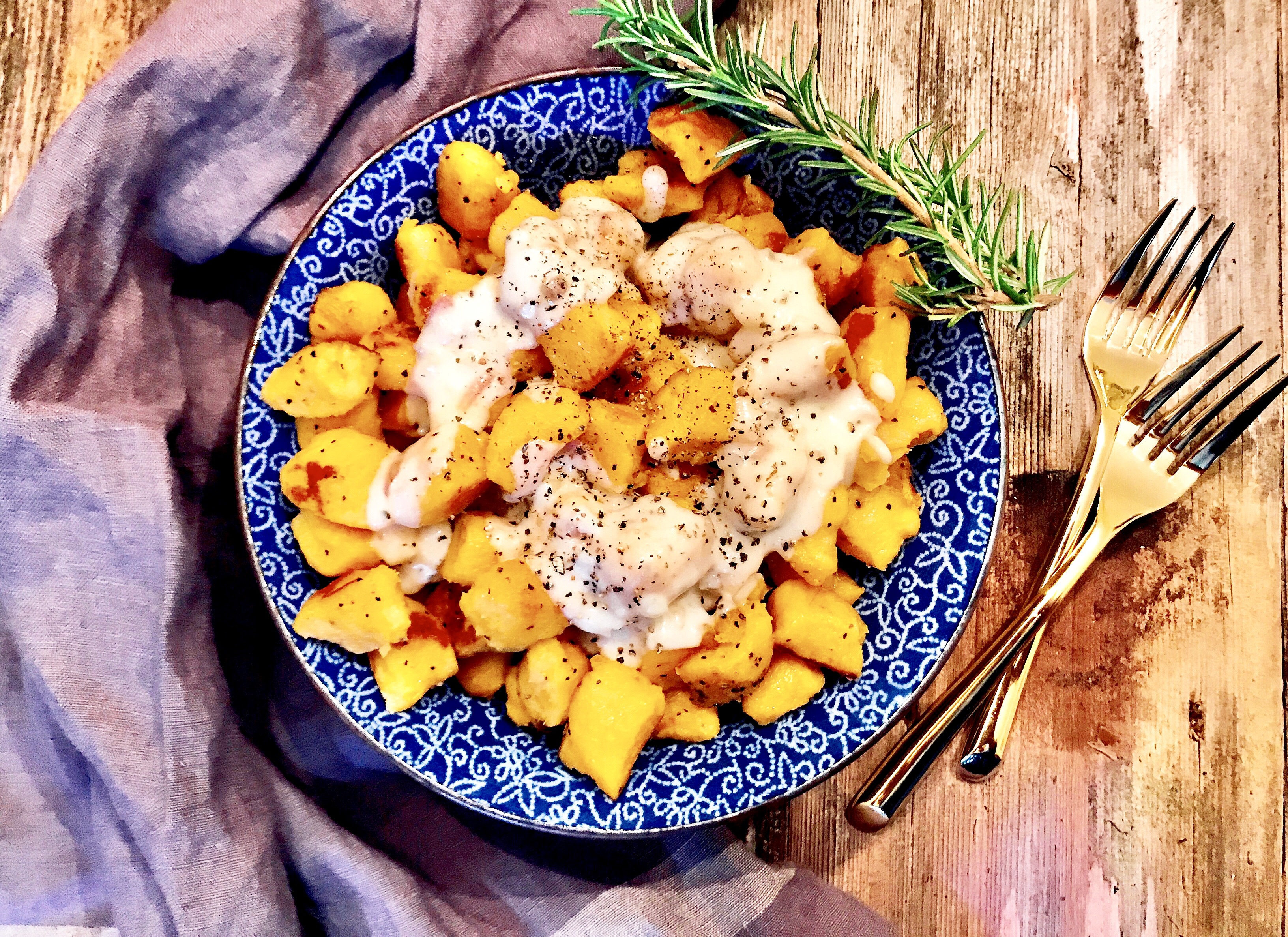 Y'all… these are basically delicious little pillows of sweet potato joy. Morsels of heaven, if you will… you know, drowning in a rich, creamy cheese sauce [*wishes I was drowning in this cream sauce… jealousy immediately sets in*].  Honestly though, gnocchi is one of my most favorite things to make/eat/all of the above. I guess if someone else wanted to make them for me and feed me by the forkful I'd totally be okay with that, too [cough, sous chef, cough].
Seriously though, these are everything. And with the holidays here, it's such a decadent vegetarian option to serve. Like, I don't even miss bacon when I eat these [but on second thought, adding bacon would be pure genius…]. I mean, it's happiness in a bowl. Makes me wanna break out in song and dance: "They're a teensy bit laborious, but also pretty glorious, make these babies and you'll surely be victorious…" [so horrible, I know. I'll stick to cooking. And drinking wine.].
And my absolute most favorite part about the gnocchi is the texture [and sauce, obvs…]. OH, the texture… My goodness. After boiling the little nuggets, you saute them in butter to crisp up the edges until they turn a gorgeous golden-brown…. and the result = texture heaven. Crisp, buttery edges, with soft, pillowy insides… ugh. I have no words. And then… THEN… there's this ridiculous rosemary and cheddar cheese sauce. Just whoa.
I didn't even know it was possible to have thirds, and still crave fourths [like, besides glasses of wine…]. And guess what, my friends: it absolutely is. We made a variation of this last fall with butternut squash, which was hands down ridiculously good — and I'm at a total loss for which one takes the cake. They're both utterly dreamy and the best thing that's ever happened to me. Besides our dog.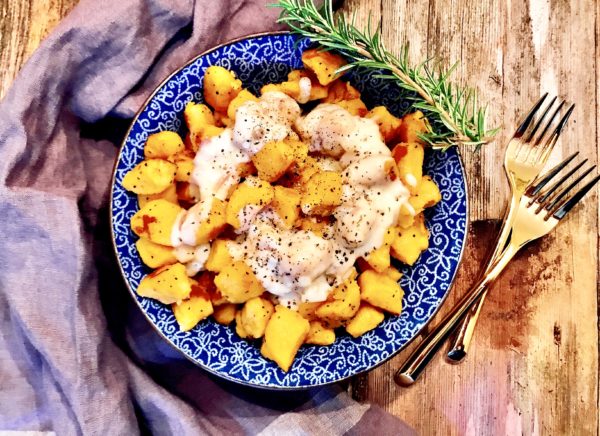 Rosemary and White Cheddar Cheese Sauce
| | |
| --- | --- |
| Rosemary and White Cheddar Cheese Sauce | |
Preheat the oven to 400 degrees. Using a fork, pierce the sweet potatoes with a knife several times, and place on a baking sheet. Bake for 45-50 minutes or until soft and tender. [Short cut: microwave on high for 6-7 minutes, or until soft and tender]. Let cool completely.

Once cool, scoop the flesh out of the skin and mash until smooth. Place the sweet potato mash in a large bowl. Stir in the ricotta cheese, Parmesan cheese, salt, and pepper.

Add the flour, a 1/2 cup at a time, until a sticky dough forms that is easy to handle. Transfer to a large floured surface area [tip: make sure your hands are generously floured, too]. Form the dough into a loaf, and cut dough into 4 equal pieces.

Roll each piece out into rope-like shape, about 1 inch in diameter. Cut the rope into 1-inch pieces, and transfer gnocchi to a plate. Repeat the process with remaining three pieces of dough.

Bring a large salted pot of water to a boil. Add the gnocchi to the boiling water, and cook until the gnocchi float to the surface. Remove the gnocchi using a spider strainer once cooked.

Heat two tablespoons of butter over medium heat in a large skillet. Once hot, add the gnocchi and pan-fry for 6-8 minutes, or until the gnocchi turn golden-brown on the outside.
Rosemary and White Cheddar Cheese Sauce
Add three tablespoons of butter over medium heat in a sauce pan. Add the shallots, garlic, and rosemary. saute for 5-6 minutes, or until they begin to brown.

Whisk in the flour until combined. Let cook 1-2 minutes. Slowly pour the milk into the pan, whisking quickly to smooth any lumps. Let the sauce simmer for 3-4 minutes, or until it begins to thicken.

Add the grated white cheddar cheese, whisking until smooth. Add the chicken bouillon and pepper. Season to taste with additional salt.

Top gnocchi with cheese sauce, and eat!
Our wine choice: the 2013 Chardonnais Napa Valley Chardonnay. This rich, full-bodied chardonnay has toasty notes of butterscotch, vanilla and tropical fruits. With a luxurious texture and silky finish, this white will pair perfectly with our sweet potato gnocchi. Cheers!