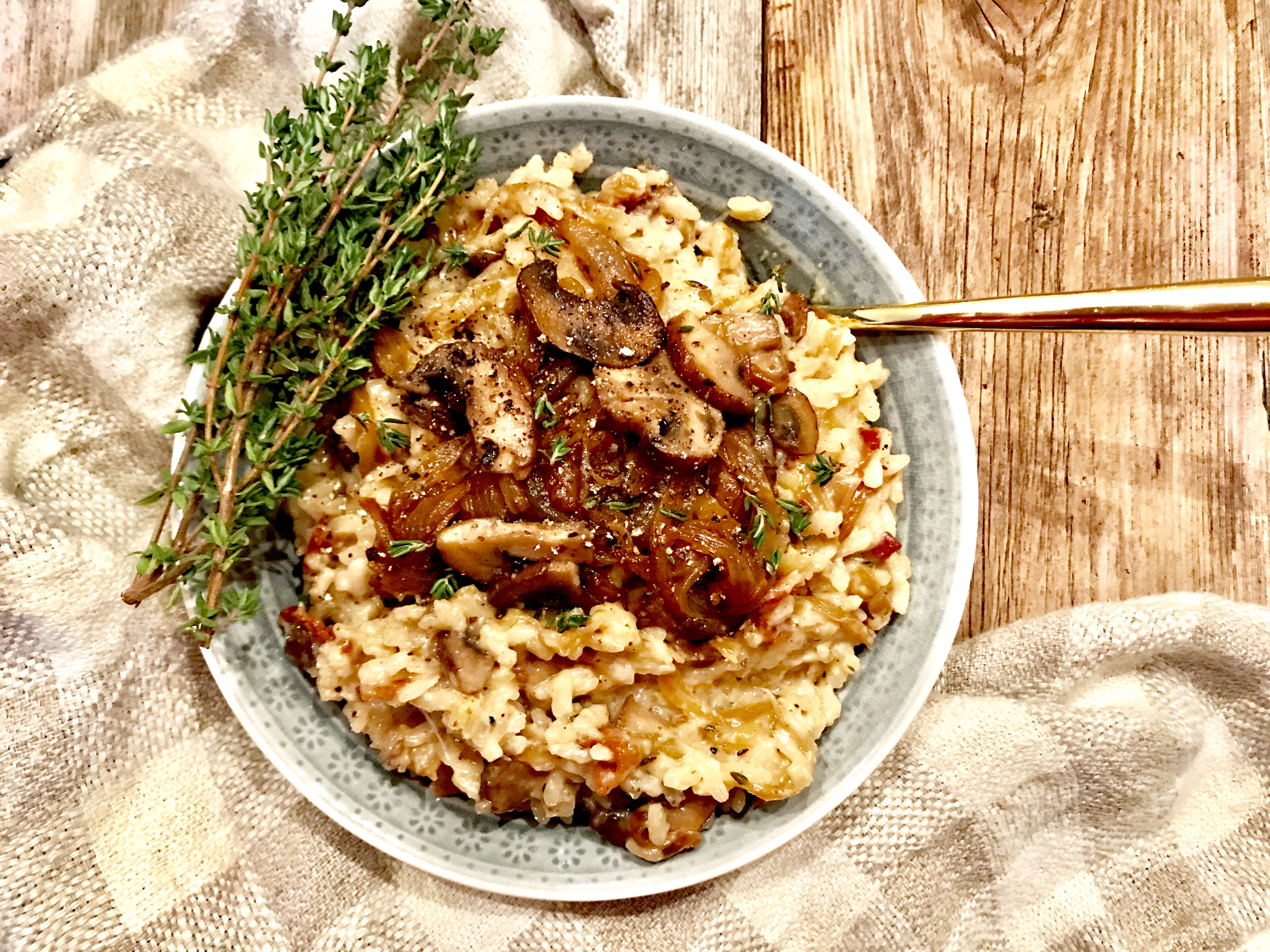 In the spirit of the season, I feel morally compelled to start out by saying what I'm thankful for: and let's just say that stretchy pants is right at the top of my list. I'm also so relieved it's seasonally appropriate to carb-load, because risotto has never been SO creamy and SO decadent [enter: the stretchy pants]. I mean is it even winter if you're not carb-loading? I didn't think so. That's basically like refusing to wear chunky sweaters and plaid in the winter — it's just wrong.
And right now, my friends, I need to be right. And by that, I mean really embracing the season, which obviously manifests itself in the form of a carb-bender…. naturally. Between the three cheese macaroni and this ridiculously good chicken pot pie, I'm gonna go ahead and say that I'm really excelling here [tells myself: we're all good at something, sometimes you just have to work at it].
Now that we've cleared that up, can we just chat about how unbelievably delicious this is? It's pure coziness. Comfort food at its best. It's so savory, cheesy… ugh *nostalgia sets in*. Every bite is a like a little pillow of heaven. Is that even a thing? I have no idea — but if not, this risotto just made it a thing.
Quick aside: I love cooking for the sous chef, who swears my ulterior motive is to fatten him up [just more of him to love, right?] — but it totally isn't! So long story short, he's been really focused on portion control [which is really adorable, because he uses small plates, and goes back for seconds… which is portion control, I suppose… just many portions [love you babe!]. And with this risotto… THIRDS! It's just that good.
And so let's be serious here… serve this as a side dish: you're a hero. Serve this as an entree: you're a hero. With this recipe, you can literally save anything. But mostly dinner.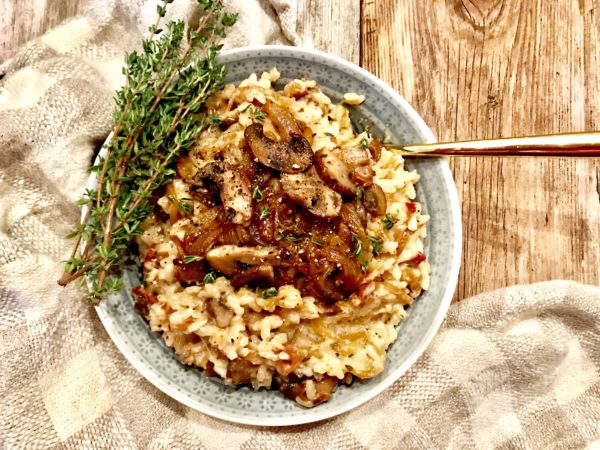 | | |
| --- | --- |
| | |
In a large pan, cook the bacon over medium heat until brown and crispy, about 7-8 minutes. Remove from heat and set aside. Once cool, crumble the bacon.

Reserve 4 tablespoons of bacon fat, and discard any excess.

Heat 2 tablespoons of the bacon fat in the pan. Add the sliced onion and thyme, cooking over medium-low heat for 25-30 minutes until the onions are soft and turn deep amber in color.

Add the garlic and mushrooms to the pan, and increase the heat to medium. Season to taste with salt and pepper.

Saute for 6-8 minutes until tender. Remove the onion, garlic, and mushroom mixture from the pan, and set aside.

Add the final 2 remaining tablespoons of bacon fat to the pan over medium heat. Add the arborio rice, and saute for 1-2 minutes.

Add the chicken stock, 1/2 cup at a time, stirring often until almost absorbed, and repeat. The rice should absorb just about all 6 cups by the end.

Add the goat cheese and Parmesan cheese to the rice, mixing until melted and well-incorporated. Add the caramelized onions, mushrooms, and bacon to the risotto. Mix well. Season with salt and pepper. Let simmer for 2-3 minutes, until heated through.

Serve hot, and top with additional Parmesan cheese. Eat!
Our wine choice: Route Stock Napa Valley Cabernet Sauvignon Route 29 2013. This Napa Cabernet is a delicious medium to full bodied red, with notes of dark fruit and earthy herbs -- a perfect wine to pair with this decadent risotto. Cheers!