Hellloooooooo! May I give you the run down on this gorgeous dinner you should totally make tonight? K, great, here we go:
I'm steak-crazed, and this nothing short of amazing
This totally rad mustard cream sauce is everything
You'll get your yearly quota of chlorophyll, and will love every bite
Did I mention the sauce?
oh, and STEAK.
Whew! Glad that's off my chest.
But this sauceeee… can we just dish about it for a hot minute? It's pretty much humiliating how much I love sauces, and cream sauces top my list [yes, my long, expansive list]. So the sous chef is over here complaining about how all of the sauces I make have cream [exhibit A, exhibit B, exhibit C. Need I say more?], and I'm like, "then don't drown your steak in sauce like I do, and eat it in moderation like most normal human beings." And then he drowns his steak in it, and is like "OMGthisissogood." *Finished his steak and half of mine* Do you see me rolling my eyes? Good. Just needed to be sure.
To be clear, I'll continue to eat my weight in cream sauces [this is what I like to call incredibly smart life decisions. Can you say #chasingmydreams #onecreamsauceatatime]. What whattttttt.
So real quick, a word on these rib-eye steaks, while I've got you here: I happen to love rib-eyes, because they're buttery, juicy, and so so flavorful – all thanks to the ribbons of marbeling throughout. If you happen to like a leaner steak, you could always opt for a New York strip, or filet. All delicious, and I get it – different strokes for different folks!
And these vegetables. Eating all of these beauteous veggies will basically counteract all the wine you should will pair with it. Not to mention, the curls you do with your wine glass [you know, table-to-mouth curls] will obviously offset the calories from the cream sauce – and for the record, I tell myself there are none. *lives in blissful ignorance* So eat up, drink up, and enjoy [trust me, you won't have a choice!].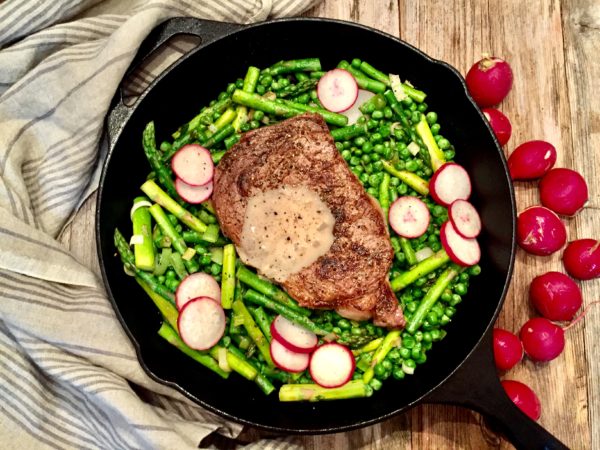 Rib-Eye Steaks and Spring Vegetables
| | |
| --- | --- |
| Rib-Eye Steaks and Spring Vegetables | |
Rib-Eye Steaks and Spring Vegetables
Heat a large skillet over medium heat. Add the olive oil. Once hot, add the seasoned rib-eyes, searing for about 4 minutes on each side for medium rare (depending on the thickness of the steak). Remove from heat, allowing the steaks to rest.

In the same skillet, add the leeks and asparagus. Saute for 3-4 minutes. Add the radishes and peas to skillet, cooking all vegetables together for an additional 5-6 minutes.

Return the rib-eyes to the skillet, nestling the steaks in the vegetables. Top with mustard cream sauce, and enjoy!
In a sauce pan over medium heat, add the butter. Once melted, add the garlic and shallots. Saute for 4-5 minutes.

Whisk in the flour, followed by the mustard. Slowly whisk in the brandy. Add the beef stock and heavy cream and season to taste with salt and pepper. Let simmer on low until ready to serve with the steaks.
Our wine choice: the 2013 Ruca Malen Petit Verdot Reserva. This Argentine red is bursting with fresh raspberries and cherries and has floral notes - finishing with a lengthy and velvety texture, it's a great red to enjoy with this dish. Cheers!