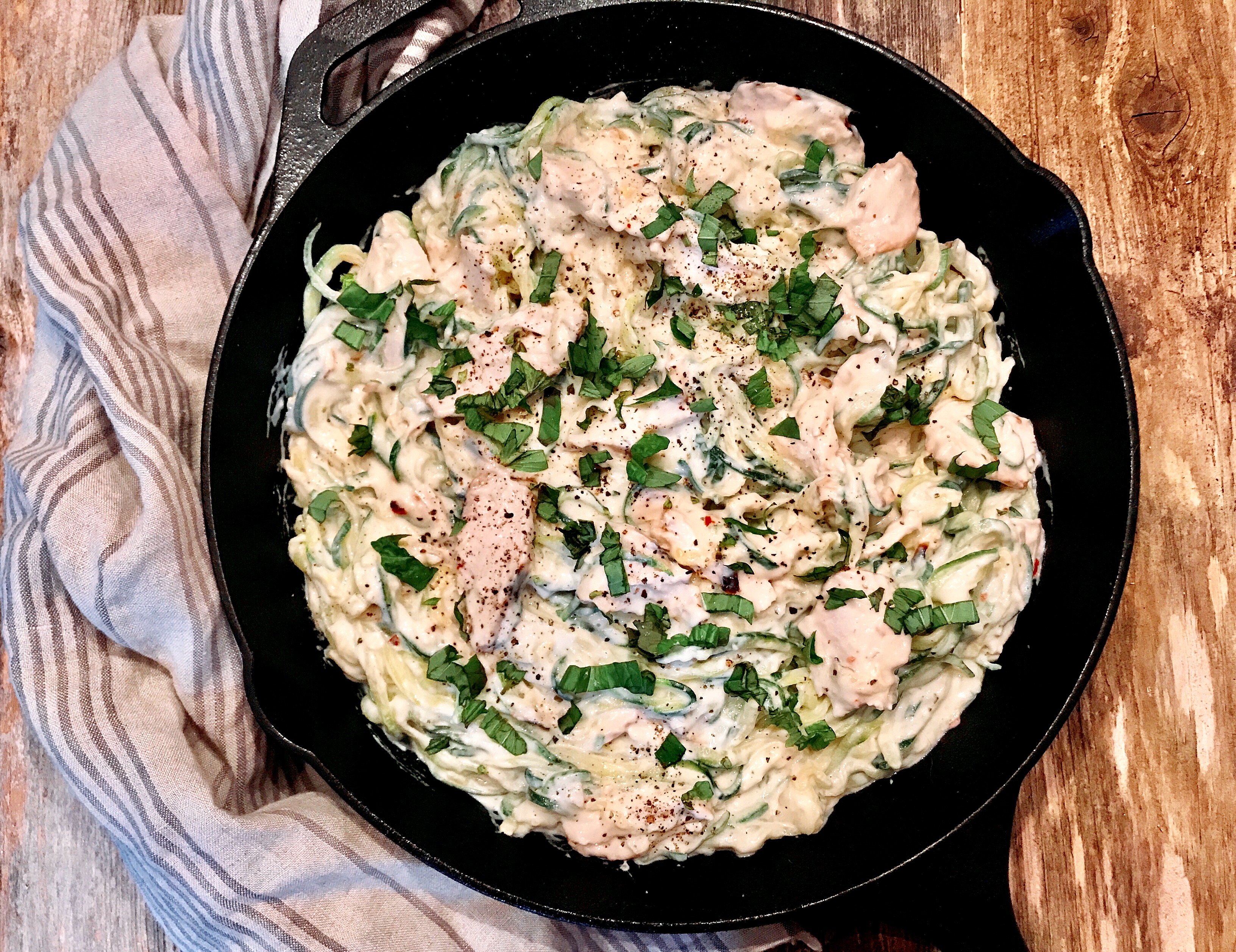 Hi, hi! So, pasta is a total weakness of mine, and I can't help but indulge from time to time. I mean, we're talking dreamy, creamy, ridiculously decadent pasta dishes. Because you know, #yolo. And while my heart basically says pasta all day erry day, the mirror says no way girlfraand. So, you know, compromise!
Now I've talked about this in other zucchini noodle posts, but the key here is not to cook the zoodles into oblivion — you need that texture! In my opinion, when you cook the zoodles for just a couple of minutes, it has the most pasta-like texture. Then of course you pour the rich, creamy alfredo sauce over top of the beauteous zoodles, and you've basically reached "impasta" goals if I do say so myself.
The sous chef was all over this, for what it's worth. I mean seconds, thirds, FIFTHS… okay, maybe just seconds and a small thirds, but it was SO good. Seriously satisfying, with wayyyy less guilt. You know, saving those carbs for precious wine, because #priorities. Also, cheese is basically protein, and protein is good for you, and therefore cheese is good for you, right [because 1 + 3 = 7 if you don't think about it…]? So glad we're on the same page.
Not to mention, since summer gardens are in full swing right now, we pretty much have more zucchini than we know what do with — and what better way to enjoy them than COVERED IN CHEESY ALFREDO SAUCE. And we threw grilled chicken in this baby — but you can do shrimp, sausage, or hey — keep it vegetarian. The world is your oyster.
And I tell ya what, a beautiful glass of creamy chardonnay or three would be absolutely divine with these zucchini noodles [alfredo]… so on that note, since I know you are sprinting to grab your chef's apron to whip this baby up, I won't keep you one second longer — cheers!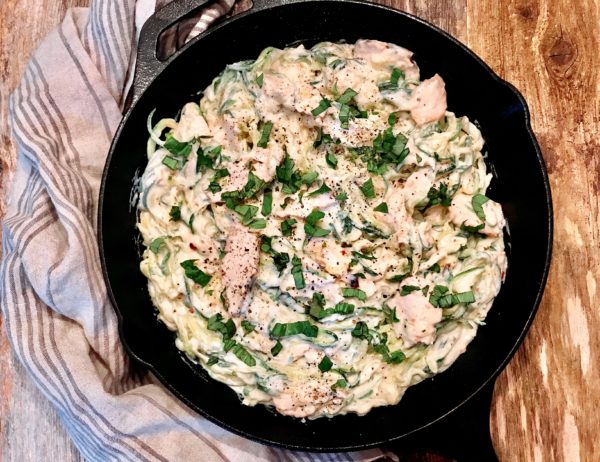 | | |
| --- | --- |
| | |
Preheat a grill to 500 degrees. Grill the chicken on each side for 6-7 minutes, until cooked through and the internal temperature is 165 degrees. Remove from heat and thinly slice the chicken. Set aside.

In a sauce pan over medium heat, add the butter. Once melted, add the garlic and shallots and cook for 2-3 minutes. Pour in the heavy cream, followed by the cream cheese, Parmesan cheese, mozzarella cheese, salt, and pepper. Simmer for 8-10 minutes until the sauce has thickened.

In a large saute pan over medium heat, add the olive oil. Using tongs, saute the zucchini noodles for 2-3 minutes, until they begin to soften. Carefully drain any excess liquid from the zucchini. Pour the alfredo sauce over the zucchini noodles and add the chicken. Mix well.
Our wine choice: the 2016 Bogle Chardonnay. This creamy white has notes of apple and pear followed by a buttery, toasty finish with a hint of vanilla -- a great wine to enjoy with this dish. Cheers!