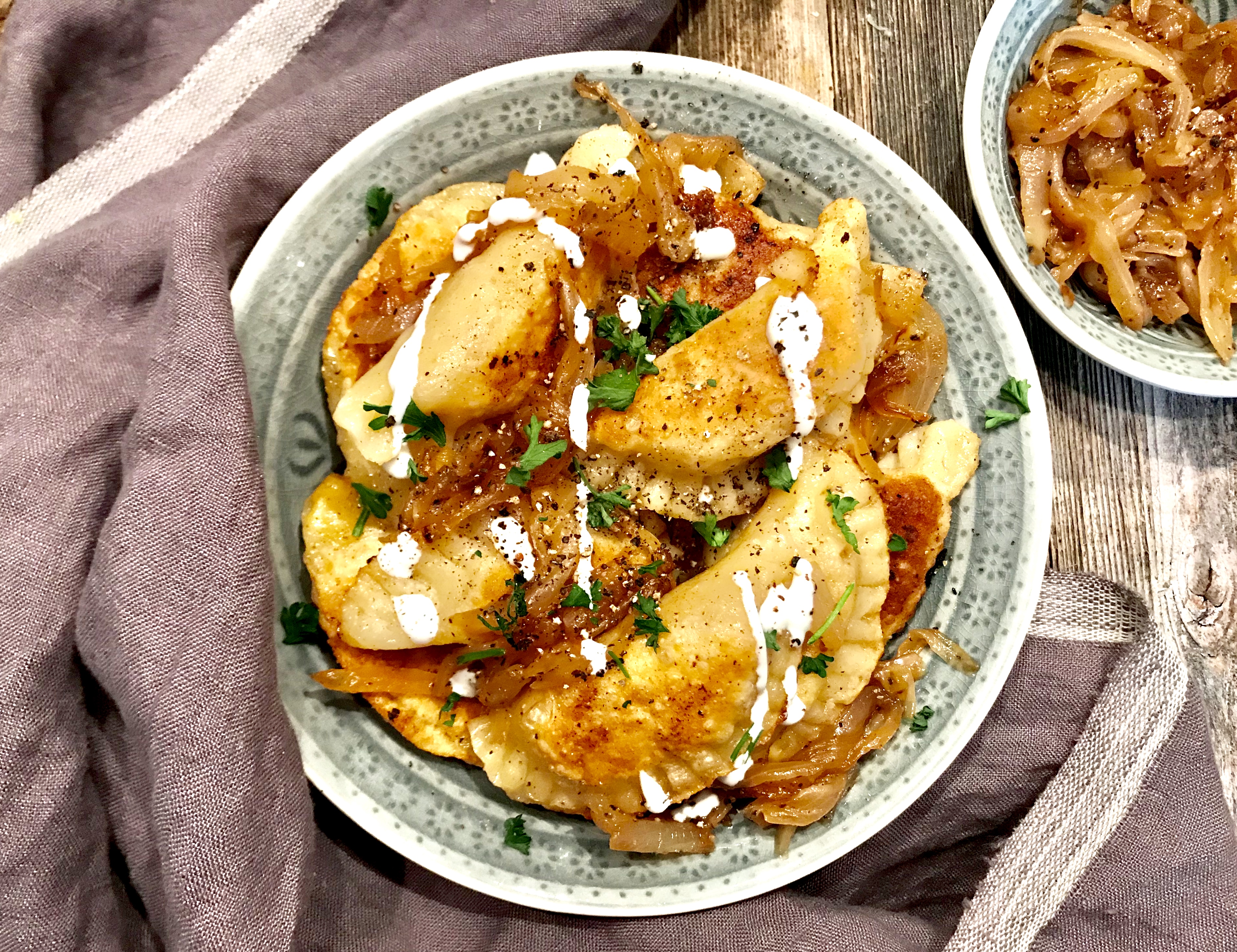 Pierogies! It's what's for dinner! Maybe an appetizer would be more appropriate?
Appropriate, shmappropriate. I'D EAT THESE BABIES FOR BREAKFAST. We can go ahead throw appropriateness out the window — right alongside any notion of traditional pierogies. Because listen, I don't proclaim to be a pierogi aficionado by any stretch of the imagination [cough, sous chef, cough] — BUT, I do know delicious when I taste it! And my goodness, these are damn good.
Crisp, flaky little nuggets of bacon-ey goodness. And cheese. CHEESE. Stuffed AND sprinkled with rich caramelized onions. Drizzled with sour cream. They basically taste like baby unicorn tears. And for anyone wondering, that is a magnificent thing [at least I tell myself they're supposed to be].
These pierogies may not be straight out of Warsaw or Heinz field, but they're comin' hot outta this kitchen — and let's be serious, life would be so boring without a some creative juices [wine?] to spice things up. Of course, the sous chef is a die-hard Steelers fan with family from Pittsburgh and his fair share of Polish blood, so let's just say he had some strong feelings about these pierogies. Mostly that I make them for him, for starters. But I did, in fairness, take a couple of his queues: caramelized onions, potatoes, etc.
Naturally I added bacon. Every time I wonder if I have a bacon problem, I always come to conclusion that it's actually a solution. I mean, it does make everything taste like heaven. The sous chef jokes that I mis-named the blog — and it should have been 'a hint of bacon' the whole time. I keep telling that would be so misleading and unfair to readers, because there's  pretty much always a whole lotta bacon going on here… [exhibits A, B, C].
But back to the real treat here: with the super bowl right around the corner, these are a *perfect* game day bite. What's better, is that this recipe makes a ridiculous amount of pierogies — make these in advance, pop them in the freezer, and voila — a delicious game snack in no time flat.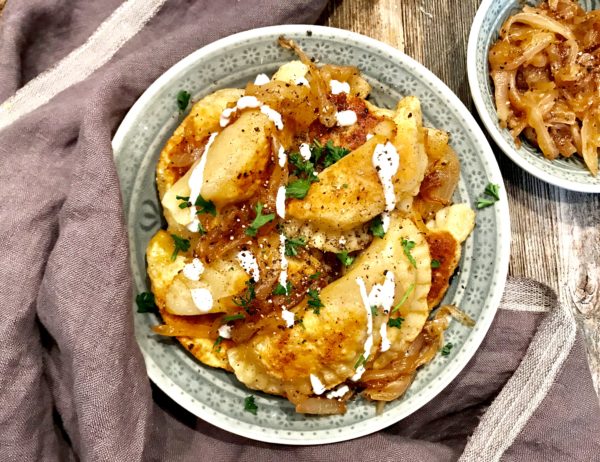 | | |
| --- | --- |
| | |
In a large bowl, whisk together the flour and salt. Add the butter, sour cream, and eggs, mixing until combined. Knead the dough for 3 minutes. Cover and let rest for 45 minutes while you make the filling.
Heat the butter and olive oil over medium heat in a large saute pan. Add the sliced onions, cooking over medium-low heat for 30-35 minutes, stirring occasionally, until the onions are soft and turn deep amber in color.

Remove from heat and let cool completely.
In a large pan, cook the bacon over medium heat until brown and crispy, about 7-8 minutes. Remove from heat and set aside. Once cool, crumble the bacon.

Bring the potatoes to a boil in a large pot of salted water. Boil for 20-25 minutes, until the potatoes are fork-tender. Drain, and let cool. Once cool, mash the potatoes.

Coarsely chop 3/4 of the cooled caramelized onions (reserve remaining for serving). In a large bowl, add the caramelized onions, crumbled bacon, mashed potatoes, cheddar cheese, havarti cheese, and melted butter. Mix well to combine. Generously season with salt and pepper.

After the dough has rested, place dough on a generously floured work surface. Cut dough into 4 quarters. Roll out each quarter to 1/8 inch thickness. Using a biscuit/cookie cutter or mason jar top, cut dough into 3 to 3 1/2 inch circles.

Place about 2 teaspoons of filling on one side of each dough round. Brush the edges with water, fold the other side of the dough over the filling, and press the edges together. Crimp the edges with a fork, ensuring a tight seal. Repeat process for remaining pierogies. Place a wet paper towel over top of the pierogies to ensure they don't dry out during the process.

DIRECTIONS TO FREEZE: Place pierogies on a plate or baking sheet and par-freeze for 30-40 minutes in the freezer. Once par-frozen, place pierogies in tupperware or a plastic bag. Freeze until ready to cook, up to 3 months.

Bring a pot of salted water to a boil. Once boiling, add the pierogies. Let boil until pierogies float to the top. Remove pierogies using a spider strainer once cooked.

Add two tablespoons of butter to a large saute pan over medium heat. Once hot, add the pierogies and pan-fry for 6-8 minutes, flipping occasionally, until they turn golden-brown on the outside. Repeat in batches as needed to avoid overcrowding in the pan.

In the same skillet, re-heat the remaining 1/4 of the caramelized onions for 3-4 minutes. Serve caramelized onions and sour cream with warm pierogies. Enjoy!
While some may opt for a good old beer, if you're looking for a wine pairing, our recommendation is the 2016 Kendall Jackson Chardonnay. This chardonnay is creamy, velvety, and is fruit forward with notes of toasted butterscotch. A perfect rich white to serve with these decadent pierogies. Cheers!